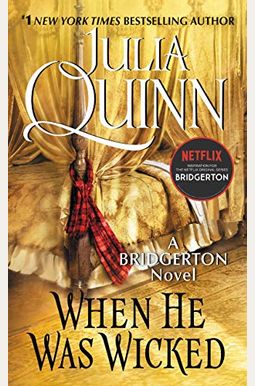 
 
When He Was Wicked: Bridgerton
Book Overview
From #1 New York Times bestselling author Julia Quinn comes the story of Francesca Bridgerton, in the sixth of her beloved Regency-set novels featuring her charming, powerful Bridgerton family, now a series created by Shondaland for Netflix.
FRANCESCA'S STORY
In every life there is a turning point. A moment so tremendous, so sharp and breathtaking, that one knows one's life will never be the same. For Michael Stirling, London's most infamous rake, that moment came the first time he laid eyes on Francesca Bridgerton.
After a lifetime of chasing women, of smiling slyly as they chased him, of allowing himself to be caught but never permitting his heart to become engaged, he took one look at Francesca Bridgerton and fell so fast and hard into love it was a wonder he managed to remain standing. Unfortunately for Michael, however, Francesca's surname was to remain Bridgerton for only a mere thirty-six hours longer--the occasion of their meeting was, lamentably, a supper celebrating her imminent wedding to his cousin.
But that was then . . . Now Michael is the earl and Francesca is free, but still she thinks of him as nothing other than her dear friend and confidant. Michael dares not speak to her of his love . . . until one dangerous night, when she steps innocently into his arms, and passion proves stronger than even the most wicked of secrets . . .
Frequently bought together
Frequently Asked Questions About When He Was Wicked: Bridgerton
Book Reviews
(13)
Did you read When He Was Wicked: Bridgerton? Please provide your feedback and rating to help other readers.
Don't miss this GREAT read!!!

Derived From Web

, Apr 20, 2022

Oh wow! I don't believe anyone would give a negative review to this book. I didn't want to put it down. I could see the battles they were facing in the book. I think it has been the best so far from this series, because it was different and the only one I have taken the time to write a review on. The series is in order. Julia did herself in When He was Wicked. I've read all the books so far, but this one is very different in a way. If you allow the negative reviews to keep you from this love affair, you will miss a great story. You may shed a few tears, but it is worth it. It's!
Extremely touching & beautifully written

Derived From Web

, Apr 20, 2022

I bought this book because of the negative reviews, but I absolutely loved it. There are some issues with the timing of events, as it does seem to overlap with the previous two novels which mention very little about the HandH of this story. The Michael and Francesca romance was more moving than the other Bridgerton stories.
Great author!

Derived From Web

, Sep 14, 2021

The series is amazing and this one is too. I found myself laughing and crying out loud when she grabbed your attention. My husband has asked me what was funnier, because I was so enamored with the book and giggling. There is a great story with great visuals.
So many misprints.

Derived From Web

, Aug 30, 2021

Only one star is given to this print copy. I bought it despite seeing the comments. There is a person going to the other side of the river. There are so many mistakes. I was surprised they put it on the market.
Printing errors

Derived From Web

, Jul 4, 2021

I'm only half way through and it switched to a different book. I was reading about Michael and his wife, as well as Michael's friends, then back to Michael and his wife. It's hard to keep up with printingediting errors.
Misprint book.

Derived From Web

, Jul 3, 2021

I like the Bridgerton series, but my book is better. There was a mistake. There are pages that don't go into the next. It goes from Michael to Hyacinth. It makes no sense. There is a change to be made. My book is a mistake. The next book is It's in His Kiss. It is always a good spot, where there is an incorrect page. It's really frustrating.
Probably won't be able to put it down!

Derived From Web

, May 22, 2021

I don't know why this book is getting bad reviews. This book is the steamiest of the bridgerton series and I really enjoyed the storyline in it. It is different than all the others. I can't wait for season 6.
Each book is better than the last

Derived From Web

, May 4, 2021

I've ordered the entire series and each book is wonderful, seeing the characters come alive and leaning on them more than you would have seen in a tv series is great.
Wonderful early England Romance

Derived From Web

, Mar 19, 2021

I got hooked on the first book I read. I love the story of the family. The balls and the beautiful people.
Francesca's story

Derived From Web

, Feb 13, 2021

It must be terrible to lose a husband. I'm glad she had a friend like Mchael. The 2nd epilogue is the best.