Buy 3 Get 1 Free
Our Best Sale Yet! Add 4 Books Priced Under $5 To Your Cart Learn more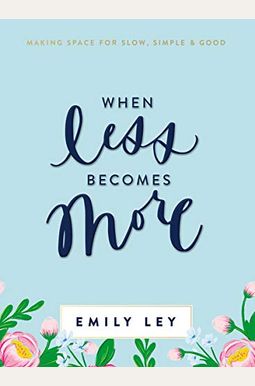  
When Less Becomes More: Making Space For Slow, Simple, And Good
Book Overview
In her newest book, bestselling author and founder of Simplified(R) Emily Ley brings a revolutionary exploration of how to live a life of more in a world that often overwhelms to the point of burnout. Emily empathizes with readers in the throes of exhaustion and provides tools for nourishing their spirits and achieving a life where less becomes more.
Statistics don't lie. People today are more fatigued, burned out, and overwhelmed than ever. Smartphones constantly ping and alert and demand our attention. And social media can eat up hours of our days with mindless scrolling and tapping while leaving many feeling empty and lonely. Add to that family commitments, work that is accessible around the clock, and overscheduling, and you have a life that can feel unmanageable and frantic . . . even running on empty.
Emily Ley, author of bestselling Grace, Not Perfection and A Simplified Life, is here to tell you that there's more--so much more. In this book, Emily Ley takes readers on a journey out of that empty place and shows them how to fill their wells with the nourishment that only true connection can provide. She also presents some radical concepts that push against the tethers of modern life, with the promise that more of the good stuff comes when we say yes to less of what keeps us empty:
Frequently Asked Questions About When Less Becomes More: Making Space For Slow, Simple, And Good
Books like When Less Becomes More: Making Space For Slow, Simple, And Good
Book Reviews
(17)
Did you read When Less Becomes More: Making Space For Slow, Simple, And Good? Please provide your feedback and rating to help other readers.
A Good Reminder

Derived From Web

, Dec 6, 2019

Audiobook Review Overall 3 stars Performance 5 stars Story 2.5 stars This was a quick and easy listen. I enjoyed the author's narration and the dedication letter to her daughter was very sweet and heartfelt. I personally did not care for the chapter of faith and religious overtones, but I think the message of choosing to be still in this frantic and hurried world is valuable. I have an advanced listening copy of this book voluntarily reviewed. Many thanks to Thomas Nelson and Libro. fm.
Enjoyed it.

Derived From Web

, Nov 21, 2019

Such a great book! Emily Ley has done a wonderful job in sharing her journey through her fight to find rest. Learning how to do it all has not been an easy ride, but she has found a way to not feel guilty for letting things go and resetting her priorities. The topics she addresses in When Less becomes more, are spot on.
Mother or not, married or single, young or old, this book is for all women

Derived From Web

, Nov 13, 2019

She lets us see that we were made for more. If you take the time to actually read the entire book, you see that although she talks about her life, which may not match your current life style, the wisdom behind her words is there for everyone. If all you look at is good, you are missing all the good stuff. Emily encourages you to look at your life and see where you can no longer say no to the hustle to make room for what matters. This is a book that I often read again and again. It is a book I give to several women in my life and it's a book I share with my daughters when they too will need to step off the Hammer wheel and make room for the good stuff.
Sometimes Good is Beautiful and Great can be a little exhausting

Derived From Web

, Nov 13, 2019

Such an easy read, but so uplifting! Everything that Mommas needed to hear was the heartbeat. As a mother of four, my life is chaotic and I feel like we have to do it all the time. The words MY family so eloquently gave me the permission and reminders I needed to slow down and do what works for Emily. And that is good and great and can be a little exhausting! I read all Emily's books and they have spoken in so many ways to me! Thank you Emily for speaking your truths to help this momma express hers!
You don't have to do everything to have a beautiful life!

Derived From Web

, Nov 13, 2019

Then Emily nailed it again. I love how simple and beautiful her books are. She combines inspirational examples, practical tips and beautiful photos in a book that while refreshing, the book challenges you to say no to pursuing the perfect life and to create a life that is good and beautiful. The message that life does not have to be experienced at a slow and simple pace and there is beauty in the frantic, is one I am slowly building into my own. Emily reminds you that you can make the changes that will allow you to get back and simply because you have the opportunity to do something does not mean that you have to do everything.
So many gems in this book!

Derived From Web

, Nov 13, 2019

This book covers so many relevant topics today for women - faith, contentment, and home. Emily Ley does a wonderful job of encouraging the reader to consider things down and to pare the things that actually matter in our lives. I appreciate how honest Ley is throughout the book. I recommend When Less Becomes More!
Thank you, Emily Ley!

Derived From Web

, Nov 13, 2019

My new favorite and NECESSARY - When Less becomes more meets all Emily's own requirements. In her previous books, Emily speaks about simplicity throughout life and in your home, but this encourages simplicity in your heart and mind. She hugs each woman personally with her words by poureding her soul into the honesty we're craving. The life is hard, busy, and overwhelming. We sometimes experience a burnout - in any season, at any age, and we struggle to give ourselves permission to step back. She reminded me that it is important to enjoy the little things in life. We do not deserve all our time plans and productivity. This one is for you ; read WLBM and pass it to a friend. Your best gals need to say what Emily has to hear after you spend your time with this book.
Slowing Down to Savor the Good

Derived From Web

, Nov 12, 2019

I was honored to read Emily Ley's new book When Less Becomes More Early. For women, like myself, it really discusses slowing down, especially when the world tells us to speed up and busy is the in thing. She does a beautiful job of showing us how to slow the good and find peace through rest and soul care. If you are feeling overwhelmed as a woman, wife, mother, single or married, this book is for you. It is simply written and beautifully understood and is easy to understand. It leaves you thinking and wondering if I have slowed down just...I would find the good in the little things. I enjoyed reading this so much and will read it again soon!
Best for a first time mom!

Derived From Web

, Nov 12, 2019

As a new mom and working full-time from home, I struggled with this concept. Wanting to practice this concept, but not knowing how to embrace it. I always feel like I need to go-go-go and that I am not able to be still at home with my son. I always feel like I need to take a nap, which doesn 't allow me to work in the sweet moments. I am thankful for this book because it reminds me that it is ok, everything will be done and the importance of being still.
NEEDED message

Derived From Web

, Nov 12, 2019

Emily's words are a breath of fresh air. In our overstimulated, rushes and chaotic world, the permission to slow down is exactly what we need. "No is a complete sentence. " Something so profound, but so simple at the same time.