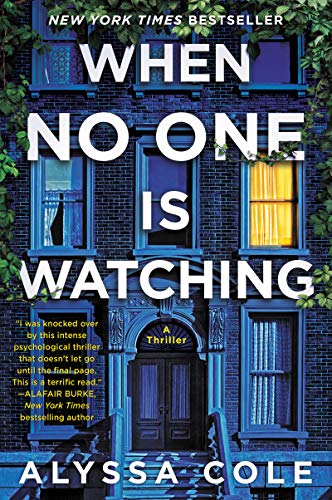 
 
When No One Is Watching: A Thriller
Book Overview
I was knocked over by the momentum of an intense psychological thriller that doesn't let go until the final page. This is a terrific read. - Alafair Burke, New York Times bestselling author

Rear Window meets Get Out in this gripping thriller from a critically acclaimed and New York Times Notable author, in which the gentrification of a Brooklyn neighborhood takes on a sinister new meaning.
Sydney Green is Brooklyn born and raised, but her beloved neighborhood seems to change every time she blinks. Condos are sprouting like weeds, FOR SALE signs are popping up overnight, and the neighbors she's known all her life are disappearing. To hold onto her community's past and present, Sydney channels her frustration into a walking tour and finds an unlikely and unwanted assistant in one of the new arrivals to the block--her neighbor Theo.
But Sydney and Theo's deep dive into history quickly becomes a dizzying descent into paranoia and fear. Their neighbors may not have moved to the suburbs after all, and the push to revitalize the community may be more deadly than advertised.
When does coincidence become conspiracy? Where do people go when gentrification pushes them out? Can Sydney and Theo trust each other--or themselves--long enough to find out before they too disappear?
--Kelley Armstrong, #1
New York Times
bestselling author of
City of the Lost
Frequently bought together
Frequently Asked Questions About When No One Is Watching: A Thriller
Book Reviews
(18)
Did you read When No One Is Watching: A Thriller? Please provide your feedback and rating to help other readers.
Slow

Derived From Web

, Feb 3, 2022

I really wanted to read this book. I kept going, and they kept throwing up obstacles. I kept hoping I would get to the part where the kid would have a good time. I ended up just skipping the last ten pages because I couldn't find the time.
No Thrill

Derived From Web

, Oct 13, 2021

I read over a hundred pages of this book with only mild interest and never got to any thrill, Mr. Dhaliwal said. I felt like it was leading to something, but it was taking too long to get there.. It was a failure in my opinion.
Worthwhile Reading

Derived From Web

, Aug 5, 2021

This was a hard read, but then became a quick read. I couldn't decide whether I liked Theo anymore than Sydney could decide and it was hard reading what was going on. Leaving aside the ethical issues, I'm left with the thought that fiction or non-fiction is the order of the day.
Pages missing, kind of needed for a thriller

Derived From Web

, Apr 10, 2021

However, I have no idea what the book itself is like, only giving a bad review because pages 20-51 were missing. I'd enjoyed reading so far, but it's so disheartening to get into a book and have to just stop cold turkey. Will try to buy on kindle instead.
Didn't want to put the book down

Derived From Web

, Jan 31, 2021

This is a great story, the first time I read it. The ending could have been so much better, Harrison said. Even though I knew he was bisexual, I wasn't expecting to hear some of his secrets. Wish she had a different ending to her friend Drea's story. Theo Baldonado, 31, said he was shocked by the story. No writer, editor or publisher has ever corrected a great story line. He added that he wishes the ending had been different, saying he wishes the show had aired on Thursdays. Stewart also suggests she could add her ex-husband to the story. Overall I enjoyed the book, although I think the second half was a tad slow.
Meh

Derived From Web

, Jan 31, 2021

I'm not a huge fan of the book, and I think that Melville was a great writer. It wasn't that interesting, Mr. Rule told the judge. Also, foul language was used that made the book seem more sinister.
Slow burn

Derived From Web

, Jan 5, 2021

An excellent, intense, and even informative read, Frost said. He also praised the work of DB2's creator, Chuck Cole. While the book is titled A thriller, it's more suspense that true thriller.
Yes!

Derived From Web

, Nov 1, 2020

If you enjoyed the first three books, you should probably say the same about this twisty, thrill-seeking book. I thought I could see the ending coming, but surprise I didn't. This is my first book, but it won't be my last.
Horrible, not the "thriller" as advertised

Derived From Web

, Oct 24, 2020

I really enjoyed the book, but I can't stand Raymond. The author's tone and attitude comes through as so angry and tense, especially with the over use of swearing, that I found my blood pressure going up, not because of a gripping story, but because of the author's tone. It's a cheap writing technique to try and feel current, Reichert said. It was a lot of work, and I couldn't get through it. I would have asked for my money back, Mr. Dhaliwal said. The Harrisons are very disappointed.
I would not recommend this book.

Derived From Web

, Oct 1, 2020

In "The Three Little Pigs," all the white people are bad people, except for one person, and all the black people are good. It doesn't reflect reality. There are some people in the world who are complex and there are good and bad in all of us. The whole thing is based on a conspiracy theory and this sort of thing just feeds into people's fears about being controlled, Sosa said. It was a slow burn, and I thought the ending was weak.