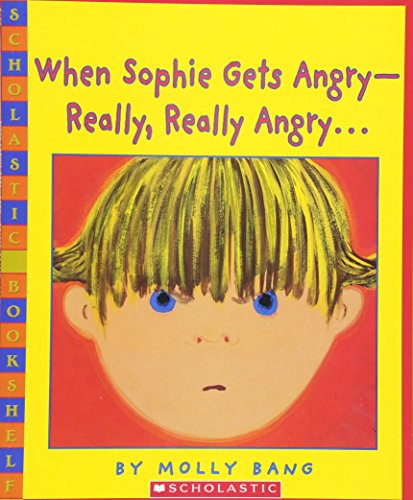 
 
When Sophie Gets Angry-Really, Really Angry
Book Overview
Category: FeelingsOh is Sophie ever angry now Everybody gets angry sometimes. For children, anger can be very upsetting. Parents, teachers, and children can talk about it. People do lots of different things when they get angry. In this Caldecott-honor book, kids will see what Sophie does when she gets angry. What do you do?.Bang's double-page illustrations, vibrating with saturated colors, that reveal the drama of the child's emotions.-SLJ, starred review.an elegant and thought-provoking book for.children learning how to deal with emotions. -NY Times Book Review
Everybody gets angry sometimes. For children, anger can be very upsetting. Parents, teachers, and children can talk about it. People do lots of different things when they get angry. In this Caldecott Honor book, kids will see what Sophie does when she gets angry. What do you do?
Frequently bought together
Frequently Asked Questions About When Sophie Gets Angry-Really, Really Angry

Books like When Sophie Gets Angry-Really, Really Angry
What should you read after When Sophie Gets Angry-Really, Really Angry Book? Here is a list of books to read if you read and loved When Sophie Gets Angry-Really, Really Angry
Book Reviews
(13)
Did you read When Sophie Gets Angry-Really, Really Angry? Please provide your feedback and rating to help other readers.
I should have read the description better. This is a horrible message for small children

Derived From Web

, Apr 20, 2022

I should have read the whole thing in one fell swoop. It's one thing to teach them to seek quiet solitude to calm their emotions, it's entirely different to tell them to run and run away from your home all by themselves in nature, climb trees and stay away from your home until you are regulated. My son has a problem at school because he runs from the classroom when he gets angry, his mom said. This book is just affirming his poor behavioral choice, Michael Mosley said.
Main character runs away from home to calm down when angry. Not helpful.

Derived From Web

, Apr 20, 2022

Although I really do like most of Sophia's books, the main character runs away from her house when she is angry. After she returns home she doesn't resolve any issues with what happened. It's just that my daughter now yells when she is angry that she is running away and doesn't really know what this means.
Ok book for verbalizing emotions.

Derived From Web

, Apr 20, 2022

Very good pictures, and story line about things that upset toddlers, however when Sophie gets angry she runs off by herself outside, until she calms down and comes home, until she comes back again. I'm not real fond of that as an avenue of self-regulation, Bruno said.
Nice and fast

Derived From Web

, Apr 20, 2022

Great start to a lesson in anger management, he said. Easy to use, can be used with or without a counselor.
Nice addition to a classroom library

Derived From Web

, Apr 20, 2022

The book is a great example of how to show anger management principles. It's great for toddlers through grade 1 and I recommend it to my friends.
Not helpful at all!

Derived From Web

, Mar 16, 2022

The boy runs away, police said. That is not okay and I dont want my child to think thats okay or try to comprehend what is happening with Sophie. Where are the parents of Sophie? I do not like this book one bit and it is going in the trash.
Terrible

Derived From Web

, Apr 23, 2021

Wow! That was pretty impressive, right? Wish I had read more reviews before purchasing. 4.5 stars??? It was recommended by a pediatrician and we bought it. Teaches children to scream and run away when angry, and everything goes back to normal, he said. Terrible message. It's just that they call it quits."
Wrong message

Derived From Web

, Sep 26, 2020

It was a great read, and I'll definitely recommend it to my daughter. Even though the illustrations are nicely done, I still don't like the message it's sending to my son. The book ends with the girl's character telling her to run away. The photos were taken June 4, showing the model outside in what appeared to be a photo shoot. This book is so good, I won't be reading it again.
This book is not about how to healthily deal with anger. It teaches your kid to run away.

Derived From Web

, May 26, 2019

Selling a book for $27 seems like a good deal. The book tells the children to run away and climb a tree to vent their anger. The reason I found this book was because I dont want my kid to lean this and thats why I hid it under a bookshelf, so my son wouldnt ask me to read it to him. It doesn't try to teach coping mechanisms. It's going to be in the dump.
Mixed review

Derived From Web

, Mar 2, 2019

The overall message of the book is that tantrums are normal and that anger management is not the only discipline. It's also great to be able to carry a book in a light, easy to pack. One of the defining scenes of the entire series was when Sophie runs away from the forest, having lost her cool and found herself at peace. Younger kids may take it as it's okay to run off and run away from things when you're upset. The kids said she was breaking the rules by leaving the house without a mommy or daddy. Our kids are so used to hearing that message that it's ingrained in them. And although I didn't like the message of running away, I was glad my kids understood that it's never okay to run off from home even if things are hard. Overall a good book about emotions.