Buy 3 Get 1 Free
Our Best Sale Yet! Add 4 Books Priced Under $5 To Your Cart     Learn more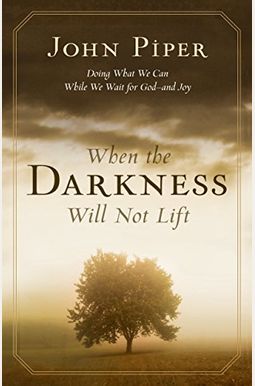 
 
When The Darkness Will Not Lift: Doing What We Can While We Wait For God--And Joy
Book Overview
It is utterly crucial that in our darkness we affirm the wise, strong hand of God to hold us, even when we have no strength to hold him.
John Piper
Even the most faithful, focused Christians can encounter periods of depression and spiritual darkness when joy seems to stay just out of reach. It can happen because of sin, satanic assault, distressing circumstances, or hereditary and other physical causes. In When the Darkness Will Not Lift, John Piper aims to give some comfort and guidance to those experiencing spiritual darkness.
Readers will gain insight into the physical side of depression and spiritual darkness, what it means to wait on the Lord in a time of darkness, how unconfessed sin can clog our joy, and how to minister to others who are living without light. Piper uses real-life examples and sensitive narrative to show readers abundant reason to hope that God will pull them out of the pit of despair and into the light once again.
Frequently bought together
Frequently Asked Questions About When The Darkness Will Not Lift: Doing What We Can While We Wait For God--And Joy
Book Reviews
(12)
Did you read When The Darkness Will Not Lift: Doing What We Can While We Wait For God--And Joy? Please provide your feedback and rating to help other readers.
I am a doctor and have given this book to ...

Derived From Web

, Jun 4, 2022

I am a physician '' and have given this book to many patients with depression. Each has said : This book helps me understand depression and it is hard to find books about depression written from a Christian view that truly helps me to understand how difficult depression makes life.
A Good Start

Derived From Web

, Jun 4, 2022

This book is a biblical starting place for those who want to learn the good doctrine about depression and what the Church fathers taught. I think Piper's emphasis on confession and obedience may be a little heavy for those currently struggling with depression, but overall the book is very helpful.
Short, compassionate, challenging, helpful.

Derived From Web

, Jun 4, 2022

Anyone who needs to read this book probably doesn 't want to read a long, detailed review. Then Suffice will say that this book is understanding and compassionate and will not leave the depressed Christian feeling condemned or worthless. I would also recommend it highly to anyone who is trying to help someone who is depressed. I have read complaints that it is too short, but there is no doubt that a complete pdf of the book is available for free direct from Piper's website, and if anyone is uncertain about the value of the book, it is easy to get a taste before investing.
BREAK LOOSE FROM THE BONDS OF DEPRESSION

Derived From Web

, Jun 4, 2022

The book of Piper, which is an expansion of a chapter in When I Don 't Desire God, offers comfort and guidance to those who are experiencing spiritual darkness. The six chapters explore topics such as the physical causes for melancholy, waiting in the dark, fighting for joy, how the confession of sin leads to freedom and how to break free from the bonds of self-absorption. This book is helpful for anyone who has suffered from depression, and is a good resource to have on hand to offer those who need encouragement. Christian women online book buzz -- Christian women
Disappointed

Derived From Web

, Jul 28, 2019

It appears that this book is an addendum to a further book or a supplement to a number of messages. As much as I respect John Piper, his view of depression is simplistic and leads towards the invalidating of those who suffer with true mental illness.
May heap even more shame and guilt

Derived From Web

, May 27, 2019

The author begins by focusing on works saved by faith, not works. But then gradually leads to blaming the depressed for their state of mind. This heaps coals of guilt and shame on an already disoriented person, encouraging them to look inward and relive areas of pain that may have been the initial spark of depression. I thought I had, but I must not have. I need to try harder, be more persistent.
Doesn't address Chronic Depression

Derived From Web

, Oct 7, 2018

I bought this for my wife, who suffers from chronic depression. She didn't have anything tragic happen to cause it ; she has had chronic depression since she was a teenager. She said that this book does not do a good job of admitting that chronic depression is real and that not all depressed are that way because of previous illnesses, such as cancer. It also uses a single study to suggest that medication is not the solution, though it goes against all the other science out there that says that medication is the best solution for chronically depressed people, together with counseling. Sadly, this will be another book that fails to address Christian depression through a chronic perspective. I guess I keep looking.
Excellent work.

Derived From Web

, Sep 7, 2018

Every day I work with people who are struggling with depression and some who have attempted or considered suicide. I just want to say to those who struggle, that it will get better with time. Fight to get back to where you see the sunshine again. This book is a great tool in the toolbox.
A Brief and Engaging Work on Spiritual Discouragement

Derived From Web

, Jul 6, 2018

This book is an expansion on the last section of another piper book, When I not Desire God. This book is also beautiful, but is a broader treatment of spiritual discouragement than this small volume. When the darkness will not lift is rooted more in the practical outworkings of the fight for joy. Piper is at his best when he looks to the Bible to address the heart.
Backed up a lot with Bible verses. Well thought out.

Derived From Web

, May 13, 2018

I think it was written with a lot of thought and pretty consistently backed with Bible verses. Some very good points were made in this book, that gave me, a depressed Christian, some Biblical, practical input on how to deal with a lot of it better. I think it is worth the money. Marc Trainor is a French-born professional painter.