Buy 3 Get 1 Free
Our Best Sale Yet! Add 4 Books Priced Under $5 To Your Cart     Learn more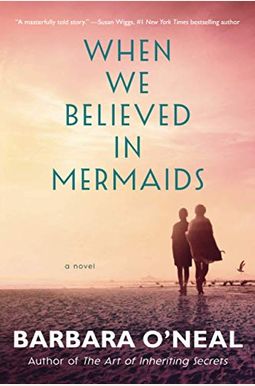 
 
When We Believed In Mermaids
Book Overview
This Description may be from another edition of this product.
An Amazon Charts, Washington Post, and Wall Street Journal bestseller.
From the author of The Art of Inheriting Secrets comes an emotional new tale of two sisters, an ocean of lies, and a search for the truth.
Her sister has been dead for fifteen years when she sees her on the TV news.
Josie Bianci was killed years ago on a train during a terrorist attack. Gone forever. It's what her sister, Kit, an ER doctor in Santa Cruz, has always believed. Yet all it takes is a few heart-wrenching seconds to upend Kit's world. Live coverage of a club fire in Auckland has captured the image of a woman stumbling through the smoke and debris. Her resemblance to Josie is unbelievable. And unmistakable. With it comes a flood of emotions--grief, loss, and anger--that Kit finally has a chance to put to rest: by finding the sister who's been living a lie.
After arriving in New Zealand, Kit begins her journey with the memories of the past: of days spent on the beach with Josie. Of a lost teenage boy who'd become part of their family. And of a trauma that has haunted Kit and Josie their entire lives.
Now, if two sisters are to reunite, it can only be by unearthing long-buried secrets and facing a devastating truth that has kept them apart far too long. To regain their relationship, they may have to lose everything.
Frequently Asked Questions About When We Believed In Mermaids
Books like When We Believed In Mermaids
Book Reviews
(13)
Did you read When We Believed In Mermaids? Please provide your feedback and rating to help other readers.
Love is not always easy.

Derived From Web

, Jun 28, 2021

The book is about the lives of two girls. Their lives were not very happy. At their home, tragedy was a daily occurrence. Their lives changed when an earthquake hit. After many years of drug and alcohol abuse, Kit is a doctor and Josie is able to start a new life. She was on a train in France that was bombed. She took her friend because she couldn't find her bag. She is married and has two children in New Zealand. Her life was perfect until she appeared on TV. Kit went to find her after she and her mother saw it. On a hot day, the book is like a glass of cold water, but after you drink it is gone. If you're sad or lonely, the book will lift you up. It is perfect at the end. That is the reason I got a 4star rating. I'm constantly looking for my son, but no luck.
This is just a romance novel

Derived From Web

, Aug 8, 2020

If you enjoy reading romance novels, you'll probably give this four stars. If the reviews misled you to believe that this was a regular novel, you would only give it three. The two sisters' relationships with two nice guys are the main storyline. The part is well done and follows the classic romance format. The secondary plot is the two sisters being angst-y about some child hold trauma that you have to read about page after page but which is not actually revealed until the end, by which time you are over caring about it. There is a third subplot about a murder committed decades ago that gets resolved at the end, which is where you realize that you should have been paying attention to something else. If you enjoy romance novels, you'll enjoy this. I was disappointed that I didn't get more.
A riveting novel about exposing family secrets

Derived From Web

, Jun 19, 2020

The two points of view of sisters Kit and JosieMari are shown in the movie When We Believed in Mermaids. They haven't seen each other in fifteen years, and Kit thinks she is dead until she and her mother see her on a TV news story about a fire in New Zealand. Suzanne wants Kit to go to New Zealand to find her sister. Kit expects to have a fling with a Spanish musician. She finds her sister through surfing. Kit was happy to find JosieMari, but also angry at her for faking her death. We learn about the family history in flashbacks. I enjoyed the book and am looking forward to reading more by the author.
Great read - couldn't stop.

Derived From Web

, May 20, 2020

I haven't been able to put a book down in a long time. I looked up after a half hour after flipping to the first page to take a look. I didn't want to stop but I had to. If I didn't have to do other things, I would have finished it in less than two days. I liked it very much. Great characters, great storyline, and kept me guessing. The author trickled in just enough details and hints to leave the reader wanting more and wanting to read the next chapter. There is a mystery in this story that she wrapped up at the end too easily. I would have liked to see that mystery solved a bit differently but it's a minor plot and not important to the story. If you are looking for a book that will keep you reading, this is the book. I'll be buying more from this author.
Beautiful and Heartbreaking

Derived From Web

, May 5, 2020

I was interested in this book but not sure where it was going. That suddenly changed. It was hard to put down this book. Barbara O' Neal is a great writer and will be looking for more of her books. She writes like she was not involved in the story. Her descriptions of the times when the two sisters are young are so graphic that anyone can immediately picture the entire set-up. It's a challenge to be raised by two parents who are not normal. There is no down time with the way the author weaves the story. Kit travels to New Zealand to find her sister and it doesn't end there. It is highly recommended.
I've read few worse, none this year

Derived From Web

, Dec 4, 2019

How do I imagine 50-shades going? The premise of a story was not what I was expecting. I was confused by the reviews. Good luck if you decide to buy. If I could I would request a refund. It's bad.
Not what I thought

Derived From Web

, Nov 10, 2019

The book was not what I thought it was. The story is about a woman finding her sister in three chapters. I wasn't interested in reading about her relationship with the man she met while searching for her sister.
I don't Get it!

Derived From Web

, Sep 29, 2019

I don't understand... all these glowing reviews. It was a disappointment from the start. The first 15 pages are filled with amateurish adverbs. There are a lot of adverbs on each page. The writing was poor. What was the location of the editor? There are too many repetitive flashbacks and they're not good. The surfing scenes were not on the backpages. There are long, tedious sex scenes. I was skipping boring prose. It was wordy. Wordy, that's what. It's wordy. She could have used 10 words throughout the book. I went directly to the dialogue, skipping the rest of the prose. Then looked over those pages again. She didn't care if she found her sister one way or the other. I did not waste my money. I read the book.
Great audio book

Derived From Web

, Aug 13, 2019

I loved listening to this as an audio book. The story was good and I liked it. It was interesting to hear about my city when I was in New Zealand. It was great, but you may not notice the mix ups between New Zealand and Australia, and the use of an Australian accent for New Zealand.
This is life

Derived From Web

, Jul 27, 2019

I can't find the right words. I feel sad! The book was done! NOOOO! The words are incredible, awesome, truth-filled, loving, real, dysfunctional. The family. From the bottom of my heart I would like to thank Barbara O' Neal. Please have a sequel! It's!