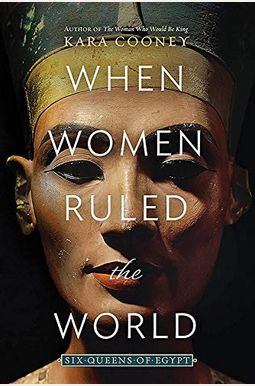 
 
When Women Ruled The World: Six Queens Of Egypt
Book Overview
This Description may be from another edition of this product.
This riveting narrative explores the lives of six remarkable female pharaohs, from Hatshepsut to Cleopatra-women who ruled with real power-and shines a piercing light on our own perceptions of women in power today.Female rulers are a rare phenomenon-but thousands of years ago in ancient Egypt, women reigned supreme. Regularly, repeatedly, and with impunity, queens like Hatshepsut, Nefertiti, and Cleopatra controlled the totalitarian state as power-brokers and rulers. But throughout human history, women in positions of power were more often used as political pawns in a male-dominated society. What was so special about ancient Egypt that provided women this kind of access to the highest political office? What was it about these women that allowed them to transcend patriarchal obstacles? What did Egypt gain from its liberal reliance on female leadership, and could today's world learn from its example? Celebrated Egyptologist Kara Cooney delivers a fascinating tale of female power, exploring the reasons why it has seldom been allowed through the ages, and why we should care.
Frequently Asked Questions About When Women Ruled The World: Six Queens Of Egypt
Book Reviews
(13)
Did you read When Women Ruled The World: Six Queens Of Egypt? Please provide your feedback and rating to help other readers.
Author somehow ignores errors

Derived From Web

, Jan 7, 2022

I am not quite sure how this book was published. Like it has not been checked by the editors. The author calls false statements, clear. Like she says, unicorns exist.
Politiced and over speculated

Derived From Web

, Dec 3, 2021

Reads like a novel at times, but if I have to hear the name Jez one more time, I don 't want overlaying and comparisons to our modern world, we have enough media that covers all of it. I want to see the old history.
Do NOT BUY THIS BOOK.

Derived From Web

, Oct 20, 2021

If you subtract the comments supporting Hilary Clinton and the may have, you should have comments on what might have happened, but is not sure it happened, you are left with less than 10 actual factual pages on the ladies.
Beautifully Designed with a powerful amount of research.

Derived From Web

, Feb 15, 2021

I feel that Dr. Cooney did a great job and is insightful. As you know, it is difficult to actually get as much information on the Egyptian queens, so Dr. Cooney had to do so much research to come up with what she had on each of the queens. I look forward to seeing this in a National Geographic or TV special, as this would be great to see this played visually.
Leave out the comparison to modern times

Derived From Web

, Apr 14, 2020

I thought the book interesting, as I just returned from an Egypt vacation. It helped explain some of the history for all the amazing places I saw. The insertion of the authors'apos ; comparisons to the modern day were however extremely tiresome. I am also disappointed in the editor on this point.
Good in theory

Derived From Web

, Dec 20, 2019

In theory, this is a good book. It is well-written and well-researched. It covers some good moments of history, although its only Egypt, so not sure how this ever counts as the world's ruling. For more casual readers this might be interesting, but for me as a history teacher it is frustrating because it is all speculation and there is no way to know what would have happened. I'm glad that someone decided to write about women in history, but it could have been done a little better.
I don't know if I'd say "riveting..."

Derived From Web

, Dec 9, 2019

The book description is thus pretty much a total exaggeration (women did not rule the world during ancient Egyptian times - there were just half a dozen queens over several thousand years ). And I wouldn't describe it as readable per se, but more as riveting non-fiction. Especially for the new Egyptologist in your life, they 'll enjoy it! Kara Cooney knows what she is talking about and has a career's worth of experience in translating Egyptian concepts for a lay audience.
This author surely has no affection for Donald Trump

Derived From Web

, Aug 19, 2019

I know, I like it, I'm learning about women who have ruled the world right? She does not like Trump or Dick Cheney, but references how great Obama and Clinton were and how Hillary was not given a fair chance, primarily because she was unable to become Manish enough to suit the voters. She uses the current political environment to compare the mistreatment of women, past, present and most likely in the future. Women need no advantages ; in most cases their strength and character vastly exceeds their contemporary male counterparts. I am of the notion that this will take time to sort itself out as the human race evolves, but everybody wants now everything right... The content was great anyway, I loved the information presented and was able to get through the book even while listening to her political views... Hey, keep your enemy closer!
A Modern Look at Egypt's Queens

Derived From Web

, Aug 15, 2019

I don 't read much nonfiction, but I absolutely love ancient Egypt, so I picked this book up at an exhibit at the National Geographic Museum. I am so glad that I did. For example, Cooney is very knowledgeable about the goings-on of ancient Egypt, but she also has a casual and accessible writing style. I never felt that I was being lectured. She explained events that happened so long ago and gave them a modern-day equivalent to really hit them home. I learn about six queens of Egypt who came to power because a woman's rule was what the country needed at the time, and I just wonder when America will get to that point.
Too much personal political inpur

Derived From Web

, Jul 14, 2019

I was excited to read the book until I received these comments. It turned me off mentally. I completed the book only to see if there was something new to add to the already existing information. Then wait until it reaches the Discount Bin before buying.