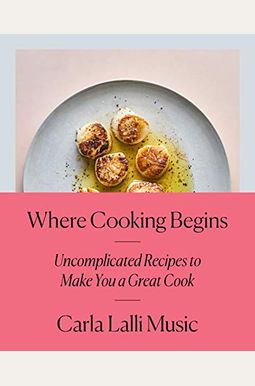 
 
Where Cooking Begins: Uncomplicated Recipes to Make You a Great Cook: A Cookbook
Book Overview
JAMES BEARD AWARD WINER - PUBLISHERS WEKLY BESTSELER - GOP COKBOK CLUB PICK - NAMED ONE OF THE BEST COKBOKS OF THE YEAR BY The New Yorker - Food52 - Library Journal
A modern approach to mastering the art of cooking at home from the food editor at large at
Bon App tit
, with more than 70 innately flexible recipes.
The indispensable recipes and streamlined cooking techniques in
Where Cooking Begins
are an open invitation to dive into Carla Lalli Music's laid-back cooking style. The food editor at large at
Bon App tit,
her intuitive recipes are inspired by the meals she makes at home for her family and friends and the joy she takes in feeding them. Here, too, is her guide to the six essential cooking methods that will show you how to make everything without over-complicating anything--and every recipe includes suggestions for swaps and substitutions, so you'll never feel stuck or stymied.
Where Cooking Begins
is also the first recent cookbook to connect the way we shop to the way we cook. Music's modern approach--pick up your fresh ingredients a few times a week, and fill your pantry with staples bought online--will make you want to click on a burner and slide out a cutting board the minute you get home. The no-fail techniques, textured recipes, and strategies in
Where Read More chevron_right
Frequently bought together
Frequently Asked Questions About Where Cooking Begins: Uncomplicated Recipes to Make You a Great Cook: A Cookbook
Books like Where Cooking Begins: Uncomplicated Recipes to Make You a Great Cook: A Cookbook
Book Reviews
(10)
Did you read Where Cooking Begins: Uncomplicated Recipes to Make You a Great Cook: A Cookbook? Please provide your feedback and rating to help other readers.
Really Great Book

Derived From Web

, Apr 17, 2020

It is a great book! The included recipes are not overcomplicated unnecessarily. It definitely helps reduce the frequency that I eat frozen pizzas...
Who's this book for?

Derived From Web

, Sep 1, 2019

When I bought it, I thought it would be the Bon Appetit reader, but if that was the case, do we really need to spend so much space explaining sautéing? The first half of the book is fairly advanced 101, and then the recipes, most of them are actually quite confusing. At the top they have like ways to spin it and the pantry ingredients you may need, and then the actual ingredients are at the bottom. It is really not intuitive. The pastry dough is QUITE complex and there are no pictures to help the process. I am really disappointed because I love BA and Carla is obviously an amazing chef, but there is not much inspiration for me here.
Best for inexperienced cooks

Derived From Web

, Apr 29, 2019

I am an avid home cook and in recent years I am always purchasing the most popular cookbooks : Alison Roman's dining in, Melissa Clark's dinner, Salt Acid Fat Heat, Ottolegnhi Simple and I often cook from them. This is probably the least useful book I have found - it spends a LOT of the book on rudimentary techniques rather than actual recipes. Of the recipes in the book, very few leap out at me as incredibly delicious charred leeks with potato chips? I think this book is the best when she adds value to a simple recipe like the tahini butter topping to steamed sweet potatoes -- I just wish there was more space dedicated to this technique of steaming.
Great cookbook

Derived From Web

, Mar 23, 2019

This is a great cookbook for any cook. My favorite things are the desert island equipment and the spin it. I was all prepared to make the scallops that called for hazelnuts, but when I got home, my hazelnuts had disappeared! What now? The spin gave me two other nut options and the recipe was delicious! I have been disappointed before when something was out of season or out of stock at a market, this gives me Carla's ideas as to Now What?
Seriously waited my whole life for this book!

Derived From Web

, Mar 22, 2019

I have loved and bought hundreds of cookbooks to learn from them, to be lost in the images and transported by the authors experiences and story, but never really to cook from I love food, but am 100% NOT a cook. That all changed with this book basics that I can understand, a lot of manageable variations and then a whole lot of builds on them. All written in Carla's here to help way - totally matter of fact, but also so empowering. Planning on spending the whole weekend shopping and cooking from this GAMECHANGER. LOVE IT!
My new cooking bible

Derived From Web

, Mar 22, 2019

This cookbook is true joy and a revelation. It features a comprehensive and incredibly practical way of approaching the whole business of shopping and cooking, so that you can maximize the annoying work and minimize the enjoyment. The result is a cookbook that I use truly week to week, as it is not limited to a lockstep set of recipes for things I could only make on a special occasion. It is a practical guidebook for smart and beautifully photographed home cooking that tastes amazing. It has already changed the way I think about meals and I love it!
Money-Saving Cooking! Amazing Recipes

Derived From Web

, Mar 21, 2019

The approach of this book - shop for what you eat, use everything you bought - is genius. I was in a trap of big-shopping, then tossing out stuff that had gone moldy or mossy before we got there. This book shows technique and gives recipe, but also tells me how to cook so that I want to shop everything.
The best guide to cooking!

Derived From Web

, Mar 21, 2019

Great, but do you really learn to cook or do you learn to follow directions? In an approachable way, she helps you eat what you buy, from both the basic ingredients that you obtain, but also as important the cook methods you employ. Here you get deliciously easy recipes to try, but more importantly you learn to learn techniques so that you can improvise.
More than just a book of recipes ...

Derived From Web

, Mar 21, 2019

... it is an overall approach to philosophy, even cooking. Carla introduces the necessary skills and techniques that will have you freestyling in the kitchen in no time. If you've seen Carla in her Bon Appétit videos, you know that she keeps it chill and fun. Which is how homecooking should really be.
Essential for home cooks

Derived From Web

, Mar 20, 2019

I was introduced to Carla from the YouTube channel Bon Appetit and I'm a big fan. Today I received this cookbook and I can t put it down. It is so much more than recipes. I am already thinking about how I can update my food shopping habits and how to become a more passionateconfident home cook. Carla, thank you!