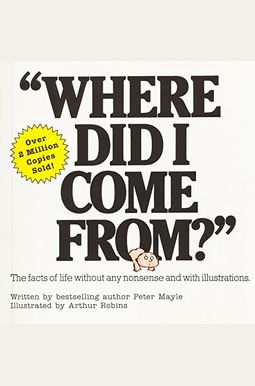  
Where Did I Come From?: An Illustrated Childrens Book On Human Sexuality
Frequently Asked Questions About Where Did I Come From?: An Illustrated Childrens Book On Human Sexuality
Books like Where Did I Come From?: An Illustrated Childrens Book On Human Sexuality
Book Reviews
(16)
Did you read Where Did I Come From?: An Illustrated Childrens Book On Human Sexuality? Please provide your feedback and rating to help other readers.
tradition

Derived From Web

, Apr 24, 2022

This is becoming one of those baby shower gifts - love love it and I think everyone should have it to speak to their young about where they came from, Beckham said. Blockbuster used to have a video on the DVD, but now I don't see the video.
WONDERFUL book on a kid's level for sex

Derived From Web

, Apr 24, 2022

I used this book in a sex ed class for parents on how to talk to their kids about sex, and I have given it to my son, daughter and now my grandson!
My parents bought this for my brother and I in ...

Derived From Web

, Apr 24, 2022

It was bought for my brother and I by my parents in the 1980s. It was purely for nostalgic purposes.
Good Question, better answers.

Derived From Web

, Apr 24, 2022

It was a gift from my mother that really stuck with me throughout my entire life. Clearly, this was the best treatment of the birds and bees for the under 10 set. I recommend it to everyone who's going to have to face these questions from 5 to 9 years old.
Still a classic... not for the squeamish!

Derived From Web

, Apr 24, 2022

Bought it for my daughter because she was sick and needed it. It's a classic Hitchcockian film, one that will stand in good company with the greats. This is not a fire or forget sex education weapon. It will get many questions from your kids. Be prepared to answer all the tough questions, McBride said.
One of the best imformative kid books on the subject!

Derived From Web

, Apr 24, 2022

Absolutely old school, but no other book I know of could stand up to the quality of explanation of how things work, he said. This book is illustrated with pictures of children that are shown in a classroom setting.
Great book.

Derived From Web

, Apr 24, 2022

I've enjoyed this book as a kid and this was perfect for my daughter. Very good book, well illustrated. Matter of fact, Ms. Kennedy said. Buyers beware: This is a Fair and Balanced analysis of Microsoft's products.
Great book.

Derived From Web

, Apr 24, 2022

This is a great book. The illustrations are also good for teaching children, he said. This book is great for helping your child understand procreation.
So much fun!

Derived From Web

, Dec 21, 2021

My daughter is now 12 and I feel she might have been too old for the book, but she is mature for her age. It gives a straight forward answer about where babies come from, but not about menstruation. However, I am not sure what the best age is to present this book to a child, but by the time we got it her peers were already well informed. It is geared toward children in elementary school. We did share a lot of laughs as she was reading it to us with big eyes because we were expecting a different subject and the artwork was somewhat accurate on body parts, she said. If you want your child in elementary school to have good information about where babies come from then this is a very good book for them. Yes, I am still glad we got the book. It was well worth the money, Mr. Dhaliwal said.
Extremely inappropriate for ages listed

Derived From Web

, Oct 10, 2021

This book is not appropriate for children ages 6 to 8. It's just that she didn't know what to expect." It's less about facts and more about making kids more curious to try that silly tickle. Sent it back within 24 hours.