BLACK FRIDAY DEALS CONTINUE - SAVE 20% AT CHECKOUT WITH CODE CYBERBOOK. Learn more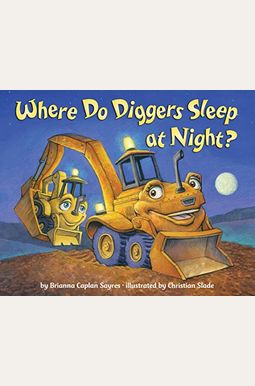  
Where Do Diggers Sleep At Night?
Book Overview
Getting to dreamland has never been more fun with this board book version of the beloved construction bedtime tale.
The bedtime rituals of these little diggers and dump trucks will be quite familar to kids saying goodnight. Young readers will surely identify with little fire engines, tractors, and monster trucks as they ask for
one more story
while their mommy trucks tuck them in, and their daddy trucks sing a goodnight song. Children who can't get enough of trucks and other vehicles will love Brianna Caplan Sayres things-that-go.to sleep books, including companion titles
Where Do Steam Trains Sleep at Night
, and
Where Do Jet Planes Sleep at Night?
Frequently Asked Questions About Where Do Diggers Sleep At Night?
Books like Where Do Diggers Sleep At Night?
Book Reviews
(17)
Did you read Where Do Diggers Sleep At Night?? Please provide your feedback and rating to help other readers.
It keeps my 3 year old's interest but the rhymes and the way the story flows is perfect to mellow him out

Derived From Web

, Apr 20, 2022

The book is good for bed. The way the story flows and the rhymes are perfect for mellowing out my 3 year old. I'm trying to calm him because he gets excited about pointing out things in the illustrations while I read, but not as much at bed time. He pointed things out in the book, but when I said the first, good night, truck, he fell into the rhythm and was waiting for that line about each truck. He said that each one was calmer and more focused than I was. This will definitely be a nightly ritual.
Not our favorite

Derived From Web

, Apr 20, 2022

This is not a favorite book of ours. I thought it would be cute with all the trucks, but some of the phases in the book just sound a little weird to me, the rhyming is off, and some of the sentences are a little awkward. We don't bother with this one anymore because there are better books to read. We bought it because we liked the idea of a board book for our 1 year old son and Goodnight, Goodnight Construction Site is a huge hit with most kids. He doesn't like sitting in this one. The artwork is adorable.
Perfect for any early toddler book collection!

Derived From Web

, Apr 20, 2022

This is our second favorite book of the night. Time for Bed is the first one. This book is geared towards truck-loving toddlers. Our 19 month old can't decide which book to read, so we read both. The colors are calming but still beautiful. The book is of a high quality. The illustrations are fun to look at. This is something we all love. The story is about how every type of truck addresses the same time of day. The photo shows the mom hugging her baby from front to back. My son loves the rhyming pattern, it is easy to read. Even if they aren't truck crazy, I would recommend this book as part of any early toddler book collection. We love it so much that I bought one for our baby shower.
My son laughs at this book!

Derived From Web

, Apr 20, 2022

Some of the rhymes are hard to read for the first time. I'm well-read, read aloud all the time, and the words are simple English words, so I don't know why I struggled with it so much. It is on me. My son loves the book. I had to buy this one from Amazon because he destroyed the first one. My son loves the little snow plows and the car transporter, he always laughs when he sees them! It's so cute. The book is wonderful!
and liked to "read" it in the car

Derived From Web

, Apr 20, 2022

Our almost two year old son is a big fan of trucks, cars, airplanes, trains, etc. He liked to read the book in the car when he first saw it. He calls them diggers, because they are a mainstay in our sleep routine. The text introduces him to new words. He likes the familiar places of the blankets, teddy bears, and cat and dog.
Almost 12,000 5 star reviews?

Derived From Web

, Jan 13, 2022

I bought this because of the reviews. The wording in it is very awkward and not flow well as other reviews say it does. I'm tempted to return it.
Nice little bedtime book

Derived From Web

, Sep 8, 2020

We love this book so much that we can't help but memorize it. The rhymes flow a bit better and it is better than the other ones. After we talk about what machinery is on each page and what they are doing, we go around the room in the picture and say night to everything. If your child is into diggers, dump trucks, garbage trucks, monster trucks, etc., then a sweet book is needed.
Great book for 1 - 3 yr olds

Derived From Web

, Jul 5, 2020

Our grandsons love reading. The 4 year old outgrew it but the younger one still likes to hear it.
Adorable!

Derived From Web

, Jul 2, 2019

My 16 month old loves this. He brings it to me so I can read it to him multiple times a day. I like cute and clever rhymes as a parent.
Such a cute book

Derived From Web

, May 15, 2019

The book will be perfect if your child likes trucks. There are all kinds of construction vehicle. A great story for kids.