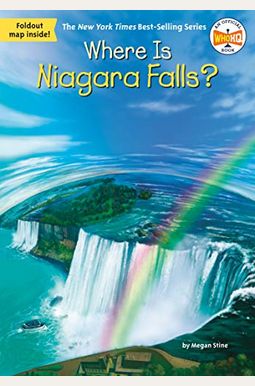 
 
Book Overview
While traveling through Canada in 1678, a French priest came across the most gigantic waterfalls he'd ever seen. Stricken with both awe and fear, he began to shake, fell to his knees, and prayed. Ever since, people from all over the world have come to explore Niagara: among them the daredevils determined to tumble down or walk across the falls on tightrope. Kids will get a kick reading about the hare-brained stunts and will also learn how the falls were formed and how--one day--they will disappear.
Frequently Asked Questions About Where Is Niagara Falls?
Book Reviews
(7)
Did you read Where Is Niagara Falls?? Please provide your feedback and rating to help other readers.
Good Niagra Falls Book

Derived From Web

, May 23, 2022

Occasionally I would read what my son is reading so that I can learn what his reading level is or just to monitor something. He was just right! It begins with how Niagra Falls was formed by Native Americans, and then by curious explorers. As it became a tourist attraction, more people came as well as daredevils who tried to thrill the visitors. Also the topic of capturing the water's energy by George Westinghouse and Nikola Tesla was discussed. There are some really good, detailed pencil drawings and nice color photographs and a timeline at the end. The text is written at a level 3 and above. My son said that it was easy to understand. After I read it, we talked about it and decided that we learned a lot from it.
Good for kids to read before visiting the falls

Derived From Web

, May 23, 2022

I ordered this book for my daughter just before our trip to Niagara Falls. She found it interested and kept repeating things she learned during our trip in this book.
If you want to know the history of Niagara Falls this is a great start!

Derived From Web

, Aug 31, 2021

This little book covered everything that one could know about Niagara Falls. It is written for intermediate to high school students. I read it for my granddaughter who reached the fourth grade, but naturally, I buy it first. A funny read.
This book uses the Lord's name in vain

Derived From Web

, Dec 12, 2020

Not sure why disrespect of a deity is appropriate in a educational novel for children. I was not expecting to have to check this out in a book like this.
Great book

Derived From Web

, May 15, 2020

The book was very interesting and cool, and I would recommend reading it if you are interested in nature.
Awesome

Derived From Web

, Nov 28, 2017

I used this book as a source of a school presentation. Awesome for kids - good info Love it Great for presentations My Grandpa likes reading these too!
Great Non-fiction Read

Derived From Web

, May 14, 2017

Great biography series that will appeal to all children. My students can 't seem to put them down. For the last few years, I have had them in my room and they just eat them. The content is easy to understand and provides great information on each persontopic along with a timeline in the back.