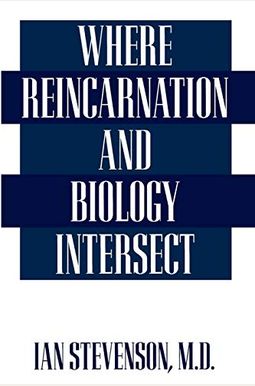 
 
Where Reincarnation and Biology Intersect
Book Overview
This Description may be from another edition of this product.
Children who claim to remember a previous life have been found in many parts of the world, particularly in the Buddhist and Hindu countries of South Asia, among the Shiite peoples of Lebanon and Turkey, the tribes of West Africa, and the American northwest. Stevenson has collected over 2,600 reported cases of past-life memories of which 65 detailed reports have been published. Specific information from the children's memories has been collected and matched with the data of their claimed former identity, family, residence, and manner of death. Birthmarks or other physiological manifestations have been found to relate to experiences of the remembered past life, particularly violent death. Writing as a specialist in psychiatry and as a world-renowned scientific investigator of reported paranormal events, Stevenson asks us to suspend our Western tendencies to disbelieve in reincarnation and consider the reality of the burgeoning record of cases now available. This book summarizes Stevenson's findings which are presented in full in the multi-volume work entitled Reincarnation and Biology: A Contribution to the Etiology of Birthmarks and Birth Defects, also published by Praeger.
Frequently bought together
Frequently Asked Questions About Where Reincarnation and Biology Intersect
Books like Where Reincarnation and Biology Intersect
Book Reviews
(7)
Did you read Where Reincarnation and Biology Intersect? Please provide your feedback and rating to help other readers.
A Study Hard to Ignore

Derived From Web

, Feb 8, 2022

Excellent work! Ian Stevenson's larger, more thorough volumes of case studies make a very strong case for reincarnation from a medical doctor's perspective. This is an example of how thorough he was in considering the appearance of certain birthmarks in children-- birthmarks that correspond remarkably with the manner of another individual's death in a previous lifetime. This book will give you cause to reconsider if you' re not sure what to believe in reincarnation. Dr. Stevenson has helped us to better understand a reality that has been overlooked by western religions and culture.
Interesting book

Derived From Web

, Feb 8, 2022

There are summaries of detailed reincarnation investigations in various parts of the world. The author did a good job applying analytical interviewing to the concept. More information for each situation would have made the book drag a bit, and less information would hurt credibility, as the summaries were about right in length and detail. It would have been beneficial to have more data points in the U.S., but the book states that there are no reported situations in this area. For me, it was still a great book to read. Many Lives Many Masters, which provides some examples from the US, may be beneficial to read if you like this book or are interested. This book is more clinical with many more examples in a summarized format while Many Lives Many Masters looks at fewer examples in more detail.
Great book

Derived From Web

, Feb 8, 2022

This is a good book to read if you are wondering about reincarnation. Stevenson has done a lot of research that is difficult to argue against. Anyone that is looking for how the spiritual world works should read this.
Very dry and clinical but a compelling case

Derived From Web

, Feb 8, 2022

I would not expect to read this book in one sitting. The author approaches the subject very clinically, which makes it more credible, but a little dry. Photographs have been included to support the material. It is very convincing. An interesting read
Interesting but . . .

Derived From Web

, Feb 8, 2022

This is a good book. Rabbi Yonassan Gershom has written a book about people who died during the Holocaust and were reborn as gentiles. Dr. Stevenson's cases seem to lose their memories of the events in their previous lives at a young age, while Rabbi Gershom's cases seem to be forever haunted by their experiences. The majority of Dr. Stevenson's cases are from India, Thailand, and Burma, where reincarnation has been accepted for many centuries longer than it has been accepted in our Western culture. If the majority of his cases were from a culture that was less supportive of the theory, it would be harder to doubt them.
A Validation of Reincarnation by a Great Doctor

Derived From Web

, Sep 9, 2018

Ian Stevenson spent his life researching reincarnation. The proof anyone would need to believe in the immortality of the soul is contained in this book. If you are interested in the territory of the case studies, the book is very convincing. It has photographs. The physical marks from a previous lifetime will be carried into the present incarnation by some reincarnated individuals. Each subject was chronicled by Dr. Stevenson as he was a scientist.
SEARCH FOR SCIENTIFIC PROOF IN AFTER-LIFE AND PRE-LIFE PHENOMENA

Derived From Web

, Jul 21, 2017

There are beliefs in reincarnation, near death experiences, and other supernatural phenomena. For over half a century, Dr Stevenson and his team in the Perceptual Studies Division of the University of Virginia have been tracking down and submitting this data to modern scientific analyses. The book looks at the relationship between birthmarks and claimed reincarnations. The book was given four stars because it was unique and there was no other scholarly material to compare it against. My interest in this subject matter is due to being a terminal cancer patient and wanting to have a say in my next re- birth.