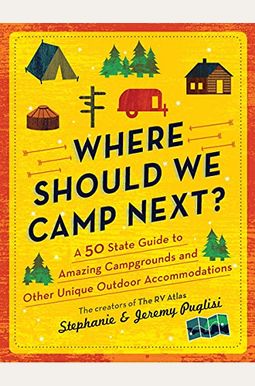 
 
Where Should We Camp Next?: A 50-State Guide to Amazing Campgrounds and Other Unique Outdoor Accommodations
Book Overview
Your essential planning guidebook for family-friendly camping trips featuring 300+ of the best camping and glamping spots in the USA
Outdoor adventure, glamping, and camping vacations have never been more popular--and everyone is looking to discover the best destinations with beautiful scenery and desirable amenities. In Where Should We Camp Next?, family camping and RV experts Stephanie and Jeremy Puglisi make it easy for you to plan the perfect family-friendly, budget-conscious summer road trip. Whether you're a fan of rustic national parks or luxury glamping resorts, the in-depth profiles of more than 300 amazing outdoor accommodation destinations will help you find the best places to park your RV, pitch your tent, or kick back in your yurt, treehouse, or cabin.
Includes:
Regional and state-by-state breakdown of campgrounds and RV resorts
Introduction to campsite types, prices, when to book, and how to book
The best campsites based on your personality and desired amenities
Where Should We Camp Next? is the adventurer's ultimate guide to vacations across the USA and highlights regional cuisine, must-see attractions, and unforgettable activities. Whether you're planning a cheap family camping vacation or a romantic couple's getaway, this book is your gateway to making memories with the people you love the most.
Frequently bought together
Frequently Asked Questions About Where Should We Camp Next?: A 50-State Guide to Amazing Campgrounds and Other Unique Outdoor Accommodations
Book Reviews
(9)
Did you read Where Should We Camp Next?: A 50-State Guide to Amazing Campgrounds and Other Unique Outdoor Accommodations? Please provide your feedback and rating to help other readers.
Nothing New

Derived From Web

, Dec 18, 2021

Very disappointed '', although not entirely surprising. The info provided is typical greenhorn tourist stuff you can get off the Internet, RV free magazines and you tube. All free. All free. No unusual or interesting camping. It seems that they spent time accumulating all the typical tourist spots and didn't spend any time on real camping spots off the typical routes like Good Sam, KOA and state and national parks. I live in southern Arizona and many great camp sites just within a 50 mile radius of my area were not mentioned, better yet the other states like NM, Colorado and much more. In my opinion as a lifelong camper, overpriced and only good for carrying along as a reference to the typical 'phone book places, no good for real adventurers. It would not return only because it would cost twice as much to return as almost the amount paid. Postage and Fuel to PO Book Envelope, Postage and Fuel to PO. I'll give it to a rooky RV 'er with an explanation of the contents :
Good book but.....

Derived From Web

, May 28, 2021

It is a good book, but the few places where the author suggests camp needs to be reserved months in advance. Everyone in the world is now in camping and finding anywhere to go camping, but the ones in this book will be the first to go so plan ahead. Unfortunately, my trip across the US in my Rpod was much harder than the shortage of RV campsites. In addition, Post Covid had many parks closed, but the bathrooms open!?!! Hoursemployees can be less if not impossible to deal with because everyone is still using the covid excuse to not go to work or bother to open the restroom facilities. I've always hated to be a downer, but this book will help only if you plan way in advance and call to find out the services you are looking for. It was not at all helpful, but then I did not plan well.
Where Should We Camp Next..... in Nebraska!? 😉

Derived From Web

, Mar 12, 2021

Hello everyone! Hello Everyone! '' I pre-ordered this book because I enjoy podcast episodes and social media pages from Jeremy and Stephanie Puglisi! They are ALWAYS educational and informative in what they put out for RV world! If they recommend it... I trust it! I've always trusted it! '' I bought See You At The Campground '' last year, so I knew that I would enjoy this book too! It is so interesting to read what made a desired campground or statenational park loved so much! First check my home state of Nebraska, finding the places mentioned to be a little surprisingly selected, yet understandably recommended! '' May you all enjoy this book... learning about states you haven t visited and states you desire to visit! No matter where you choose to go, ask yourself "WHERE SHOULD WE CAMP NEXT!" ''
The most comprehensive & entertaining campground book!

Derived From Web

, Mar 5, 2021

In 2020, we began RV traveling. We had purchased our RV before COVID hit, and suddenly our plans were canceled or changed, and it was becoming hard to find places. I am so glad I found Stephanie and Jeremy and the RV Atlas community, I can trust their advice, they won 't steer you wrong! This book makes a great addition to the campsite to see you at the campground. It breaks down the BEST campgrounds in every state and even categorizes them by romantic, glamping, rustic locations, etc. If you are familiar with other book resources that list and rate campgrounds, this book blows them out of the water! Most others list just the basics - dress, types of sites, main amenities... This book goes further and paints a picture of exactly what it is like to stay there and who it is best suited for. Plus all kinds of fun side bars with nearby attractions and things to do! Plus all kinds of fun side bars with nearby attractions and things to see! Run, don 't walk, to pick up your copy!
Only The Best, Most Relatable, & Reliable Camping Book

Derived From Web

, Mar 4, 2021

After reading our first RV trailer, we felt an immediate connection after buying their first book See You on the Campground ''. It was so great to read from front to back something that is completely relevant to us as a family and give us the most important and relevant information for camping in a single book. I HAVE to have this book because now I don 't feel like I know Jeremy and Stephanie and trust them when it comes to their recommendations. Based on their recommendations in Where To Camp Next '', we have already started planning our 2022 trips.
Great Ideans!

Derived From Web

, Mar 4, 2021

I wish we had this book when we started RVing as full-time RVers. We like to do some boondocking, state park camping, and some traditional camping. There are some really great ideas in the book for different places in each state : I love that it is organized by the region and then by the state within the region. There are also ideas of things to see in each state and to do in each state. In all, a GREAT guidebook.
Where to ?! Another great resource !

Derived From Web

, Mar 4, 2021

Camping has been an amazing opportunity and outlet for or our family, even during these Covid times. Stephanie and Jeremy have put together a wonderful guide to help us plan our next trips! We love the feature Badges ''! Will continue to share all the information platforms Puglisis with our friends and recommend. Their books, blogs and podcasts are full of great information. Sharing their impressive camping IQ'' and genuine joy of the outdoors and family time.
Ready to Find Our Next Favorite Campground

Derived From Web

, Mar 4, 2021

My first crack of the book had me checking to see which campsites made the cut in the Mitten. I also have some new places to check out for sure. I then searched the surrounding states to see what I needed to add to the list, an easy delight to see one of our summer adventures so highly rated. I enjoy reading about the amenities of each campsite and like the badge system for quick searches. This book will probably see a lot of use in the upcoming years.
Excellent content on hundreds of locations!

Derived From Web

, Mar 3, 2021

I then dived into Where Should We Camp Next? I received it as soon as I got it and read everything at the beginning and everything related to my neck of the woods here in the Pacific Northwest and am thoroughly impressed with the quality of content. An added bonus are the added personal stories and experiences, along with the guides to popular attractions in some of the chapters. Jeremy and Stephanie did a great job, Stephanie and Jeremy! You've got a fan for life! ''