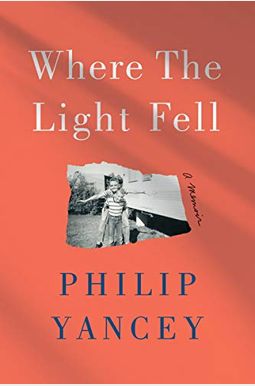  
Where The Light Fell: A Memoir
Book Overview
In this searing meditation on the bonds of family and the danger of extremist faith, one of today's most celebrated Christian writers recounts his strict fundamentalist upbringing and his unexpected journey to a life of compassion and grace--a revelatory memoir in the tradition of Educated and Hillbilly Elegy.
Raised by an impoverished widow who earned room and board as a Bible teacher in 1950s Atlanta, Philip Yancey and his brother, Marshall, found ways to venture out beyond the confines of their eight-foot-wide trailer. But when Yancey was in college, he uncovered a shocking secret about his father's death--a secret that began to illuminate the motivations that drove his mother to extreme, often hostile religious convictions and a belief that her sons had been ordained for a divine cause.
Searching for answers, Yancey dives into his family origins, taking us on an evocative journey from the backwoods of the Bible Belt to the bustling streets of Philadelphia; from trailer parks to church sanctuaries; from family oddballs to fire-and-brimstone preachers and childhood awakenings through nature, music, and literature. In time, the weight of religious and family pressure sent both sons on opposite journeys--one toward healing from the impact of what he calls a toxic faith; the other into a self-destructive spiral.
Where the Light Read More chevron_right
Frequently Asked Questions About Where The Light Fell: A Memoir
Book Reviews
(14)
Did you read Where The Light Fell: A Memoir? Please provide your feedback and rating to help other readers.
Depressing account of an abusive chidhood and religious training

Derived From Web

, Feb 2, 2022

I had previously read and admired several of Yancey's books about Christianity so that I was surprised and disturbed in reading this story of his upbringing by a fundamentalist mother and his demeaning education in psychotic schools. His brother fell off the deep end emotionally, a brilliant musician who went into drug use and hallucinatory experiences. I kept looking for some redemption to this nightmare of a life til the end, but got it never satisfactorily. He then began a stellar career as a Christian writer, but many people, I would think, would have also seen a psychotherapist. If Yancey meant to learn something from this book, I don 't know what it is. Some people can learn from suffering, while others are damaged. The question is why some do not explain and not others, which he does little to explain.
Amazing and honest

Derived From Web

, Jan 20, 2022

Yancey's writing is so beautiful that grace always wins the day. This is perhaps his most gracious writing of them all.
Powerful, resiliency, prequel to his other works yet written as a postscript

Derived From Web

, Dec 15, 2021

I have always enjoyed Mr Yanceys books, especially What's so Amazing about Grace and the Jesus that I never knew. For the last 30 years, I have read daily from his student Bible. This memoir was powerful, yet painful. God uses broken vessels, of which PY is a gift to the readers.
Philip Yancey shares his life story

Derived From Web

, Nov 17, 2021

Philip Yancey has been a favorite author for mine. In this book, he tells him about his background, his childhood and his family. It was not what I expected, but it explains what he has written in other books.
Southern childhood

Derived From Web

, Nov 16, 2021

Yancey looks back on his life, rejecting racism and growing into a Christian filled with grace and forgiveness. Amazingly detailed and honest .
The Light Still Falls

Derived From Web

, Nov 5, 2021

Well written and well understood, all of us were spiritually abused - some of us were physically abused and far too many of us were sexually abused. Yancey tells his story and is much like mine.
Now I See

Derived From Web

, Oct 29, 2021

I have always appreciated how Yancey wrestled in his books with God. Now I see where his upbringing influenced his writing interests. I related to the time of his upbringing, as I grew up in this same era. Great read, great read.
God still offers light

Derived From Web

, Oct 28, 2021

This book is one of the saddest and yet most hopeful of all I have ever read. In the midst of the darkest darkness, God offers grace and forgiveness, and healing. An important book for anyone who has experienced the portrayal of toxic fundamentalism by an always angry God who can never be content.
Finding God...even in church

Derived From Web

, Oct 11, 2021

My childhood had so many almost identical experiences to Philip's, but in religious terms we had the same journey through and out of fundamentalism. This is the book I have always wanted to write, but because of the kind of childhood I had so many memories and emotions forced to the point of being not much more than distant hints. For anyone who has ever thought that the church has hurt them, or they know that the church has driven them away, read this memoir. In the telling of your life, there is healing as there has been for Philip. A book called Surprised by Joy wrote C. S. Lewis. Grace could have been titled by Philip's Amazed!
Challenging but hopeful

Derived From Web

, Oct 8, 2021

Yancey's memoir is an account of his upbringing in a spiritually abusive fundamentalist environment and how it has influenced him, his elder brother and his mother. I had never read any of Yancey's books, but was intrigued to find out how someone could emerge from such a background with faith intact. The spoiler is that he did not emerge with his faith. He first found his faith after a profound experience of God's goodness, beauty and grace in the midst of intense crisis. This is a difficult book to read and should be approached with caution by anyone particularly sensitive to depictions of abuse. I found it, said I, to be ultimately infused with a hope in the goodness and beauty of God himself.