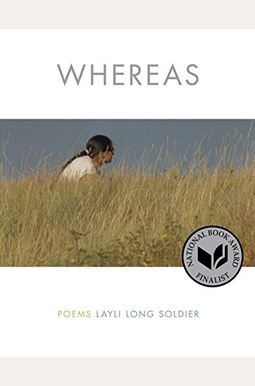  
Book Overview
Finalist for the National Book Award for Poetry

WHEREAS her birth signaled the responsibility as mother to teach what it is to be Lakota therein the question: What did I know about being Lakota? Signaled panic, blood rush my embarrassment. What did I know of our language but pieces? Would I teach her to be pieces? Until a friend comforted, Don't worry, you and your daughter will learn together. Today she stood sunlight on her shoulders lean and straight to share a song in Din , her father's language. To sing she motions simultaneously with her hands; I watch her be in multiple musics.
--from WHEREAS Statements
WHEREAS confronts the coercive language of the United States government in its responses, treaties, and apologies to Native American peoples and tribes, and reflects that language in its officiousness and duplicity back on its perpetrators. Through a virtuosic array of short lyrics, prose poems, longer narrative sequences, resolutions, and disclaimers, Layli Long Soldier has created a brilliantly innovative text to examine histories, landscapes, her own writing, and her predicament inside national affiliations. I am, she writes, a citizen of the United States and an enrolled member of the Oglala Sioux Tribe, meaning I am a citizen of the Oglala Lakota Nation--and in this dual citizenship I must work, I must eat, I must art, I must mother, I must friend, I must listen, I must observe, constantly I must live. This strident, plaintive book introduces a major new voice in contemporary literature.
Frequently Asked Questions About Whereas: Poems
Books like Whereas: Poems
Book Reviews
(10)
Did you read Whereas: Poems? Please provide your feedback and rating to help other readers.
Eye-opening, stunningly written

Derived From Web

, Mar 24, 2021

I was assigned to read this book for a college course. I was thrilled to learn about high culture and oppression in the absence of education on these topics. I highly recommend reading a few things for context before the apology by the U.S. to the Native Americans in 2009, as well as googling a few things about Indian boarding schools. Life-changing reading it with context was life-changing. It is amazing what a little self-education can do. I believe that all American citizens should read it.
Read for school

Derived From Web

, Dec 21, 2020

This is a heavy poem that you can read in a single seat, but your mind needs to chew for a few days. Yes, you should read it because it will open your mind to something that you are not aware of, it is woeful that those who read and hear it will not.
First half of the book was disappointing/ the second half made up for it

Derived From Web

, Apr 13, 2020

I was not expecting iambic pentameter from a modern poet, but I expected relatable verse along the lines of N Scott Momaday. Part of my disappointment lies, however, in my ignorance of the wordsterms of her native language, the other part is the disjointed writing style, shortened words and lines of verse that I found distracting rather than additive. This book will probably not find a place on my bookshelf, it will be donated to our community library, where hopefully someone else can appreciate it more than me.
Worth purchasing and reading [from a college student perspective]

Derived From Web

, Nov 19, 2018

I bought this poetry book for my ENGL 30501 poetry course. Not too abstract that you will never understand. I do recommend this book for college university or for pleasure reading. It has recently been released and her style is worth pondering. She may even broaden your vocabulary.
Beautiful poetry

Derived From Web

, Aug 15, 2018

Beautiful poems by a native American poet. This book is in response to the apology from the Native Americans to the U.S. government. I am not Native American and I have appreciated the opportunity not only to read beauty poetry, but also to become more educated on the Native American point of view. I heard her say : How am I supposed to understand their point of view? You can begin listening by answering : The book helped me greatly to listen.
Artful Use of Language to Tell A Powerful Story

Derived From Web

, Aug 1, 2018

The Native American Sioux poet artfully rearranges the English language to discuss the experiences of her people and the not-so-public government apology made by President Obama. She e.g. Cummings and Emily Dickinson to shame. Truly brilliant work, I will go back to read again and again. provoking and inspiring .
Challenges the English Language

Derived From Web

, Feb 26, 2018

Theoret is written intelligently and driven emotionally. I used to be a voracious reader and got bored of books that seemed to go in the same direction in the same way. This book was used as the recommended reading for a poetry workshop class I am in and her writing helped me break my fears of writing. I mean that this book is only INCREDIBLE!!!!
Poems from the heart

Derived From Web

, Sep 17, 2017

A powerful voice coming straight from the heart, that deserves to be heard by all. Beautiful, inspiring, and most importantly, Honest. Thank you, Layli Long Soldier, for speaking your truth and delivering it with such elegance.
Beautiful language!

Derived From Web

, Jun 23, 2017

This poet brings together history, amazing perspectives, beautiful language, and a contemporary look at native American issues, which is associated with the artistry of the poet! Beautiful! '' This year I will use some of her poems in my high school classes.
Here are poems that matter

Derived From Web

, May 30, 2017

Everyone who loves poetry should read it. They are deeply humane and deeply moving.