Buy 3 Get 1 Free
Our Best Sale Yet! Add 4 Books Priced Under $5 To Your Cart     Learn more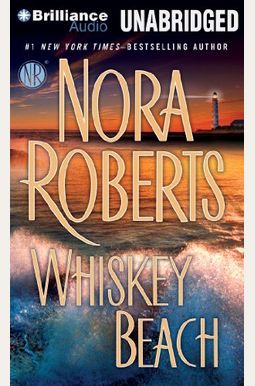  
Product is currently Out of Stock.
You can add it to your wishlist and you will be notified once we receive a copy.
Book Overview
This Description may be from another edition of this product.
For more than three hundred years, Bluff House has sat above Whiskey Beach, guarding its shore and its secrets.
To summer tourists, it s the crown jewel of the town s stunning scenery. To the residents of Whiskey Beach, it s landmark and legend. To Eli Landon, it s home.
A Boston lawyer, Eli has weathered an intense year of public scrutiny and police investigation after being accused of murdering his soon-to-be ex-wife. And though there was never enough evidence to have him arrested, his reputation is in tatters as well as his soul. He needs sanctuary. He needs Bluff House.
While Eli s beloved grandmother is in Boston, recuperating from a nasty fall, Abra Walsh has cared for Bluff House, among her other jobs as yoga instructor, jewelry maker, and massage therapist. She is a woman with an open heart and a wide embrace, and no one is safe from her special, some would say overbearing, brand of nurturing including Eli.
He begins to count on Abra for far more than her cooking, cleaning, and massage skills, and starts to feel less like a victim and more like the kind of man who can finally solve the murder of his wife and clear his name. But Bluff House s many mysteries are a siren song to someone intent on destroying Eli and reaping the rewards. He and Abra will become entangled in a centuries-old net of rumors and half-truths that could pull them under the thunderous waters of Whiskey Beach.
Passion and obsession, humor and heart flow together in a novel about two people opening themselves up to the truth and to each other.
Frequently Asked Questions About Whiskey Beach
Book Reviews
(15)
Did you read Whiskey Beach? Please provide your feedback and rating to help other readers.
Just OK

Derived From Web

, May 20, 2022

I love Nora Roberts and buy everything she writes, but this is a disappointment. In fact, it took me almost 3 weeks to finish it, because it was so easy to put. Abra was ok, but I did not find Eli at all believable. Sometimes, I felt like he was more like his mother than his girlfriend. I did not think that she had enough development. Yeah, she was doing this and that, but I couldn t see it just. I think that Roberts needs to focus more on quality vs. quantity. Justin Suskind also needed more development. I hate it when you can 't figure out the ending just because the author gave you absolutely no clue where it goes and when it gets to the end it just doesn't make any sense. I just think that this book could have used more development and I hope Roberts tries harder in the future.
Kind of like another of hers

Derived From Web

, May 20, 2022

I read most of Nora Robert's books and usually like all of them. This one was ok, kind of boring in big chunks. It reminded me of her book that had the big cats - was it in S. Dakota? The female lead was fun, though a bit unbelievable. Can anyone have that much energy? The dog named Barbie LOVED. I want to be one. In all, the book is worth reading, but not my favorite. I read a lot of Robert's books, but I won 't reread this one.
Romance with a bit of mystery SPOILERS

Derived From Web

, May 20, 2022

I enjoyed the book for its smooth, non-violent pace. As always, Nora Roberts is an enjoyable read, but I felt cheated at the end. What did the family say when they announced the engagement? Many lose ends of hopes made.
I'd like to see this become a series rather than a stand-alone.

Derived From Web

, May 20, 2022

This is long and sweet, and is delivered in Nora Roberts style. Her descriptive writing makes me feel as if I could find my way around the mansion in the town and above the craggy heights above the beach. He is convicted in the Court of Public Opinion. Only his family seems to believe his innocence. True Nora came to the rescue. This is a ling book, but flows well.
Bought this for my wife.

Derived From Web

, May 20, 2022

My favorite wife authors are Nora Roberts. Roberts gets all the new books written by Jerome for her as soon as they come out. She is a voracious reader and completed this one in two days. Apparently, it was a good read. Buying books through the Prime program of Amazon. com is so simple and convenient. Taxes are not included. No shipping costs. The ability to buy the books before they are published and to forget about it, knowing that they will ship is really great when it is available. For many years, I was a barns and noble purchaser until I was a prime member, and now Amazon. com is the only route for me.
Typical sappy Nora Roberts

Derived From Web

, May 20, 2022

I knew that I shouldn't have bought another formula-predictable novel by Nora Roberts. It is the same old, same old -- intense lust between the hero and heroine, which they ultimately gratify, and that was actually the most boring, pedestrian part of the book. Challenging circumstances with a pinch of mystery, but love conquers all! It does not? I couldn 't even find the motivation to read it to the end.
NORA ROBERTS DOES IT AGAIN

Derived From Web

, May 20, 2022

I DON'T KNOW HOW SHE IS SO PROLIFIC IN HER WRITING, BUT SEEMS NEVER TO REPEAT HERSELF. TheRE ARE ACTUALLY SEVERAL OF HER BOOKS THAT I HAVE REREAD ON A REGULAR BASIS, BECAUSE, OBVIOUSLY, I REALLY ENJOY THE STORY. THIS book IS AN EASY READ and A Quick READ, BUT IT DID HOLD MY INTEREST. MY FAVORITE NORA ROBERTS BOOK IS ACTUALLY NORTHERN LIGHTS '', AND I HAVE REREAD IT ONCE A YEAR OR SO, BECAUSE IT REALLY MAKES ME FEEL GOOD. THIS BOOK IS A GOOD ONE TOO, AND I GLAD I BOUGHT IT.
Good, but not in keeping with my moral values

Derived From Web

, May 20, 2022

The books are not as good as some of the movies I have seen that are based on her works. I think that while the stories are entertaining, I am looking for a little higher writing quality and a little less predictability. If you don't hold the value that is casual sex ok, don 't read it. In the world where so little is held sacred, I was disappointed with such a casual approach to such an intimate act.
Brilliant

Derived From Web

, Jun 25, 2021

Brilliant and a page turner! It was finished and enjoyed not putting it down until it was finished!!! Greatness - Book to read!
Another great read

Derived From Web

, May 2, 2021

Nora Roberts knows exactly what to give away and what to keep you guessing. I enjoyed reading the book to the end.