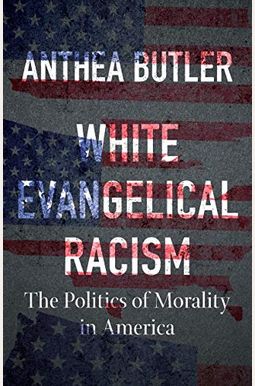  
White Evangelical Racism: The Politics Of Morality In America
Book Overview
The American political scene today is poisonously divided, and the vast majority of white evangelicals play a strikingly unified, powerful role in the disunion. These evangelicals raise a starkly consequential question for electoral politics: Why do they claim morality while supporting politicians who act immorally by most Christian measures? In this clear-eyed, hard-hitting chronicle of American religion and politics, Anthea Butler answers that racism is at the core of conservative evangelical activism and power.

Butler reveals how evangelical racism, propelled by the benefits of whiteness, has since the nation's founding played a provocative role in severely fracturing the electorate. During the buildup to the Civil War, white evangelicals used scripture to defend slavery and nurture the Confederacy. During Reconstruction, they used it to deny the vote to newly emancipated blacks. In the twentieth century, they sided with segregationists in avidly opposing movements for racial equality and civil rights. Most recently, evangelicals supported the Tea Party, a Muslim ban, and border policies allowing family separation. White evangelicals today, cloaked in a vision of Christian patriarchy and nationhood, form a staunch voting bloc in support of white leadership. Evangelicalism's racial history festers, splits America, and needs a reckoning now.
Frequently Asked Questions About White Evangelical Racism: The Politics Of Morality In America
Book Reviews
(5)
Did you read White Evangelical Racism: The Politics Of Morality In America? Please provide your feedback and rating to help other readers.
Anthea Butler Unplugged

Derived From Web

, Apr 19, 2021

The author is done.. done with excuses, done with apologies, done with complicity. This book is a potent reality check for white Evangelicals who have yet to come to terms with the wreckage of the Trump era and the long, sorry history that brought us here.
When Religion is Toxic

Derived From Web

, Apr 14, 2021

History tells us that white Evangelicals and racists had a turbulent relationship throughout the 20th century. More than doctrines, the leaders, actions, and policies of evangelicals have supported white supremacy and racism—with few exceptions! Dr. Butler has explicated the informal and formal aspects of white evangelical racism with tact and compassion. She has empathy for evangelicals even as she chronicles their misdeeds and ignorance. In a very concise manner, Professor Butler exposes how Republican politics have compromised the integrity and relevance of evangelicals over and above any doctrinal pursuits. Redemption is possible, Graham said, if evangelicals learn from this poignant monograph. Racism has no place in a diverse world.
A necessary corrective to white evangelicalism

Derived From Web

, Apr 14, 2021

Dr. Butler shows us the sad and sordid history of racism within white evangelicalism. If there is any hope of building a better future within white Christianity, we must all reckon with our past. Anyone grappling with racism, especially within Christian circles, will find this book invaluable.
A must read.

Derived From Web

, Apr 11, 2021

Amazingly honest. A truth serum for the uninformed. An eye Opener for those in denial. But don't just read the book, experience the movement and direction necessary to comb this tremendous force of evil disguised as righteousness.
Excellent, well-written and informative book

Derived From Web

, Mar 28, 2021

The book is very well-written and provides an illuminating history of the white evangelical movement and how it consistently promoted white supremacy and racism. The book relies on thorough research, and is filled with discussions of relevant court cases, documents, articles, and quotes of leaders of the evangelical movement. The other reviewers who gave this book one star and claimed it is racist have apparently not read the book, and they don't provide even a single example of how a book exposing such racists is racist. There is nothing bigoted or wrong about exposing the racism inherent in the white evangelical movement, and by amply documenting such racism with direct quotes and documentary evidence.