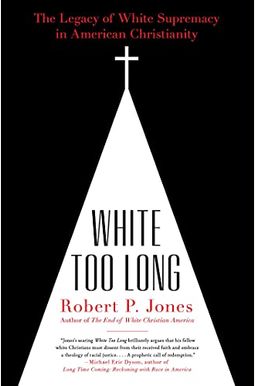 
 
White Too Long: The Legacy of White Supremacy in American Christianity
Book Overview
An indispensible study (Kirkus Reviews, starred review) drawing on history, public opinion surveys, and personal experience that presents a provocative examination of the unholy relationship between American Christianity and white supremacy, and issues an urgent call for white Christians to reckon with this legacy for the sake of themselves and the nation.
As the nation grapples with demographic changes and the legacy of racism in America, Christianity's role as a cornerstone of white supremacy has been largely overlooked. But white Christians--from evangelicals in the South to mainline Protestants in the Midwest and Catholics in the Northeast--have not just been complacent or complicit; rather, as the dominant cultural power, they have constructed and sustained a project of protecting white supremacy and opposing black equality that has framed the entire American story. With his family's 1815 Bible in one hand and contemporary public opinion surveys by Public Religion Research Institute (PRI) in the other, Robert P. Jones delivers a refreshing blend of historical accounting, soul searching reflection, and analysis (
Publishers Weekly
) of the repressed relationship between Christianity and white supremacy.
White Too Long
is a marvel (
Booklist
, starred review) that demonstrates how deeply racist attitudes have become embedded in the
Read More chevron_right
Frequently Asked Questions About White Too Long: The Legacy of White Supremacy in American Christianity
Book Reviews
(5)
Did you read White Too Long: The Legacy of White Supremacy in American Christianity? Please provide your feedback and rating to help other readers.
American Christianity has a lot of answering to do

Derived From Web

, Aug 10, 2020

One of the first things I learned from living in the United States was the false narratives that people as well as the media repeat and reinforce free country, oldest nation, etc. Not all people are free today, not even today. A nation founded on genocide and built on slavery, both in various forms continuing to this day, can not be the greatest nation. Justice is called what is. Very few church institutions have moved to the right the wrong. One of them is Georgetown University. I hope this book is widely read and people realize that it is not too late to recognize the wrongs and work for justice.
Ian's Review

Derived From Web

, Aug 8, 2020

The book is current, especially in this brilliant era. The book addresses challenging truths that must be discussed among white Christians.
Who is Cain?

Derived From Web

, Aug 6, 2020

Author provides an interesting juxtaposition of the story of Abel and Cain. Nominally, Cain Abel murdered and confronted the staining of all his descendants, ostensibly outsidersenemies. The case is made that white supremacy is Cain - Murder to maintain power without remorse or accountability. It is a systemic opportunity for addressing our different blindness.
Important and honest analysis

Derived From Web

, Aug 2, 2020

This book for me sheds a lot of light on a relationship between the Christian Church and race in the United States, one of which I was not particularly aware. I found it very readable, with some fascinating stories and quotes to illustrate points. '' It was not a book that tries too much with academic jargon and arguments, and I appreciated the honesty of some of the reflections, which added an important flavor to the history and analysis that I've been hearing so much lately. I 'll share this with others in my church, because I think it calls us to never become complicit in forces that do harm. Just because the Church has a history of this, like all religions, it does not have to be the future.
Great

Derived From Web

, Jul 30, 2020

I really enjoyed it ''. The heart of his thesis is Chapter 5, the Heart of Its Thesis. If I were you, I would read just chapter 5 and 7. The others are good, but I thought mainly filler.