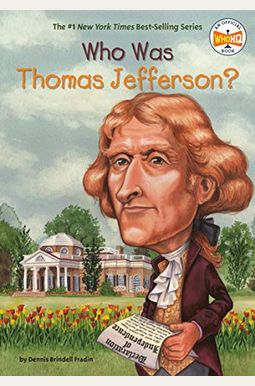 
 
Who Was Thomas Jefferson?
Book Overview
Did you know that John Adams had to coax Thomas Jefferson into writing the Declaration of Independence? It's true. The shy Virginia statesman refused at first, but then went on to author one of our nation's most important and inspiring documents. The third U.S. president, Jefferson was also an architect, inventor, musician, farmer, and-what is certainly the most troubling aspect of his life-a slave owner. Finally, here's a biography for kids that unveils the many facets of this founding father's remarkable and complicated life.
Frequently bought together
Frequently Asked Questions About Who Was Thomas Jefferson?
Books like Who Was Thomas Jefferson?
Book Reviews
(8)
Did you read Who Was Thomas Jefferson?? Please provide your feedback and rating to help other readers.
Worked great for my son's school project

Derived From Web

, May 4, 2022

My son picked Thomas Jefferson for his biography project this year and his teacher recommended this book. I did some research on my own after seeing the 1 star reviews and found this book to be fairly accurate along the lines of current historical consensus, Mr. Dhaliwal said. I would definitely recommend this book to other elementary school age kids who have a project or want to learn more about the author of the Declaration of Independence, but be prepared to talk with your children about the historical context of the events of Jefferson's life to make sure they understand everything.
Needs to be fact checked...

Derived From Web

, Jan 24, 2022

I purchased this book for my 10th birthday project. While it does appear to include the majority of Thomas Jefferson's accomplishments, it takes some liberties with fact in including a lengthy section about his alleged relationship with one of his slaves. While slavery is a very important point to highlight of his life and presidency, claiming that he fathered at least four children with Sally Hemings when that is not verified is irresponsible and confusing for a 10 year old.
Pretty good book.

Derived From Web

, Feb 23, 2021

The book is very good. It will fill me with more knowledge than I need. Or I'll just forget this book in a week or two. One thing to note is that the book mentions rape by Jefferson of Sally Hemings. There is no immediate evidence that Dr. Goin was correct.
Great book on Thomas Jefferson!

Derived From Web

, Apr 25, 2020

We used this book for a school project with our preschoolers. We enjoyed the book, but it was a little too much, Mr. Dhaliwal said. This book would be great for slightly older kids who need to learn about presidents for school or just personal interest, Mary.
DO NOT BUY leftists history revisions demonizing the forefathers

Derived From Web

, Jan 19, 2020

Please do not buy this book for your child. After reading this book I will not be buying any more WHI series books. Thomas Jefferson's radical left wing was a thorn in the side of the pope. I'm assuming the rest of our forefathers. History aside, the new book goes into details about slaves, including Jefferson's infamous rape of a free black woman. Sally was married to Jefferson by Sally's father, Thomas. She had little choice but to accede to the request of the magistrate, Mr. Dhaliwal said. Because Jefferson was her master, Sally had to do what he wanted, she said. What a waste of time, Mr. Rule told the judge. What's more, this is what WHOHQ is teaching children about our forefathers! If you care about your children being indoctrinated by the new leftist revisionist of our forefathers and US history in general, do not buy any of these books! She will not be reading the rest of the books.
Cute book but really not a lot of information

Derived From Web

, Dec 27, 2019

Dad gave him this for my son to give him something to help with his book report on Thomas Jefferson. There isn't really that much we know about him, Bruno said. It's more leaning toward mass produced series and not really a lot of depth of information on the individuals they write about, Sosa said. My son said he didn't even read anything about Jefferson's participation in the Declaration of Independence, and if that's true, it's pretty sad.
Dont buy. Ugly text

Derived From Web

, Aug 16, 2019

The book is too crowded for young readers, said the writer's mother, who only gave her son's name, "Plain." Buy it now, says Dr. Goin.
Great info in small book

Derived From Web

, Aug 9, 2019

This was a perfect read for my 4th grader to do his book report. Not long and overbearing, but very informative for him to be successful in his report.