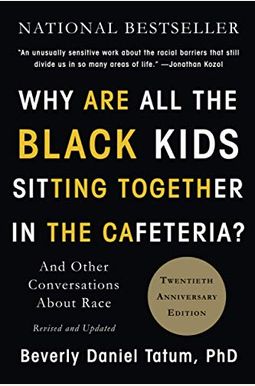 
 
Why Are All the Black Kids Sitting Together in the Cafeteria?: And Other Conversations about Race
Frequently Asked Questions About Why Are All the Black Kids Sitting Together in the Cafeteria?: And Other Conversations about Race
Book Reviews
(12)
Did you read Why Are All the Black Kids Sitting Together in the Cafeteria?: And Other Conversations about Race? Please provide your feedback and rating to help other readers.
Absolutely recommended.

Derived From Web

, Apr 20, 2022

Incredibly clear and patient in explaining issues of racism and white identity, with particular reference to what it means to live in racial-majority contexts for both blacks and whites. Definitely recommended.
Amazing Book, I'd reccommend this to any minority parent or teacher of predominately Black/Latino communities.

Derived From Web

, Apr 20, 2022

Tatum's book eloquently expresses important themes within black and other minority communities that provide the context for behavioral patterns and susceptibilities. As a young biracial Latina woman, this helped me construct a firmer foundation for how I perceive myself and others within my demographic. Tatum touched a broad spectrum of cause and effects and did an amazing job in expressing conflicts that arise due to such causes and effects. Although I enjoyed this book, I wish Tatum would elaborate more on the correlation in Afro-Latino behavior with that of African Americans. I also wished she had touched more on the image of modern races immortalized in the other media because i believe that is something that needs to be analyzed as a contributing problem to the conflicts in such demographics.
Purchased for a Sociology Class

Derived From Web

, Sep 27, 2020

The book has no substance. It gives anecdotes of racism, but no decisions. Politically, it is uninformed and politically biased.
Less about race and more about liberal agenda

Derived From Web

, Jul 10, 2020

Although this book spoke about black issues in America, it was black. I feel it focused so much on a lot of other groups - Latino, Asian, LGBTQ, agism, gender... '' Which is fine, I guess, it is just not why I bought the book. It felt really political, honestly. I mean to the point that it all talked about Hillary Clinton and how TrumpClinton should have gotten the nomination. I was hoping for a book that discussed the race in a way that would bring people together, but this was not it. It was political and very far left.
Not for the uneducated or defensive

Derived From Web

, Mar 4, 2020

This is therefore the updated 10th anniversary edition. The author uses many examples from her long pedagogical career to make her points, which is going to be very difficult for some readers. This is NOT A GOOD BOOK IF YOU ARE JUST STARTING to explore whiteblack or dominant culture versus minority relations issues. Readers who are less educated will naturally do the, but not me, that is not how I think when reading examples I find so much of anything out of this book, if you are at least somewhat informed in this area, you will find much out of this book.
Book Came Damaged

Derived From Web

, Feb 1, 2020

Before even reading this book, its off to a rocky start. The front cover came damage and ripped, and the front cover was damaged. I'm too lazy to read it and excited to return it. I'm too lazy to return it.
This is a must read!

Derived From Web

, Nov 26, 2019

As an educator in my past year, I believe that this book should be part of the collegiate curriculum of all future educators. This is a must read book for all people of color, as well as anyone who has any contact with people of color... Some should read it twice just for good measure.
Eye opening book.

Derived From Web

, Oct 3, 2019

If you should never question yourself, you should never question it. In a country in which everything is divided by personal skin color, we must participate in these conversations and understand how all of us contribute to social inequality and division.
Every College Student Needs to Read This Book!

Derived From Web

, Mar 20, 2019

I hope that every college student reads this book, regardless of race or ethnicity, and I hope that every college student, no matter their race or ethnicity, reads it. I wish I had this book as a white minority at a predominantly racial university. The framework that Dr. Tatum used to explain racial identity development would have helped me immensely by giving me a language for what I experienced. Several decades after its first publication, I still refer to this book and often share it as I speak and write publicly about issues of race in PWIs. A must read! A must read!
Highly recommended for anyone who interacts with children.

Derived From Web

, Dec 1, 2018

When I picked this book for the first time, I didn 't know what I was expecting. The first 35 pages alone blew my mind... giving me new information and checking some things I had been observing in society. If you read children in another way, I HIGHLY recommend that you interact with this book. It not only talks about the raceidentity of youth black people, but also explores the identities of whites, Latins, Middle Eastern-Africans, Asian Indians, biracial Indians, transracial adopted children and native Indians. I have learned SO much!