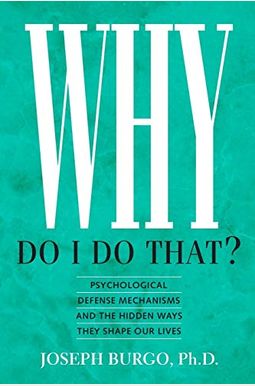 
 
Why Do I Do That?: Psychological Defense Mechanisms And The Hidden Ways They Shape Our Lives
Book Overview
Why Do I Do That? adapts the basic strategies of psychodynamic psychotherapy to a guided course in self-exploration, highlighting the universal role of defense mechanisms in warding off emotional pain. With easy-to-understand explanations, the first part teaches you about the unconscious mind and the role of psychological defenses in excluding difficult feelings from awareness. Individual chapters in the longer middle section explore the primary defense mechanisms one by one, with exercises to help you identify your own defenses at work. The final part offers guidance for how to disarm your defenses and cope more effectively with the unconscious feelings behind them. Psychological defense mechanisms are an inevitable and necessary part of the human experience; but when they become too pervasive or deeply entrenched, they may damage our personal relationships, restrict or distort our emotional lives and prevent us from behaving in ways that promote lasting self-esteem.
Frequently Asked Questions About Why Do I Do That?: Psychological Defense Mechanisms And The Hidden Ways They Shape Our Lives
Books like Why Do I Do That?: Psychological Defense Mechanisms And The Hidden Ways They Shape Our Lives
Book Reviews
(17)
Did you read Why Do I Do That?: Psychological Defense Mechanisms And The Hidden Ways They Shape Our Lives? Please provide your feedback and rating to help other readers.
Good review of the defenses--not tied together well enough

Derived From Web

, May 21, 2022

It is well written and clear, easy to relate to for lay people. I felt, however, that the information was presented in a personal way, with each chapter having its own focus, and it was hard to pull it all together to figure out what it might mean in terms of changing the disjointed perspective or behavior. I liked each chapter individually, but couldn t work out how to use it.
highly recommend

Derived From Web

, May 21, 2022

I'm about fifty and this book opened my eyes to questions I have been having for years.
Loved this book.

Derived From Web

, May 21, 2022

I bought this book to help me gain additional information about defense mechanisms and how these mechanisms could manifest in individuals. It is written very well and is easy to understand. I would highly recommend this book to my graduate school friends, because there is a lot of useful information in this book that really explains why individuals resort to defense mechanisms and how it shows in behavior. It was also a fairly quick read. It has been loved!
easy reading & informative

Derived From Web

, May 21, 2022

I have done much self-growth work, but this brought much of it into an understanding rather than just boxes and judgments. From an individual perspective, looks at behaviours of self and others. Allows the reader to come to their own conclusions and awareness, as opposed to being told how you feel. The author shows compassion throughout with a kind approach, clear explanations, and very helpful exercises.
In a word...Excellent!

Derived From Web

, May 21, 2022

I found the book to be very insightful, in fact, it had so many insights that I found myself highlighting TOO much.
Very usefull

Derived From Web

, May 21, 2022

Very useful book! I now understand myself and others a little better. It is still hard to change ( ).
A practical guide

Derived From Web

, May 21, 2022

I adore it. It helped me a lot. It is simply written and written with compassion. The exercises add a lot of value.
Don't buy this book for your girlfriend

Derived From Web

, Aug 1, 2020

My girlfriend read this book and now is a psychology professional who knows why she does things and reacts in certain ways.
Better than Therapy-This Book has the Answers

Derived From Web

, Jul 18, 2020

My 17-year marriage ended just the same, and I felt completely broken. Not only was I sad, but I was also worthless and unlovable. I wanted to understand more about my husband's actions during the marriage and after it ended, what made the marriage fall apart and what influenced my thoughts and behaviors. This book answered to all these questions and so much more. Regardless of their situation, I recommend that everyone read it to come to terms with their own coping mechanisms and understand how and why others behave as they do. This book helped me to be more objective about my divorce, removing the resentment I had, which crippled my healing process. I learned that we all have pain, but we can manage pain and lead happier and more fulfilling lives if we learn to look more objectively and develop self-awareness, as it relates to our own thoughts and behaviors. This book answers the WHY definitely.
Misuse of Defense Mechanisms

Derived From Web

, Jun 10, 2020

A great example is shame, where a person in some sense feels fundamentally flawed. The defense mechanism may be a narcissistic personality that paints itself better than anyone else, thereby keeping their own feelings of inferiority at bay. Personally, I have used humor in this way to announce to folks in the professional world to not take me seriously and therefore hold me less accountable. Burgo's writing style is both personal and no-nonsense, a refreshing combination from an author who has walked the path he leads others on. Especially helpful are listing of the properties that relate to particular modes of defense mechanisms and the application of areas in life where these may surface and how.