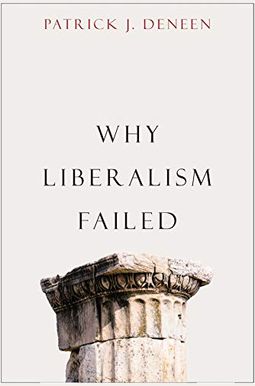  
Why Liberalism Failed (Politics and Culture)
Book Overview
Has liberalism failed because it has succeeded?
One of the most important political books of 2018.--Rod Dreher,
American Conservative
Why Liberalism Failed offers cogent insights into the loss of meaning and community that many in the West feel, issues that liberal democracies ignore at their own peril.--President Barack Obama
Of the three dominant ideologies of the twentieth century--fascism, communism, and liberalism--only the last remains. This has created a peculiar situation in which liberalism's proponents tend to forget that it
is
an ideology and not the natural end-state of human political evolution. As Patrick Deneen argues in this provocative book, liberalism is built on a foundation of contradictions: it trumpets equal rights while fostering incomparable material inequality; its legitimacy rests on consent, yet it discourages civic commitments in favor of privatism; and in its pursuit of individual autonomy, it has given rise to the most far-reaching, comprehensive state system in human history. Here, Deneen offers an astringent warning that the centripetal forces now at work on our political culture are not superficial flaws but inherent features of a system whose success is generating its own failure.
Frequently bought together
Frequently Asked Questions About Why Liberalism Failed (Politics and Culture)
Books like Why Liberalism Failed (Politics and Culture)
What should you read after Why Liberalism Failed (Politics and Culture) Book? Here is a list of books to read if you read and loved Why Liberalism Failed (Politics and Culture)
Book Reviews
(7)
Did you read Why Liberalism Failed (Politics and Culture)? Please provide your feedback and rating to help other readers.
PRETTY MUCH CONVINCED OF DENEEN'S THESIS

Derived From Web

, Mar 19, 2021

I have heavily annotated my copy of Why Liberalism Failed, because it is the kind of book that makes you think about old ideas in fresh ways. Much ink has already been sprayed, debating the merits of this book. I won't go into detail on these because this short review is designed to say that I find Deneen's thesis quite compelling. I plan to read more from Mill and Locke so my view could change some, but right now I find myself in line with Deneen's concerns.
A book built on an oxymoron

Derived From Web

, Apr 10, 2020

In a sleight of hand trick, it is generally the first move in which the Ace is palmed. The second sentence of this book's preface states : My basic assumption is that the underpinnings of our inherited civilized order-norms would inevitably erode under the influence of the liberal social and political state '' through religion and a supporting culture. This confession that the author assumes the truth of what he sets out to prove is underscored by multiple repetitions of a favorite self-contradictory statement liberalism has failed because it succeeded. The book is intended to be a conservative defense of inherited liberal order against the rampant promotion of liberal individualism, but gets no logical traction because the author does not seem to notice that the rampant liberal individual might object to an inherited order, including racism, sexism, homophobia, xenophobia and the like.
Why such a fuss?

Derived From Web

, Mar 8, 2020

I don 't get it. When he quotes Thomas Friedman on page 11, you are sure he is a lightweight. His concern is " feelings, " not people, policies, data. If you replaced " indicitive " with "disparity ", a more accurate term, whenever he uses it, you would have no case at all. The solutions are complicated, but not difficult to reach.
Outstanding

Derived From Web

, Jul 15, 2018

This book is short at less than 200 pages and surprisingly easy to read. Deneen excels in expressing clear and simple ideas in profound language. The idea that the two ostensibly bitter enemies of classical liberalism and progressive liberalism mutually reinforce each other in the creation of atomized, lonely, anxious, and depressed individuals who are increasingly dependent on a massive and ever-growing Big Brother is a powerful idea worth a great deal of contemplation. Deneen points out what he views as the false anthropology at the heart of liberalism and points out that any guiding political philosophy with such a gap between foundational principles and real human beings is bound to collapse. Whether one falls on the left or right of the political spectrum, the question of whether liberalism can be improved through a series of adjustments, or whether we need to prepare the ground for a radically different social organization, is a discussion worth having.
Corrosive Effects of Modern Liberalism

Derived From Web

, May 9, 2018

Deneen succeeds in analyzing the corrosive effects of modern liberalism by showing how liberty was re-defined and works symbiotically with modern materialistic consumer culture to dissolve the bonds of community, culture and family and replace them with a world of atomized individuals and ever-growing government. Readers looking for more ammunition for modern political debates will be disappointed because Deneen goes much deeper and reveals that much of what passes for conservative thought these days is actually rooted in current liberalism. While he does not deny that liberalism has done some good, Deneen suggests it is not sustainable and is even now in its death throes.
While the underlying content was understandable, this was one ...

Derived From Web

, Apr 7, 2018

While the underlying content was understandable, this was one of the most difficult to read books I ever read, just poorly written.
Not an easy read for Americans or Europeans

Derived From Web

, Jan 22, 2018

Not an easy read for Americans or Europeans, especially since it is a bit like someone taking the air we breathe critiquing. And that is the reason why it must be read. To help us to critically examine the politics, institutions, and liberal culture that we take for granted. One of the reasons why we are so incapable of seeing Trump and the rise of populism in our current age is because we are unable to understand liberalism as an ideology. This also means that we are unable to judge its predictable consequences. In this respect, Daniel's book is an important step towards self-reflection. Many have done it before him, but this is the first time that this crucial critique has been so aesthetically organized so clearly and concisely. A grateful I am, for one.