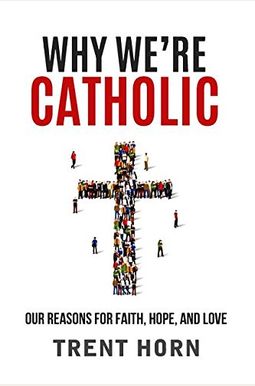 
 
Why We're Catholic: Our Reason
Frequently Asked Questions About Why We're Catholic: Our Reason
Books like Why We're Catholic: Our Reason
Book Reviews
(10)
Did you read Why We're Catholic: Our Reason? Please provide your feedback and rating to help other readers.
Great read for all Christians

Derived From Web

, Jun 2, 2019

This book is a wonderful introduction to the Catholic faith. The 888-666-1846 survey has been requested by Catholics, Protestants, and non-Christians alike. This book will be of great interest to anyone who wants to learn more about this beautiful faith.
Great Read!

Derived From Web

, Sep 12, 2018

This book is a good read deeply in the vein of apologetics. Good book for Catholics or lapsed Catholics. It clearly explains some of the faith's complicated problems, but it looks over others. It would be a good read for someone looking to deepen their faith, or for those that may not understand why Catholics are pretty awesome and that God is Amazing!
A book for every Catholic and for everyone wondering why the heck we are Catholic ;)

Derived From Web

, Aug 15, 2018

I cannot begin to describe how this book has changed my life. Thanks for the compliment. Thanks for everything, Axel said, in a way that my pea brain could understand. This book spurned my desire to dive deeper into Christian faith. I had a bible beside me while I was reading this. I ended up reading other books for deeper explanations and now I am circling back to why we're Catholic for a second read because it means more than it did the first time. Trent had a very good day yesterday, said McCartney.
Must read!

Derived From Web

, Mar 5, 2018

In ''The Seven Deadly Sins,'' Raymond argues that many Catholics misunderstand the faith and its "rules" that people sometimes reject for various reasons. Whether you're seeking a unique present for a loved one or a good-natured present for yourself, it can make a great gift for someone who may have trouble understanding your choice of faith.
easy to read

Derived From Web

, Nov 2, 2017

This is a pleasant easy to read, overall, basic explanation of the Catholic faith. It would be a good read for Catholics, non-Catholics, people of other world religions or even atheists. It begins by how we know anything to be true and then considers the difference between objective and subjective truth. The book argues that Catholics believe in God, Jesus and the Catholic Church. It covers many common misconceptions and provides easy-to-understand, convincing arguments. It could be a good text to use for the purposes of an RCIA program, he said. Although it is entry level most Catholics will also enjoy reading this book and would find it a helpful resource to share with others who ask about their faith.
I think it's a simple and easy-to-understand introduction to the ...

Derived From Web

, Sep 25, 2017

Even Catholics who are not religious can understand the faith, he said. The book is designed to explain basic Catholic doctrines from ground zero, explain in simple terms why these doctrines are professed, and clear up common Catholic misconceptions. It was a great book, but I'm more of a head-knowledge person who enjoys a lot of depth, so I couldn't put it down.
Great information for anyone looking for answers or explanations inside ...

Derived From Web

, Sep 12, 2017

Great information for anyone looking for answers or explanations inside or outside the faith. I have an eye for this type of thing.
I like the clarity of his prose and he seems to ...

Derived From Web

, Sep 6, 2017

I like the clarity of his prose and he seems to be very inside my head, his next question.
Helped me to understand the teachings of the Church much more clearly.

Derived From Web

, Jul 27, 2017

In a recent interview, I said that as a Roman Catholic I have had difficulty explaining my beliefs to others. The book is highly recommended by Dr. Simon to anyone dealing with those issues. I highly recommend this book to anyone seeking a deeper understanding of the Church.
Very enlightening

Derived From Web

, Jul 7, 2017

I enjoyed the book, Morgenthau said. I found it to be logical, sincere and well expressed, Raymond said. We have more in common than previously thought, he said. Thanks for the book.