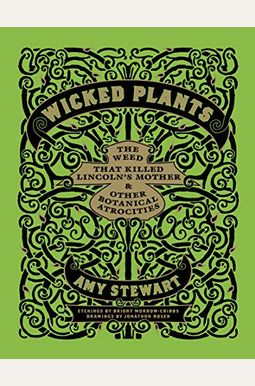 
 
Wicked Plants: The Weed That Killed Lincoln's Mother & Other Botanical Atrocities
Book Overview
A tree that sheds poison daggers; a glistening red seed that stops the heart; a shrub that causes paralysis; a vine that strangles; and a leaf that triggered a war. In Wicked Plants, Stewart takes on over two hundred of Mother Nature's most appalling creations. It's an A to Z of plants that kill, maim, intoxicate, and otherwise offend. You'll learn which plants to avoid (like exploding shrubs), which plants make themselves exceedingly unwelcome (like the vine that ate the South), and which ones have been killing for centuries (like the weed that killed Abraham Lincoln's mother).
Menacing botanical illustrations and splendidly ghastly drawings create a fascinating portrait of the evildoers that may be lurking in your own backyard. Drawing on history, medicine, science, and legend, this compendium of bloodcurdling botany will entertain, alarm, and enlighten even the most intrepid gardeners and nature lovers.
Frequently Asked Questions About Wicked Plants: The Weed That Killed Lincoln's Mother & Other Botanical Atrocities
Books like Wicked Plants: The Weed That Killed Lincoln's Mother & Other Botanical Atrocities
Book Reviews
(12)
Did you read Wicked Plants: The Weed That Killed Lincoln's Mother & Other Botanical Atrocities? Please provide your feedback and rating to help other readers.
Fun and Informative

Derived From Web

, May 25, 2022

This 5 - stars would earn color photographs. The only problem is that I can 't go into nature without being paranoid about long pants and shirt now. Educational as to how easy it is to accidentally poison oneself.
Not quite reference material

Derived From Web

, May 25, 2022

From the subtitle, I was looking forward to a series of stories involving plants and the diseases they caused. Partly delivered plants wicked. This book is caught between reference material and yarn without really satisfying either category. I have an interest in plants and a background in toxicology, which I carried through the book. You are never lost in the story, marveling at the damage that a plant can cause. None of the anecdotes are personal, so they lack detail, leaving them feeling like examples of people who have had a bad run with a plant. By no means, consider it an exhaustive list. In short, this book fits in the bookshelf of someone who really loves plants, a master gardener or botanist. Otherwise, I thought this book was slightly helpful and light on dry information.
Wicked Plants

Derived From Web

, May 25, 2022

Amy Stewart created a wicked gem of a book full of little information. She created it to inform and warn. Plants can produce, but also some can kill and heal. A listing of Poison Gardens and their web pages is provided at the end of the book, along with a bibliography and website links to poisonous plant databases, photos of toxic plants, and more.
Warning...many of our "everyday" plants are deadly!

Derived From Web

, May 25, 2022

I was quite surprised to learn how many plants.. esp in our own yards and homes are actually poisonous! It is also interesting to learn the origins of so many toxins... h.
okay for non-botanists

Derived From Web

, May 25, 2022

This is a light read and probably not for anyone who knows anything about botany. Unfortunately, I know a lot about botany, so that I lost interest pretty quickly in this book. It is more a story for amateur gardeners than a science-based botany book.
Entertaining! Great Book!

Derived From Web

, May 25, 2022

Very well written '', and enjoyable to read. Information about each plant is given, including common and scientific names, but the author manages to give a small history of the plants and makes it a very entertaining read. I enjoyed reading this book cover to cover! Fascist and entertaining. I recommend this book if you enjoy the dangerous side of the plant kingdom!
Great find

Derived From Web

, May 9, 2021

I received this book for my 13 year old as part of my nature study, but my 9 year old can 't put it down. It is now his favorite book. Pictures are black and white and full of details of history and causes when ingested or touched etc. In some respects, it is pretty harmful or deadly, as all plants are morbid.
A pocket guide to "wicked" plants

Derived From Web

, Jan 30, 2021

This pocket reference book details poisonous, painful, invasive and otherwise "wicked " plants. Each plant has its own description, illustration and history, some more colorful than others, including the notorious KGB - umbrella - poisoning. For those plants that are toxic, there is a detailed description of the symptoms of toxicity and details of any historical relevance.
Not enough pictures

Derived From Web

, Nov 10, 2019

I think there may be a problem with the Kindle edition ''. While there were interactive icons, there did not appear to be any kind of art, just a repetition of the name of the plant. While it was interesting, I found it a bit flat without a visual reference to the plants. I visit the website to see if the photos there are more illuminating.
Fascinating!

Derived From Web

, Jul 11, 2019

I bought this on a whim not expecting much, but boy was I surprised! It is a fascinating read for any home gardener. It is also a very easy read and you can put it anywhere and read it. Each short chapter is its own distinct entry and the stories are captivating. I really enjoyed the one about what the Jamestown settlers did to the Redcoats, who were tasked to halt a local insurrection, lol. This book also surprised me that some common plants I have in the garden and house are definitely worthy of MUCH respect - read it yourself and you 'll see!