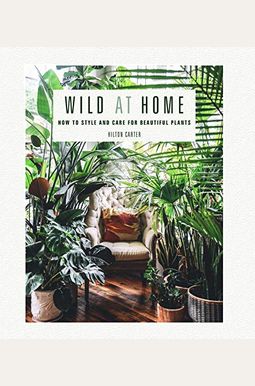 
 
Wild At Home: How To Style And Care For Beautiful Plants
Book Overview
Make your home a healthier and more beautiful place to be with Hilton Carter's inspirational ideas.
Hilton Carter's love for plants is infectious. His lush and exuberant displays are inspiring reminders that plants can be so much more than neat little containers on a window sill.
Grace Bonney, Founder and Editor-in-Chief, Design*Sponge Take a tour through Hilton's own apartment and other lush spaces, filled with a huge array of thriving plants, and learn all you need to know to create your own urban jungle. As the owner of over 200 plants, Hilton feels strongly about the role of plants in one's home--not just for the beauty they add, but for health benefits as well: 'having plants in your home not only adds life, but changes the airflow throughout. It's also a key design element when styling your place. For me, it wasn't about just having greenery, but having the right variety of greenery. I like to see the different textures of foliage all grouped together. You take a fiddle leaf fig and sandwich it between a birds of paradise and a monstera and. yes ' You will be armed with the know-how you need to care for your plants, where to place them, how to propagate, how to find the right pot, and much more, and most importantly, how to arrange them so that they look their best. Combine sizes and leaf shapes to stunning effect, grow your own succulents from leaf cuttings, create your own air plant display, and more.
Frequently bought together
Frequently Asked Questions About Wild At Home: How To Style And Care For Beautiful Plants
Books like Wild At Home: How To Style And Care For Beautiful Plants
Book Reviews
(16)
Did you read Wild At Home: How To Style And Care For Beautiful Plants? Please provide your feedback and rating to help other readers.
Expensive looking, the images are beautiful.

Derived From Web

, Dec 20, 2020

It was a great present, said Kristen. It looks like it's going to be double the price. The images inside are beautiful and make this a nice coffee table book.
Magnificent Book of Inspiration for Any Size Living Space

Derived From Web

, Oct 15, 2020

I wasn't sure about this book because some of us couldn't afford the types of homes depicted here, but I'm so happy I bought it, because I'll refer to it again and again. While it may be true that such homes may be beyond the reach of many, there's no reason why you can't draw inspiration from the beautiful photos and apply them to your humble abode. The book is packed with photos of plants, pots, and design ideas that incorporate art, textiles, plants, and more. I've read all the books, but this is by far the best.
Crazy plant lady

Derived From Web

, Jul 16, 2020

Thanks for letting me have over 50 plants n not be the crazy plant lady. Thanks for the help, I got to learn the names of my plants and how to root them again.
Lovely photos & tips inside!

Derived From Web

, Jun 23, 2020

The book is full of useful tips on decorating with plants and caring for them. I've always loved Paris Hilton's jungle like home. It's definitely recommended to any plant collector and plant addict. nan
Beautiful book but low on content.

Derived From Web

, Jun 12, 2019

A great coffee book, beautiful and interesting, but low on specifics. The site lacks in depth plant care tips or even a link to buy seeds.
Good and Green

Derived From Web

, May 29, 2019

Great info inside, but all the lush greens and beautiful interiors make this a great coffee book table even if you don't love plants.
Sensible Expectations

Derived From Web

, May 28, 2019

Great deal, said Gillian. The pictures are great, and the process of designing with plants is very thought out, he said. I think this book will leave you inspired, but also give you the courage to take time to create your own home-jungle. It's great to have the how-to bits, too! It's great to be back home, said Blair.
Beautiful photos and inspiration, not much if a care guide

Derived From Web

, Apr 21, 2019

As a follower of the hip-hop star's Instagram, the visuals were not a letdown. However, please note that the first half of the book is about Hilton's personal views on plant and space styling which is difficult to achieve on a budget. The second half does have some good notes on plant care, but if you're looking for a detailed plant care guide this won't be it.
A must have

Derived From Web

, Apr 13, 2019

I've been so excited to get this because, I've finally loved following his page for awhile now, so I was hoping I would love this book even more! It's informative, it's conversational and real -- one of my favorite call outs he used pictures of plants that weren't perfect, pictures of regular plants -- not pictures of that one perfect leaf, the one that was shined up and prepared especially for taking a photo, he said. This book is real and I highly recommend it to anyone who reads it. Paris Hilton is a liar, Howard Beck said on NBC's "Meet the Press."
Beautiful all around

Derived From Web

, Apr 13, 2019

I was so excited to read this book, Rosalyn said. I just couldn't wait to get it in my hands because I'm such a huge fan of the author! It's the equivalent of ordering a book from a book fair. The pages are beautiful, the instructions are easy to understand, and the styling is just perfect. I'd love to jump in there and see what happens. I planned to go through it, then using the book as a decorative book stack, but I can't imagine not referencing it often. It's just beautiful, Tunick said. Mr. Daschle had high expectations, but he exceded all of them.