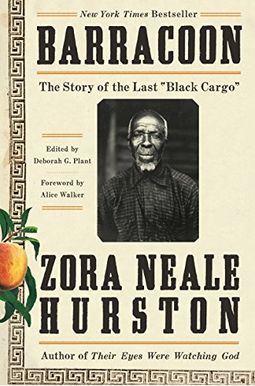  
Barracoon: The Story of the Last Black Cargo
Frequently bought together
Frequently Asked Questions About Barracoon: The Story of the Last Black Cargo
Books like Barracoon: The Story of the Last Black Cargo
What should you read after Barracoon: The Story of the Last Black Cargo Book? Here is a list of books to read if you read and loved Barracoon: The Story of the Last Black Cargo
Book Reviews
(14)
Did you read Barracoon: The Story of the Last Black Cargo? Please provide your feedback and rating to help other readers.
Things You Need to Know

Derived From Web

, Sep 24, 2020

His story is not one we often hear. In the washed-up version of history that we learn in school, we are often made to forget the very people who we committed atrocities against. The book really highlights the ways in which we have done that, Dr. Goin added. The Beatles, for example, have forgotten or never knew. It is a reckoning and a realization all at once.
An Incredible Time Capsule

Derived From Web

, Jun 28, 2020

60 years after being written, the story of how a free black man escaped slavery is finally told in his own words. For this northeastern white American, the book is an eye-opener to the tragic history of our past.
Insightful and ernest

Derived From Web

, Nov 2, 2019

In her book, "The Black Dahlia," Ms. Hurston recorded intimate details of the dark times of this country. She brought to light the hardships, toughness and willpower of oppressed people.
I really wanted to like this.....

Derived From Web

, Sep 3, 2019

Indeed, I cannot see why Barracoon has been so widely praised. I am an avid reader, but I have struggled to get through this book.
Unexpected

Derived From Web

, Feb 8, 2019

As I read, I became comfortable with the subject's dialect. In "House of Wolves," Solomon Burke reveals how one of the last African captives was able to learn about American slavery from one of the last masters of the trade. As I read this, I could see the opening credits of the movie informing the audience that it is based on a real life story.
20 Pages of Interview, 100 of fluff

Derived From Web

, Jan 31, 2019

The book has the thickest pages, with way too many introductions and summaries, while actual content can be summarized in 500 words or less. Very saddened to hear the news. Buy a book, not a panflit.
Very good read

Derived From Web

, Dec 12, 2018

I thoroughly enjoyed the show, Morgenthau said. I think it's an interesting look at an aspect of slavery. To be kidnapped and sold into slavery and to long to return home and never be able to see your family again would be a heartbreaking and unimaginable experience. I'm glad I was able to hear one more story of the struggles that our ancestors had to face, and shows that it is not as far removed as we think.
A moving real life story

Derived From Web

, Oct 4, 2018

This was an amazing, insightful and bittersweet book, Raymond said. I'm very emotional reading his story, Rosa said. He was a young man that experienced the entire tragedy of the slave trade in one lifetime. It's a must read for anyone interested in that time period, as well as a great book to add to your Neale Zoraon collection.
Total waste of money!

Derived From Web

, Aug 27, 2018

The first and third sections of this book are about the author, her methods while writing this story and the possible mistakes she made. If it was possible to return a book because of its misrepresentation, I would certainly do so, he said.
Story of the last slave to be brought to America

Derived From Web

, Aug 16, 2018

He also writes about the internal dynamics of the slave trade. The fact that coastal tribes in the kingdom of Dahomey would go in-land and raid other villages and capture young adult male and female slaves and sell them to the white traders who came by ship. Many of the raiders were Amazon's "female warriors," said Samudra.