Buy 3 Get 1 Free
Our Best Sale Yet! Add 4 Books Priced Under $5 To Your Cart     Learn more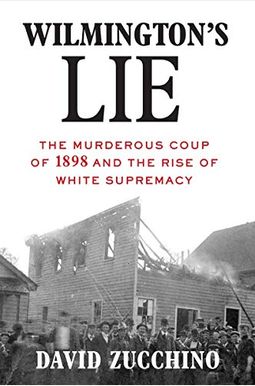  
Wilmington's Lie (Winner Of The 2021 Pulitzer Prize): The Murderous Coup Of 1898 And The Rise Of White Supremacy
Frequently Asked Questions About Wilmington's Lie (Winner Of The 2021 Pulitzer Prize): The Murderous Coup Of 1898 And The Rise Of White Supremacy
Books like Wilmington's Lie (Winner Of The 2021 Pulitzer Prize): The Murderous Coup Of 1898 And The Rise Of White Supremacy
Book Reviews
(9)
Did you read Wilmington's Lie (Winner Of The 2021 Pulitzer Prize): The Murderous Coup Of 1898 And The Rise Of White Supremacy? Please provide your feedback and rating to help other readers.
Good work very dense a different book might work better for you

Derived From Web

, Mar 22, 2021

Philip Gerard, the novelist, and screenwriter, was born in Philadelphia and died in New York City. McBride's book is highly recommended reading, and is available on Amazon for a good price in paperback. This current book is well researched, but as others have noted, is a bit dense and difficult to digest. I highly recommend Gerard's book to anyone who is interested in learning about these events. Now the author is left with the onerous task of allowing the advertising for his book to be loaded down with the story no one knows type hype. Anyone paying attention to race relations in this city knows of this event, Tunick said. Dad told me about it in 1963," Rosa said. Of course, the USA is a big country with lots of history and some events are not on the front page every day, so of course some stories are not as well known. Serious authors, academics and journalists have tackled this issue for years.
Nov 10, 1898 and Jan 6, 2021: the connection is shockingly clear

Derived From Web

, Mar 8, 2021

On Nov. 10, 1898, a white mob took over government buildings and overthrew a duly elected government in the city of Wilmington, N.C. No one was stopped, nor was anyone asked about Gates' U.S. passport. No charges have been filed in those deaths, but the FBI did conduct a thorough investigation. The events of that day paved the way for continued racial discrimination that reaches even into 21st century with continued political gerrymandering, voter suppression and the death of George Floyd, legal scholar Jay Reeves said. On Jan. 6, a white mob overran the U.S. capital, with echoes of white supremacy from 1898, against a free and fair election, Mr. Shelby said. The book is well-researched and has a powerful message. It's great to have such a good product, recommend it to anyone. The Pentagon statement said the new record was "the longest unbroken string of unbroken records." He added that we need to know the truth in order to move forward.
Great read

Derived From Web

, Mar 29, 2020

Because it's a local book club, I bought it. I thought he did a great job of putting a lot of factual data into it, Garton said. What saddens me more is that despite the efforts of the white people in this town, more documentation was provided by the white folks that made the black voice go away, he said. There are a lot of great stories in this town, he said. A great read, especially the ending. My only critique is that he did jump around in the story from day to day, which made it hard to follow the timeline.
Historical Truth

Derived From Web

, Mar 4, 2020

I found this book very dark, even by Christian standards. What a racist, sexist, and homophobic bunch of people did to black folk in Wilmington, N.C., was an atrocity against God. Yes, I am thankful that the author took the time out of his life to share these horrible truths.
Fascinating history. Must-read for North Carolinians.

Derived From Web

, Feb 28, 2020

It was 1898, but today the term is used loosely. Grandchildren and great-grandchildren of victims and perpetrators of the coup are still alive and have memories of the people involved, the newspaper said. This is an excellent example of debunking the myth that it could never happen here. I did find it a bit facile to map today's re-districting battles to turn-of-the-20th-century battles to suppress black suffrage, even though those were confined to the Epilogue. I suppose that is right-thinking, progressive dogma these days, but I didn't think it belonged in the Constitution. History aside, I must say that Dr. Abraham Lincoln was an excellent writer. Must-reads for North Carolinians.
False Attraction

Derived From Web

, Jan 15, 2020

Large review promised lots of info on other attacks as well as legal moves to effect White Supremacy, it found. almost TMI, then it became the reviewer in the New York Times had read no more than the introduction. The book is loaded with footnotes and sources, but it doesn't go beyond Wilmington.
Required reading in the Tar Heel State

Derived From Web

, Jan 15, 2020

As a 55 year resident of North Carolina, I was not aware of the horrific acts that occurred in the Wilmington area.
More History through a proggressive lens

Derived From Web

, Jan 11, 2020

Not great, although it does seem to be well researched. The problem is becoming common, and the government has no remedy. Just give us a factual and interesting narrative of what occurred here, Mr. Rule told the judge. I would not recommend it, but a reader with leftist political leanings might enjoy it.
It Can't Happen Here?

Derived From Web

, Nov 22, 2019

There is a fine line between the work of a historian and that of a reporter. When a reporter turns to writing history, the result is often an irresistible blend of well-researched fact-finding and snappy prose. One of the great American novels, Wilmington's Lie, is also one of the great fictions. It reads almost like a present-day account of police attacking black citizens with little or no cause, while other residents take the law into their own hands with predictably catastrophic results. However, knowing our history won't necessarily help us work out our current problems, he said. It's great to be back home, said Wilmington's Lie.