Buy 3 Get 1 Free
Ends Soon! Buy 3 Books Under $5, Get a 4th one Free.      Learn more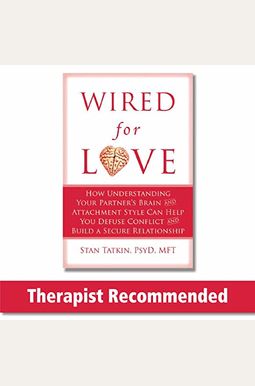 
 
Wired For Love: How Understanding Your Partner's Brain And Attachment Style Can Help You Defuse Conflict And Build A Secure Relationsh
Book Overview
What the heck is my partner thinking? is a common refrain in romantic relationships, and with good reason. Every person is wired for love differently, with different habits, needs, and reactions to conflict. The good news is that most people's minds work in predictable ways and respond well to security, attachment, and rituals, making it possible to actually neurologically prime the brain for greater love and fewer conflicts.
Wired for Love is a complete insider's guide to understanding your partner's brain and enjoying a romantic relationship built on love and trust. Synthesizing research findings on how and why love lasts drawn from neuroscience, attachment theory, and emotion regulation, this book presents ten guiding principles that can improve any relationship.
Strengthen your relationship by:
- Creating and maintaining a safe couple bubble
- Using morning and evening rituals to stay connected
- Learning to fight so that nobody loses
- Becoming the expert on what makes your partner feel loved
By learning to use simple gestures and words, readers can learn to put out emotional fires and help their partners feel more safe and secure. The no-fault view of conflict in this book encourages readers to move past a warring brain mentality and toward a more cooperative loving brain Read More chevron_right
Frequently Asked Questions About Wired For Love: How Understanding Your Partner's Brain And Attachment Style Can Help You Defuse Conflict And Build A Secure Relationsh
Books like Wired For Love: How Understanding Your Partner's Brain And Attachment Style Can Help You Defuse Conflict And Build A Secure Relationsh
Book Reviews
(13)
Did you read Wired For Love: How Understanding Your Partner's Brain And Attachment Style Can Help You Defuse Conflict And Build A Secure Relationsh? Please provide your feedback and rating to help other readers.
Really cool look at how human beings work

Derived From Web

, Apr 20, 2022

Feeling attached to someone new is like "falling in love with a new person." I'm not saying this was bad, but I really enjoyed it.
Relationship Neuroscience is where it's at

Derived From Web

, Apr 20, 2022

Traditional Relationship Work is a relationship saver and serious game changer for anyone who wants to be in relationship, Blair said. Don't only read this one, read and learn all Stan Tatkin's books, but apply the work with your partner. Great news, Stan PACT therapist near you. It worked miracles for my marriage where the good, solid traditional relationship work and counseling, respectively, had literally failed. It's just that I would give it 10 stars, if I could. Turner said: "I think it's the new cutting edge relationship work. This book will be a staple in all households.
Wish I read this a year ago. Or more.

Derived From Web

, Apr 20, 2022

There were some practical suggestions on how to try new things alone and with a partner. I just wish I had read this back when my ex still looked so happy and I am hopeful that it might make a big difference in my next relationship, whenever that might be.
A good book for those looking to re-commit to their partner

Derived From Web

, Apr 20, 2022

Some of the concepts can help couples to couple up if that is what you want to do, Morgenthau said.
Invaluable resource for relationships

Derived From Web

, Apr 20, 2022

Thanks to our couples therapist, we were able to put this book down. Since purchasing it, I have read about half the book. There are some profound chapters in the book that have caused us to really evaluate and look at how we had been doing our relationship, he said. My boyfriend has completely changed his career as a result of the book, she said. This book is invaluable in terms of understanding and working on your relationship and loving your partner, Raymond said.
Just tell me, does it work? YES, it did for me!

Derived From Web

, Feb 18, 2022

It's just that sometimes I find myself off kilter by the negative reviews here on Amazon. You come so close to buying an item with 4.5 stars only to see one-star reviews that make it sound terrible! Wondering if it's a scam or something? If I've left this site, I'm trying to make up for low reviews that didn't reflect my experience. I might come back later to give a more in-depth review of the DVD.
Excellent relationship book

Derived From Web

, Nov 10, 2020

The book starts by explaining the development of relationships and how it has changed overtime, which causes challenges for couples today. Uses neuroscience to help support and explain what is happening in couples therapy. He said he would be "great" for a newlywed couple, couple struggling or a couple who just wants a great relationship.
Life changing, must read

Derived From Web

, Aug 27, 2020

Anyone struggling with understanding and giving true love to their soulmates needs to read this. What do you perceive love, how your partner perceives love and how both of you can rebuild yourselves? Most of the world's population could use a little more wiring for love.
Read this book if you want a loving and deeply supportive partnership!

Derived From Web

, Dec 19, 2019

The rest is so valuable, it still gets five stars, Tunick said.
Excellent book and a great foundation for a long-lasting relationship

Derived From Web

, Jul 24, 2019

It was the third time I had read this book. Every time I go to school, I learn better or remember crucial concepts. I have given a copy of the book to my partner because I want us to develop a shared understanding of relationship fundamentals and a common language to address common issues that arise in relationships, Raymond said. I'm a researcher, and I love the fact that Stan shares research-based knowledge and practices, Garton said. This book is an easy and enjoyable read, even for the most demanding readers. There is no fluff in this book, Michael Schweer said. Whether you're embarking on a serious relationship or just starting a family, this is a great foundation.