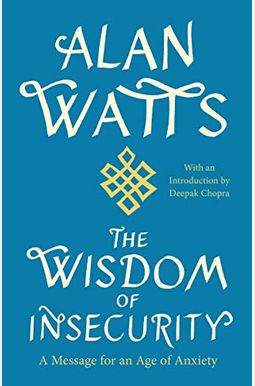  
Book Overview
The perfect guide for a course correction in life, away from materialism and its empty promise (Deepak Chopra), The Wisdom of Insecurity shows us how--in an age of unprecedented anxiety--we must embrace the present and live fully in the now in order to live a fulfilling life.
Spending all our time trying to anticipate and plan for the future and to lamenting the past, we forget to embrace the here and now. We are so concerned with tomorrow that we forget to enjoy today. Drawing from Eastern philosophy and religion, Alan Watts shows that it is only by acknowledging what we do not--and cannot--know that we can learn anything truly worth knowing.
Perhaps the foremost interpreter of Eastern disciplines for the contemporary West, Watts had the rare gift of 'writing beautifully the unwritable.'
--Los Angeles Times
Frequently Asked Questions About Wisdom Of Insecurity
Book Reviews
(14)
Did you read Wisdom Of Insecurity? Please provide your feedback and rating to help other readers.
"It Is Finished"

Derived From Web

, Apr 20, 2022

Alan Watts is probably the best book by John Rossey. If you get this book and really like it, and you will know if you really got it, your search for it will be completed. For you are what you have realized. Always will be, always have been.
Fantastic book !

Derived From Web

, Apr 20, 2022

Beautiful book, illustrating the intuitive mental essence of spirituality using metaphor and indirect pointing... calls on your insight and non-verbal processes. Alan Watts is a great teacher!
Another Good Book

Derived From Web

, Apr 20, 2022

Alan Watts is another good book by Jean Lucey. While the author died in 1971 and the material is based on his works from 1940-1968, it remains very clear to those who admire the man for his insight and humor.
Essential Watts.

Derived From Web

, Apr 20, 2022

The early Alan Watts, formulating his later, more mature writings, honing his sensibility. Essential reading for anyone wondering about life, the universe and everything, but don 't know where to start.
I researched for the best book of Alan Watts' to read first

Derived From Web

, Apr 20, 2022

I researched first for the best book by Alan Watts to read, and this title was almost always listed. I am just beginning my journey and research into Eastern philosophy and taoism, and have listened to several of his lectures on the themes. As a first read, it was a little deep and fast paced. I think I will read after I've immersed myself a bit deeper into the subject materials, but I did take some good points from my first reading. Mr. Watts has definitely had a unique understanding of the material and has a great approach to presenting it to the Western mindset. I recently received my next read, Mr. Watts'; Tao's Watercourse Way, and look forward to reading it.
What's There To Say

Derived From Web

, Apr 20, 2022

Alan Watts is most associated with Budhist teaching with Budhist teaching. He was a philosopher, teacher and in many cases also a very funny man. Whether you think with him or not, he will give you much to think about. I like the guy and would recommend this book.
Great book to get rid of uncertainty

Derived From Web

, Nov 4, 2021

Alan Watts is a messenger of the unknown. In less than 200 pages, he provides relevant information about metaphysics, religion, and nothingness.
It's ok

Derived From Web

, Apr 24, 2021

However, I bought this because I was curious, while I agree with Watts that nothing is groundbreaking or new in this book, and he definitely borrows a lot from similar thinkers. I think that he also has a tendency to use a lot of jargon and unnecessary analogies for the sake of it.
Heal and improve your mind and life

Derived From Web

, Aug 23, 2019

I was raised for half my life in a cult. When I woke up and left in my early forties, it was a deeply difficult and painful process. I read many many books to help me heal and formulate a new world view, and this book is one of the most important and most meaningful to me in this process. It is in my top 3 of MUST READ life changing books to improve our minds and life. I love to love this book! I love to love this book!
Book for a people with a very specific mindset

Derived From Web

, Feb 14, 2019

Not sure how one can give a bad review to a book. If you do not like a book, it means that YOU did not like a book. It does not mean that a book is bad. So... So... I did not like this book because I do not like and do not agree with the ideas expressed in this book by the author. For me it was neither inspirational, not educational. Unfortunately, this was the worst book I read last year, and was not the best book I read that year. I saw no benefits in reading it, seeing no benefits. But... But... I know people who would love it, therefore it was unregretfully gifted to a co-workers. Although the book is not expensive, you may want to read some extracts from it, if you can find before purchasing it.