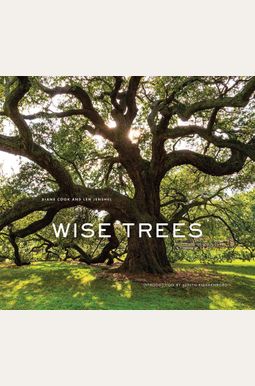  
Book Overview
Leading landscape photographers Diane Cook and Len Jenshel present Wise Trees--a stunning photography book containing more than 50 historical trees with remarkable stories from around the world.
Supported by grants from the Expedition Council of the National Geographic Society, Cook and Jenshel spent two years traveling to fifty-nine sites across five continents to photograph some of the world's most historic and inspirational trees. Trees, they tell us, can live without us, but we cannot live without them. Not only do trees provide us with the oxygen we breathe, food gathered from their branches, and wood for both fuel and shelter, but they have been essential to the spiritual and cultural life of civilizations around the world. From Luna, the Coastal Redwood in California that became an international symbol when activist Julia Butterfly Hill sat for 738 days on a platform nestled in its branches to save it from logging, to the Bodhi Tree, the sacred fig in India that is a direct descendent of the tree under which Buddha attained enlightenment, Cook and Jenshel reveal trees that have impacted and shaped our lives, our traditions, and our feelings about nature. There are also survivor trees, including a camphor tree in Nagasaki that endured the atomic bomb, an American elm in Oklahoma City, and the 9/11 Survivor Tree, a Callery pear at the 9/11
Read More chevron_right
Frequently Asked Questions About Wise Trees
Book Reviews
(11)
Did you read Wise Trees? Please provide your feedback and rating to help other readers.
An overall fabulous book!

Derived From Web

, Jan 11, 2022

The photos of unique trees the world over are sights to see. It is more than the usual coffee table book, although it can certainly serve the average viewer in this way... But for a person who is very interested in trees, it is the best!
Don't waste your time

Derived From Web

, Feb 5, 2020

Not true rings sizes, I submitted thinking I made an error on re-ordered sizes, but still wrong and smaller.
Beautiful book

Derived From Web

, Jan 10, 2020

A truly unique coffee table book with beautiful pictures and stories of the trees by National Geographic photographers. My sister bought it for her interior design business, I used one for my father in law... now I need one for myself!
Exquisite photographs AND compelling storytelling

Derived From Web

, Nov 12, 2019

This is a really cool book of beautiful photographs of trees all over the world and fascinating short stories about the trees. The combination of exquisite photographs and compelling storytelling are really quite splendid. Photographers aren 't often great storytellers, but Cook and Jenschel. It is Armchair Travel at its best, where you connect with the remarkable tree that is part of everyday life in an African village, European park, Indian holy site, etc. The stories tell you why the locals value the tree, what they do around the tree and what they believe about the tree and its history. It is one of those books that you keep coming back to.
Font in book is very small

Derived From Web

, Jul 13, 2019

My only negative comment is that the font is too small with descriptions and stories about the trees. I would have given 5 stars if the font was larger ; some pages were difficult to read.
Captivating

Derived From Web

, Dec 9, 2017

I purchased this book as a gift for my father, a retired nurseryman. He, and everyone else in the family, has been captured by the great photographs and excellent narratives. It is a coffee table book that does not sit on the coffee table just! In the past, I have been disappointed by the small amount of great content in some expensive photography books... Not the case with Wise Trees, a small book with nearly 200 pages of pictures.
Gorgeous and with Real Substance

Derived From Web

, Nov 30, 2017

Book of the real coffee table with beautiful substance. Photography is magnificent, the stories behind the trees revealing and by the time you turn the last page you will feel like you have had a magnificent tour of nature and how it affects people around the world.
WOW!

Derived From Web

, Nov 4, 2017

It has been a privilege to be included in the beautiful Diane CookLen Jenshel Photography book Wise Trees ''. What a joy to travel through its pages around the world, seeing the remarkable trees and their amazing stories. The photographs are an invitation from the sacred Bodhi tree in Japan to the Ema Wishing Tree in India to the wedding oak in San Saba Texas. The book is a masterpiece and will bring inspiration to any home in which it lives.
Powerful and evocative!!

Derived From Web

, Nov 3, 2017

Len Jenshel and Diane Cook's Wise Trees is an absolutely stunning book, perhaps the best book of its kind I have seen in years. It is clear that every detail was considered and executed with the utmost care in the composition and production of this book. These moving photographs are often beautiful.
A breathtaking photography book.

Derived From Web

, Nov 2, 2017

I took a chance on ordering this beautiful book Wise Trees ''. In my house, I have a huge stack of photography books that do nothing but collect dust after looking at them once. I already read and enjoyed this three times stunning and insightful book and I am sure that I will spend many more hours enjoying the book's art and insight. Like so many nature lovers, the trees have always been awe-inspiring to me. The being in a forest has always been a place to heal from the never-ending pressures of modern society. The striking photos and well written words of Diane Cook and Len Jenshel have expanded my knowledge base about interaction between nature and humans. I'm honestly '' feel that this is a book that can be appreciated by both children and adults. I would not hesitate to recommend Wisdom Trees '' to anyone and everyone.