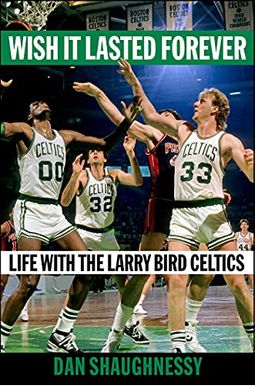 
 
Wish It Lasted Forever: Life With The Larry Bird Celtics
Frequently Asked Questions About Wish It Lasted Forever: Life With The Larry Bird Celtics
Book Reviews
(9)
Did you read Wish It Lasted Forever: Life With The Larry Bird Celtics? Please provide your feedback and rating to help other readers.
doesn't really add anything to what you already know, very light and rushed

Derived From Web

, Jan 30, 2022

The Curse of the Bambino was a really great sports book, a true classic in that genre. It was really right in Shaughnessy's wheelhouse -- an opportunity to tell the story of the then-snakebitten Red Sox with a generous dose of his cynical brand of humor. But the follow-up, Breaking the Curse, seemed like a rushed attempt to milk the cash cow before it could die. So when I saw this book, I remembered that he had written some decent articles on the Celtics years back, having read Peter May's memorable book The Last Banner Years ago. It was a rushed, light, and totally forgettable film.
Oh, the glory days of Celtics past!

Derived From Web

, Dec 28, 2021

I was not a big Celtics fan as a kid. Because, technically, Salesforce is a "service" rather than an "equipment" company. The only thing I asked for was a refund, and I took alot of heat, he said. I'm still a loyal fan of the Sixers, but I'm not a huge NBA fan. I had a good idea that this book would be interesting because it would delve into how it was before social media and your cellphone existed, Sosa said. This was definitely rough and tumble, good old days, Mr. Rule told the judge. A handshake could seal a contract extension and no one's jumping ship to be on a so-called super team, he said. It's great to hear people say things like, "It's just that funny." You get to know the players more on a personal level, how they would or would not be with the author. If you missed the NBA's glory days, this book is for you.
If you are a Larry bird fan, buy this book!

Derived From Web

, Dec 12, 2021

Because he was with us he had insight to things that wouldn't be possible today, he said. On the team bus, the players would have beers with the coaches, he said. But I guess the best story is him losing money to Larry in a free throw shooting contest, when Larry had his shooting handfingers all taped together.
I miss the 80s NBA…

Derived From Web

, Dec 6, 2021

It's great to be back home, Boston Celtics fans. The '86 Celts were my favorite team of all-time and Bird is my favorite player, so it was an obvious choice for me, he said. I've read better books about the '86 team, but the insight into the personalities from all the Bird era teams through '86 makes this a fun read.
Good title- should have been a way longer book

Derived From Web

, Dec 5, 2021

Just a warning: I'm not even a little objective. I've loved the Celtics since the Dave Cowens days, so I absolutely reveled in the stories and how DS captured the personalities, he said. And I have no idea Cedric Maxwell was so absolutely hilarious. It was like sitting at the table listening to the legends recall the old days. The Web site says: "If you use 500 pages, you may not get all the answers."
Enjoyable But Superficial Sports Read

Derived From Web

, Nov 27, 2021

Former Boston Globe sports writer Dan Shaughnessy has a book out Monday titled "Chasing Boston." Dan writes about getting to know future Hall of Famers Larry Bird, Kevin McHale, Bill Walton and others on one of the greatest NBA teams of all time. I enjoyed this, but hoped for more substance, he said. There is also a good deal of irresponsibility on the part of Dan, who is less interesting than the players. Hard core NBA fans who remember this era will probably want to have the book signed by Phil Jackson.
Fun Book about Days Gone by...

Derived From Web

, Nov 22, 2021

Most readers of this book will already be familiar with the Celtics of the 1980s, but Dan's unique insight as an insider make this a great read. It was fun to be able to read about games and then go to You Tube and actually watch what Dan was writing about, Collins said. It was a great reminder about how much has changed in sports and journalism since the days of Bob Knight and Bill Parcells.
Me too!

Derived From Web

, Nov 17, 2021

I've always said that Bird is my athlete favorite ever. Along with YouTube videos, books like this preserve those memories. From 1982 to 1996, he was the Celtics beat writer. There are three point-contest winners who are coming in second. The 60 point game against the Hawks was the best defensive performance in NBA history, and of course the Lakers won their first championship in 1984.
Superb

Derived From Web

, Nov 17, 2021

A great book by a legendary sports writer and SPINK winning athlete. Takes you into the locker room on a daily basis of one of the truly great basketball teams of the 1980s, the personalities, the foibles, the peccadilos, the egos, the balancing of journalistic standards and ethics. You will learn how a bar fight and mangled hand could cost the Celtics a championship in 1985 and many other insider nuggets. There were also some very team-friendly pranks.