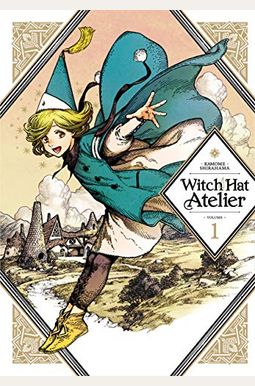  
Book Overview
Best of the Year -- AV Club, New York Public Library, Nerdist, SYFY Wire, Chicago Public Library

Harry Potter meets Kiki's Delivery Service -AV Club
A beautifully-illustrated story about a girl who longs for magic in her life and learns that, on the inside, she already is what she wishes she could be. Reminiscent of Studio Ghibli, this lushly-drawn story has captured the hearts of fantasy fans worldwide.
In a world where everyone takes wonders like magic spells and dragons for granted, Coco is a girl with a simple dream: She wants to be a witch. But everybody knows magicians are born, not made, and Coco was not born with a gift for magic. Resigned to her un-magical life, Coco is about to give up on her dream to become a witch.until the day she meets Qifrey, a mysterious, traveling magician. After secretly seeing Qifrey perform magic in a way she's never seen before, Coco soon learns what everybody knows might not be the truth, and discovers that her magical dream may not be as far away as it may seem.
Frequently bought together
Frequently Asked Questions About Witch Hat Atelier 1
Book Reviews
(7)
Did you read Witch Hat Atelier 1? Please provide your feedback and rating to help other readers.
Not a lot of combat

Derived From Web

, Feb 26, 2021

TLDR So, this series has a story, its just slow moving. It really has little combat. It is more about the wonders of magic's slice of slice of witches in training than it is... about anything else. This is what I said by Volume 7, which is what I read before making this review. You get a little more story. It is just so.. There it is SO slow. Its not bad, after all, they say that life is about the journey, not the destination, and this manga follows this philosophy REALLY. One of my big takeaways from this series is the illustrations that border on art. A lot of love went into it. If you appreciate small detailed doodles, Witch Hat Ateliers will be worth buying. As a man, I am a fan of manga and have no remorse from buyers.
Imaginative magic system with delightful artwork

Derived From Web

, Aug 17, 2020

Although it is more draftsmen like work than art, a witch's place of work is called an atelier. Among the magic practitioners, different factions wear different types of hats : This is to explain the title of the series, which makes it seem more like it should be the story of seamstresses making witch hats. 8-) In any case, the story is fun and even relatively young apprentice witches can produce powerful spells if they apply creativity to the basics. Occasionally, the action is a little confusing and I *don't* think it is due to the left -> right reading order, but your mileage may vary.
A breath of fresh air for magic stories!

Derived From Web

, Oct 29, 2019

I purchased this book on a whim along with two other mangas. The cover and the preview pages were gorgeous! I saved reading this book for the last time and it was the BEST! As I said before, the artwork is just glorious on the pages. But it is the story that is the true treasure! Just when I thought it would go one way, it goes another way, while surprising and delighting me! The last story to publish was Ancient Magus Bride, while I'm still deciding whether or not to continue reading the other two mangas I bought, I will get the next volume for Witch Hat Altelier!
Wonderful book for fans of Harry Potter & Howl's Moving Castle

Derived From Web

, Jul 22, 2019

I adore this series to death absolutely. The artwork is of a master-level level with wonderful paneling and detailed backgrounds. The story is an apprenticeship after a terrible spell gone wrong turns the main character's mother into crystal and she is going to learn magic to turn her mother back to normal.
A Beautiful Manga

Derived From Web

, Jun 23, 2019

This manga is a masterpiece by itself. The line work is remarkable and well worth the price of admission. It helps to set the spectacularalmost fantasy feel of the story and the world. The manga is a lot of fun and set to the world and mystery. The characters are not completely developed yet, but this improves in additional volumes. This is well worth it if you want to enjoy a good fantasy - witchy - manga series.
Gorgeous, perfect

Derived From Web

, May 15, 2019

I have been anticipating the English release of this manga for a while and am delighted to finally own it. A magical story that is equal parts silly and dramatic, with careful attention given to both the craft and the idea of craft itself. Great for fans of Diana Wynne Jones, Moebius, Card Captor Sakura or Land of Lustrous.
Enjoyable

Derived From Web

, Apr 20, 2019

I hope this does not become a permanent exercise in tedium forever. So far it's entertaining, a bit light, but with just enough texture and weight to hold my interest. The explanation of how magic works and the challenges it creates is the high point. The artist is remarkable and adept at giving the story weight and structure that would be missing without it. So far so good. The challenges imposed on the young Coco by her first bad results at her clumsy, but terribly successful attempt at magic seem a bit daunting, but she seems up for the task. I hope to see more of her predicament's emotional weight.