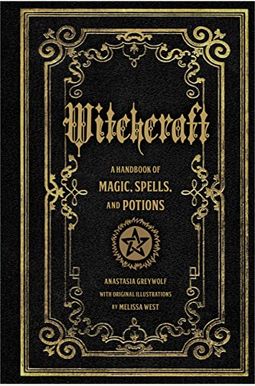 
 
Witchcraft: A Handbook Of Magic Spells And Potions
Book Overview
Tap into the magic all around you with Witchcraft, an illustrated guide to ancient potions, spells, chants, rituals, and incantations from around the world.
Learn
how to form a spirit circle
with coven members, what instruments you need for your craft, special conjurations for each day of the week, and
hundreds of crafty spells and potions
that will allow you to:
Banish headaches
Keep your home safe
Envision your future spouse
Win riches
Communicate with animals
Conceive a child
Summon the dead
Make it snow
Separate lovers
Know your future
And more
Spells are conveniently organized by purpose: safekeeping spells, healing spells and potions, spells against enemies, counter-spells, luck and fortune spells, love and matchmaking spells, weather and earth spells, spells to cast on animals, power spells, and communing with the dead.
With
stunning linoleum-cut illustrations
by artist Melissa West that bring the magic of the past to life, this comprehensive compendium is also a delightful page-turner that's full of unexpected treasures. Place it in a sacred place in your home--and make sure no enemies find it to access its inestimable powers The
Mystical Handbook series
from Wellfleet takes you on a magical journey
Read More chevron_right
Frequently Asked Questions About Witchcraft: A Handbook Of Magic Spells And Potions
Books like Witchcraft: A Handbook Of Magic Spells And Potions
Book Reviews
(11)
Did you read Witchcraft: A Handbook Of Magic Spells And Potions? Please provide your feedback and rating to help other readers.
It's a mock of paganism

Derived From Web

, May 3, 2022

It's just a matter of time, I feel like it mocks our pagan faith. I'm not a circus kid, and I was hoping for more knowledge not a joke! Yes, I'm a witch all year long.
Factory defect.

Derived From Web

, Apr 8, 2021

The book was unable to open, it had been put together in the factory backwards, so it was bound on one end and the free pages were glued to the back.
Not appropriate, potentially dangerous

Derived From Web

, May 29, 2020

I couldn't get more than a chapter in. All the spells were performed using the names of entities that I am completely unfamiliar with. I personally don't think that you should encode any entity that you don't have a personal bond with. It had a prayer to a male God, and I almost exclusively pray to my own Goddess, Brigid. It was a total disappointment, said Blair. Stereotype is what I call it.
Beautiful, quality hardback you can't stop reading:3

Derived From Web

, May 27, 2020

It's a fine book, well made, fine pages and lovely illustrations. Broom is a must-have if you park your broom. Beautifully written, well-researched and well-placed criticism of authority figures. A++++++ performance.
Witchcraft for Beginners.

Derived From Web

, Nov 5, 2019

The book is lovely, I love it that you can understand the words I love the beautiful decoration perfect reading material, it definitely recommend this book!
AWESOME!!!

Derived From Web

, Feb 26, 2019

A great book. Some people find it offensive, even though the FCC says 95 percent of Americans support the law. But you have to realize that the spells in here are what they did in the old days. So if you don't like it exactly then just tweak it, because it's a great book. Ppl just want to complain about anything they can.
It's not a book for everyone but has value.

Derived From Web

, Oct 11, 2018

Now all you reviewers who were getting all jacked up about this book not being Wiccan need to spend a little more time with this book, especially the index which tells you where this stuff comes from. It's just that the book is not Wiccan. Witchcraft is a religion of many names, and in most all religions. In this book, you will find an introduction to magic, charms and practices from many religions, traditions and cultures.
Poppycock!

Derived From Web

, Sep 26, 2018

This is a campy, folksy, hodgepodge collection of poppycock superstitious goobly-gock. No serious Witch would be caught dead with it in their occult library other than to create a book of shadows by pasting their own spells over the pages so that the fabulous book cover doesn't go to waste, he said.
written as though witchcraft is a costume

Derived From Web

, Aug 21, 2017

The book is a really hard sell. The spells themselves are organized and useful to draw inspiration from, but they are useless otherwise. It's just that, pulling these practices from so many cultures feels disorganized and also a little disrespectful, because they don't provide any background or context for their significance. It's nice to look at all this book, but that's about as useful as it is to me.
Not a real portrayal of witchcraft, avoid this garbage.

Derived From Web

, May 6, 2017

Even if you read the entire thing, it's still uncomfortable. I am agnostic but i greatly enjoy studying and reading up on religions, i was raised pagan and decided to return to my roots so to speak and feel that i would understand it more. Many a time the Lord's name is mentioned. Paganism is ancient and i just see this as disgusting and insulting, said Dr. Goin. The book was not due my time nor my money. This book i feel does not deserve to be donated as I do not care for all books. It's just that this book belongs in the bin.