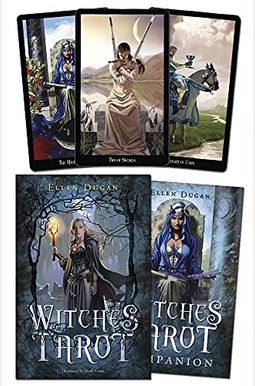 
 
Book Overview
Here, the Hierophant becomes the High Priest, Wheel of Fortune becomes Wheel of the Year, and Judgement becomes Karma.
Based on the traditional Rider-Waite-Smith deck and filled with images that speak to today's magickal practitioner, witchcraft takes center stage in this stunning deck designed by highly respected Witch and Tarot reader Ellen Dugan. Featuring the vibrant artwork of award-winning artist Mark Evans, Witches Tarot is the perfect combination of Tarot and the Craft.
In addition to card descriptions and meanings, Dugan's companion guide features spell-enhancing spreads--such as the Triple Goddess Spread, the Four Elements Spread, and the Wheel of the Year Spread--that you can use in both Tarot readings and magickal practice.


Frequently bought together
Frequently Asked Questions About Witches Tarot
Book Reviews
(14)
Did you read Witches Tarot? Please provide your feedback and rating to help other readers.
My Favorite Deck

Derived From Web

, Apr 29, 2022

Easy to connect to any compatible deck, I'm told. It's stunning on both the front and back of the cards. While the stock card isn't thick, I love the deck. I have used it so much since it arrived, and the readings have been incredibly spot on, Mr. Caramore said.
One of my favorite decks, great meaning and symbolism

Derived From Web

, Apr 29, 2022

One of my all-time favorite decks.
ABSOLUTELY FANTASTIC!!!!

Derived From Web

, Apr 29, 2022

These are for those who are the Craft because you would definitely be practicing honesty to relate to her interpretations in this spread. I'm not saying if you aren't a witch, you shouldn't touch it, but I am just saying you would understand the interpretations a lot more. It's just that for practicing a Witch like myself absolutely loves it. The teacher, Ellen Dugan, is a fabulous teacher and her interpretations of each of these cards are in depth and very detailed. I absolutely love the book, said Cara.
Better than expected.....

Derived From Web

, Apr 29, 2022

This deck exceeded my expectations. The information is very straightforward and insightful, Raymond said. When people say reading her books is like having tea with a friend, they are correct. It's very laidback, Tunick said. I have been studying tarot for a long time and have not come across a book or website that doesn't come off as being a verbalized chart of info. The information is presented in a way that really sticks. Highly recommend.
Lovely Tarot Card Deck

Derived From Web

, Apr 29, 2022

The card was a birthday present, and I was pleasantly surprised by the beauty of the cards. Some other reviews have stated that the card quality is cheap, but I personally do not find that to be the case. The set includes eight matching cards, each with a "Rider-Waite" twist. The card is changed to the Shadow Side because there is no Devil in Witchcraft. It's a French curve, one would expect from a Minor Arcana suit. This deck would be a wonderful beginners deck, as well as an addition to any tarot collection.
Awesome

Derived From Web

, Mar 6, 2022

Very impressed with the quality of the products. The booklet that comes with it is really nice, I am very pleased with it.
Beautiful and a bit different

Derived From Web

, Sep 3, 2020

I really love this deck and though I don't often use the guidebook, it is largish and informative. It comes in a very nice box. The quality of the cards is truly exceptional. The five of Swords kind of tripped me up, but other than that, I haven't had any problems with reading," she said. The Devil is called the Shadow Side and the Judgement card is called karma. The rest are in the RW deck. It's true on every deck that isn't strictly RW. Now I have to adjust to all my other decks that each read a bit differently. 0 3171616 3171158 It's just having to learn with RW that I have just had to adjust to all my other decks that each read a bit differently. I would recommend them to anyone who enjoys beautifully illustrated cards. They are glossy and have a good size for shuffling, Mr. D'Antonio said. Please help. Thanks, sir.
Witches Tarot - Don't Purchase

Derived From Web

, Jul 1, 2020

The card itself looks alright, but it did not come with the Witches Tarot Companion booklet. HIGHLY disappointed with the outcome of the trial. Update: The original poster had been corrected to say it was a counterfeit.
So so soooo beautiful! No regrets!

Derived From Web

, Apr 29, 2020

Bought the book and set of Echoes from Amazon. com. I am amazed by the quality of the work, said Gillian. I don't care about card stock because I take care of my cards, he said. Don't hesitate to try it on, say, the golf course.
Amazing quality, stunning artwork

Derived From Web

, May 15, 2019

I couldn't be more impressed. Good stock card, awe inspiring artwork, lovely celestial backings, fantastic full guidebook, in a sturdy boxed set. It leaves nothing to be desired, except maybe some attractive edging, he said. The back of the card features a picture of the child with the inscription: "This is a card with meaning." If you're a beginner and want to read a deck that gives itself away without you even trying, this is it.