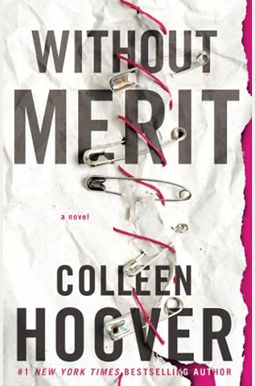 
 
Book Overview
From the #1 New York Times bestselling author of It Ends With Us and November 9 comes a moving and haunting novel of family, love, and the power of the truth.
Not every mistake deserves a consequence. Sometimes the only thing it deserves is forgiveness.
The Voss family is anything but normal. They live in a repurposed church, newly baptized Dollar Voss. The once cancer-stricken mother lives in the basement, the father is married to the mother's former nurse, the little half-brother isn't allowed to do or eat anything fun, and the eldest siblings are irritatingly perfect. Then, there's Merit. Merit Voss collects trophies she hasn't earned and secrets her family forces her to keep. While browsing the local antiques shop for her next trophy, she finds Sagan. His wit and unapologetic idealism disarm and spark renewed life into her--until she discovers that he's completely unavailable. Merit retreats deeper into herself, watching her family from the sidelines, when she learns a secret that no trophy in the world can fix. Fed up with the lies, Merit decides to shatter the happy family illusion that she's never been a part of before leaving them behind for good. When her escape plan fails, Merit is forced to deal with the staggering consequences of telling the truth and losing the one boy she loves. Poignant and powerful,
Without Merit
explores the layers of lies that tie a family together and the power of love and truth.
Frequently Asked Questions About Without Merit
Book Reviews
(12)
Did you read Without Merit? Please provide your feedback and rating to help other readers.
Disturbing + Offensive

Derived From Web

, Apr 20, 2021

My Mother is an AVID reader and I wanted to give her a gift that would help her finish 1-2 books a week. She didn't want to give the book to her friend. She told me to let other readers know that it was offensive.
Chaotic goodness

Derived From Web

, Mar 31, 2021

Was messed up. That was messed up, but at the heart of the story was realness about mental health. Merit might have been one of the most flawed characters I have ever loved. The amount of her struggles that I could relate to was overwhelming. This is a weird statement to make, but this book felt a bit like a roller coaster of emotions, and yet it worked and gave the story the extra feelings in the highs and lows.
Emotional

Derived From Web

, Feb 4, 2018

I found this book on good-reads and it was rated the best book of the year. It did not make me disappointed. There are issues that are true in actual lives in the romance novel. miscommunications and non communication can affect families. I wanted to read longer after it ended. The book was very informative and showed how Depression is real. I am very happy I read this book.
... on publishing a review of this book because I LOVE Colleen Hoover

Derived From Web

, Jan 13, 2018

I didn't want to publish a review of this book because I adore Colleen Hoover. She is a great writer in this genre but this book is terrible. I could not finish it. I didn't have any interest in anyone and couldn't find a good character to root for. Everyone swings and misses and this is her miss for me.
She is my all time favorite author, but something about "Without Merit" was lacking

Derived From Web

, Oct 18, 2017

I have read all of her books. She is my all time favorite author, but Without Merit was lacking. It was dull and hard to invest in the characters. I won't be reading this one again. It was a big disappointment.
I have loved all of Colleen Hoover's books - except this one

Derived From Web

, Oct 16, 2017

I have read all of Colleen Hoover's books, except this one. I didn't care about any of the characters and I never got to know them. This was not good.
10 STARS!!!

Derived From Web

, Oct 10, 2017

Colleen Hoover has published many books. I'm a huge fan of my cohort. I loved Without Merit. Colleen makes you fall in love with her characters, and that's exactly what I did. I fell in love with the entire Voss family. Like most of Colleen's books, this story is very relateable and delivers a strong message. I highly recommend it. I would give this book 10 star's if I could. Colleen shared her amazing stories with the word. You are the best. .
Relevant story

Derived From Web

, Oct 9, 2017

Without Merit is different from Colleen Hoovers other books. She deals with situations that are relevant to the day in her other books. Depression, forgiveness, and disfunctional families are some of the things that can be avoided. Our perception of the story as it unfolded is an important thing. In the last year, I have learned that perception is everything. You may think you are doing something good and right, but the person you are helping may not see it that way. We need to be more attentive and sensitive. If there is no other reason to allow your self to move on, then forgive. Colleen, thank you for another great book.
With SOOOO much Merit

Derived From Web

, Oct 7, 2017

Since I first read Slammed, I have been a huge fan of this author. I have come to appreciate and respect her immense talent and the care she puts into each story. She tackles tough issues with grace and respect. Our community has been hurt by several suicides in the last few years. The book sheds light on how perspectives can be wrong and come between our relationships with others, but it also shows how depression and anxiety can be. There is a stigma that makes people feel weak or damaged if they admit to feelings of depression or anxiety. We will continue to lose friends and family until we admit that we all have those times. Thanks for sharing your talent to help shed light on the issue.
Not up to the standards of It Ends With Us

Derived From Web

, Oct 7, 2017

Colleen Hoover has proven time and again that she is a powerful writer. I didn't like this book very much. She can tackle serious subject matter, but she tried to tackle too much and too quickly. The premise of the story was good but I didn't like the execution.