Buy 3 Get 1 Free
Our Best Sale Yet! Add 4 Books Priced Under $5 To Your Cart Learn more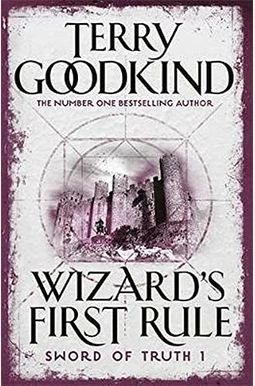 
 
Book Overview
This Description may be from another edition of this product.
The masterpiece that started Terry Goodkind's New York Times bestselling epic Sword of Truth
In the aftermath of the brutal murder of his father, a mysterious woman, Kahlan Amnell, appears in Richard Cypher's forest sanctuary seeking help . . . and more. His world, his very beliefs, are shattered when ancient debts come due with thundering violence.
In a dark age it takes courage to live, and more than mere courage to challenge those who hold dominion, Richard and Kahlan must take up that challenge or become the next victims. Beyond awaits a bewitching land where even the best of their hearts could betray them. Yet, Richard fears nothing so much as what secrets his sword might reveal about his own soul. Falling in love would destroy them--for reasons Richard can't imagine and Kahlan dare not say.
In their darkest hour, hunted relentlessly, tormented by treachery and loss, Kahlan calls upon Richard to reach beyond his sword--to invoke within himself something more noble. Neither knows that the rules of battle have just changed . . . or that their time has run out.
Wizard's First Rule is the beginning. One book. One Rule. Witness the birth of a legend.
Frequently bought together
Frequently Asked Questions About Wizard's First Rule
Books like Wizard's First Rule
Book Reviews
(16)
Did you read Wizard's First Rule? Please provide your feedback and rating to help other readers.
Likeable but flawed

Derived From Web

, May 26, 2022

Fantasy Adventure, in which the characters go on a challenging journey that lasts until the book's end. Along the way, different problems and situations naturally pop up. It becomes obvious that it is more an YA book than a serious adult fodder, i.e. Game of Thrones. The main character magically transforms from a simple woodsman to a ruler of empires, gaining superpowers and wizards - magic abilities on the way. Sometimes, it is a lot of swallowing. Although I bought the second book in the series, it is hard to believe that this actually requires a series of 12 books to complete.
A good read, but quite graphic

Derived From Web

, May 26, 2022

This was overall a good fantasy novel. It could stand alone as a single story if I didn 't know that there were 20-something books in the series. It was a bit long, but didn 't really drag. The plot was pretty good and character development was quite standard. My only complaint and the reason I removed a star is that there are some really distasteful parts of the story. So disturbing that I think that Terry Goodkind was abused as a child and needs psychiatric help because he might be a closet - crazy person waiting for his headline. Really, normal people don 't think such twisted, sadistic things.
Accurate product description needed

Derived From Web

, Dec 27, 2021

Instead, it is a library school binding which is considerably smaller than a full-sized hardcover. I wish they would let you know the size of the hardcover they are purchasing. Not just from this vendor, but it has already happened three times.
Magical Fantasy for Adults

Derived From Web

, Apr 17, 2021

A friend recommended this book to me, knowing that I like Adult Fiction from you. I've always loved this book so much, and is now one of my all-time favorites. A MUST READ for any young or grown adult who is fascinated by magic. Cannot wait to read the series.
Excellent book!!! A must read!!

Derived From Web

, Aug 2, 2020

I've started the series and the twists and turns are what you don 't believe, making it even more exciting. The characters are delightful and the details described by the author are perfect. This series should read more.
Bad. Don't bother.

Derived From Web

, Jul 5, 2020

I couldn t get through the first book. The characters are made to appear smart or heroic by making others dumb or unrealistically, mustache twisted evil. A lot of things happen because of the plot. There is a lot of telling with little to no showing. Oh, and apparently this is a series *cough* heavily borrowed from many other works, especially Wheel of Time ''. I wish I could return this book, because after reading the author, I regret giving him my money. By the middle of the book, I was skimming, trying to force my way to the end because I wanted to find out what happens, what is Kahlan's secret. I asked about the series on Reddit and the general opinion is that the series gets worse from here. Don 't bother.
Fantastic

Derived From Web

, Feb 26, 2020

Very good indeed. You only have to buy the next one.
Deplorable!

Derived From Web

, Feb 3, 2020

What a disaster of a book is Lol. Moralizing, the pedophelic gay rape, the pages and pages dedicated to the Marquis de Sade. Based solely on this book, I think I will avoid going forward with any Terry Goodkind books. Eventually some day, anthropologists will discover the lost books of Tolkien telling us all what a bad guy Sauron was. The Worst Book I have ever read in the past decade. Interesting but poorly developed characters, some very disjointed moments in the narrative and TMD on how really are the bad guys really misunderstood. At least, Lol did not get overly graphic on the rape or BDSM scenes. Definitely not recommended for teens, pre-teens, fantasy fans, people of good taste or... Okay, I can 't come up with anyone to recommend the book. What a Scumper! ''
It's the first of a fantastic serie

Derived From Web

, Jan 18, 2020

Obviously, you have to like this type of fiction. It is full of wizards, magic, etc... but it is a collection of 17 books that I have read with delight as well as the others that were off-shoots. You would think that all this could really exist somewhere. I bought the first version of the electronic book for my wife to read, and now she is in the second book. It is reading for many hours, but is well worth it to me. I think I will read it again.
Difficult to stay invested

Derived From Web

, Dec 30, 2019

This was a first attempt to read a mainstream fantasy after reading so much as a child. I heard that Terry Goodkind was very successful and I hoped that I would be attracted to a place where I could let go of my daily work and relax. For me, this never happened. The setting was hopeful, the suggestions of a story in the first chapter also gave me images worthy of a heavenly time, but no! I found the story line to be real without any characters ''. In other words, they never evolved and neither did the story. I heard the words and found myself skimming and wishing the story to end. I wanted so much to be caught up by the landscape or dialogue, but I felt like I was reading an outline and the story would come later. I find it, I am glad I found out before I bought another book in the series.