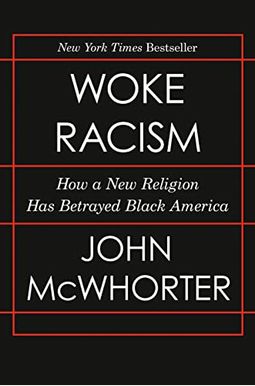  
Woke Racism: How a New Religion Has Betrayed Black America
Frequently Asked Questions About Woke Racism: How a New Religion Has Betrayed Black America
Book Reviews
(13)
Did you read Woke Racism: How a New Religion Has Betrayed Black America? Please provide your feedback and rating to help other readers.
Fresh Air

Derived From Web

, Mar 4, 2022

Much needed thoughtful analysis. Offers ideas and solutions, which can be adopted by people of good will. Provides a bridge that can connect the Liberals and the Conservatives.
A strong message and a good read

Derived From Web

, Jan 30, 2022

McWhorter breaks the phenomena of American culture and its outsized effect on the American discussions of race in the twenty-first century. He urges us all to take a respectfully defiant stance on the current spiritual and intellectual orthodoxy sweeping the nation, and he urges us all to stand up for ourselves and to enlightenment values by following three actionable rules or planks : Highly recommended for anyone trying to make sense of the American fixation on race in modern politics and culture.
A little inflammatory

Derived From Web

, Jan 26, 2022

Many bad points and some good ones, but generally worth reading and thinking about. If there is a con, it seems like some of the writing comes from a personally defensive view. The theme is very personal by nature, but it appears to be a bit more professional detachment in order.
Wokeism is not only wrong it's dangerous

Derived From Web

, Jan 6, 2022

Any person with common sense and fairness would agree with the author's views. He logically explains why Wokeism is a religion and is not acceptable. Americans of all races, religions and ethnicity should resist it.
About time somebody stood up to the woke

Derived From Web

, Dec 2, 2021

McWhorter is a black man who explains why woke attitudes about race hurt black people. He also offers his ideas about what can be done to help disadvantaged black people. I like the book because it offers solutions instead of just moaning about injustice.
Desperately Needed

Derived From Web

, Nov 27, 2021

I like how McWhorter emphasizes that woke culture does not help, but harms black people because it treats them like victims. And the comparisons between white culture and religion make sense, especially for whites, as if they have woke sin, simply for being white. From this book, there is much to learn.
An important perspective on the woke

Derived From Web

, Nov 22, 2021

Should be required reading at every school that has bought into the new racist religion of the woke, should be required reading at every school. McWhorter lays out the brutal truth about what is going on and is honest in saying why he is someone who can do so.
Challenges concepts cherished by progressives!

Derived From Web

, Nov 15, 2021

This book knocks me off my feet and challenges me to hold a lot of what I hold dear '' as an Anglo who seeks to be an ally! I don 't agree with some, am prodded to rethink some. It is a book that I read a 2nd or 3rd time.
Eloquently describes much of what I've thought of today's woke nonsense.

Derived From Web

, Nov 9, 2021

McWhorter describes the issues of the woke agenda, how harmful it is to everyone, and even proposes actual methods for improving the lives of America's impoverished. I highly recommend this book for anyone else who needs a dose of sanity against PC culture.
Basically Trash

Derived From Web

, Nov 3, 2021

I wanted to give this book a chance, since I think there is an inherited infantilism of POC and anti-logical arguments coming from the new Left. Sad to say that this book is merely right-wing arguments in blackface. Felt like this might be writtn by Tim Scott or someone else. I did not finish it, I got past the 1st Hitler comparison, but that was already a huge red flag for me, Garish and sloppy.