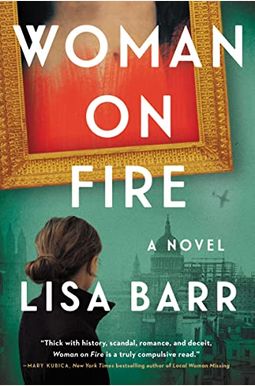 
 
Frequently Asked Questions About Woman On Fire
Book Reviews
(8)
Did you read Woman On Fire? Please provide your feedback and rating to help other readers.
Brilliant and immensely entertaining!

Derived From Web

, Mar 16, 2022

The WWII and art-themed thriller will be one of my favorite books of the year. This book is a sizzling, sexy, smart page-turner that is well researched and well written. I was unable to put it down. It has every ingredient of an excellent novel, including psychopath villains and a Chicagoan girl who is ambitious and brave. I learned a lot about the art world and the Nazi's loot of treasures during WWII. I liked this book. Four and a half stars.
Historical Thriller

Derived From Web

, Mar 14, 2022

Lisa Barr combines history and stolen art in a plot that is packed with suspense and intrigue. The two main protagonists, Jules and Margaux, want the same thing for the recovery of the painting. Both of them are willing to fight for it, but Jules is the one with the more noble reason. Secondary characters like Ellis Baum, a successful businessman and designer, and his grandson, Adam, a successful artist, add color and clarity to the chase for the hidden painting. This book is a page-turner because of Barr's seamless writing as she crafts genres. A great gem!
LOVED

Derived From Web

, Mar 14, 2022

I finished Woman On Fire before the publisher approved my NetGalley request, so here is my review from the pub date release copy of the book. It reminded me of Kate Quinn's writing style and The Magnolia Palace. If you don't like historical fiction, but still like mysteries, murder, sex, romance, and educational facts about how the Nazis went after artwork, I would still recommend this. I had no idea that Hugo Boss designed the uniforms for the Nazis. Yeah, what the actual thing? The book doesn't sound like a textbook, but it does a great job of incorporating information like that. 4.55 is close.
Couldn't put it down!!

Derived From Web

, Mar 13, 2022

I loved this book so much I couldn't put it down. The stolen art saga had me on the edge of my seat and I am not usually a reader of historical fiction. If you enjoy thrillers and good writing, buy this book.
amazing captivating

Derived From Web

, Mar 10, 2022

Lisa tells an amazing story of heroism, truth seeking and what it means to do good for others. I had to get to the end to enjoy the book. Jules has the ability to not let fear stand in her way. She was named Lillian. That is an amazing character. Even with a small role, could picture her strength. It was a book that I loved.
Great Plot!

Derived From Web

, Mar 9, 2022

The plot was compelling and I was drawn to it immediately, but the sexual scenes didn't add much to the story and I wondered if I had purchased a romance novel. Great writing does not need sex to sell. I will not recommend this book to my friends.
Must Read!

Derived From Web

, Mar 8, 2022

This page-turning novel of history, art, and passion was written by Barr. Readers will fall in love with this.
Tantalizing and memorable

Derived From Web

, Mar 3, 2022

The main thing I was thinking while reading the book was WOW! I experienced the book with every fiber of my being, so I don't feel like I only read it. I was amazed by all of the layers of this story. It was a plot filled with history, deception, corruption, and evil that kept me on the edge of my seat. The book is an amalgamation of thrillers, historical fiction, and a story of great love and loss.