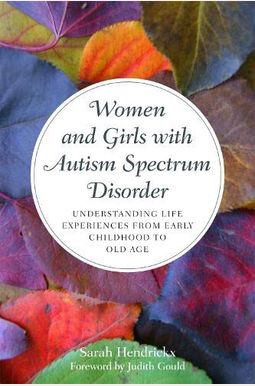 
 
Women and Girls with Autism Spectrum Disorder: Understanding Life Experiences from Early Childhood to Old Age
Book Overview
The difference that being female makes to the diagnosis, life and experiences of a person with an Autism Spectrum Disorder (ASD) has largely gone unresearched and unreported until recently. In this book Sarah Hendrickx has collected both academic research and personal stories about girls and women on the autism spectrum to present a picture of their feelings, thoughts and experiences at each stage of their lives. Outlining how autism presents differently and can hide itself in females and what the likely impact will be for them throughout their lifespan, the book looks at how females with ASD experience diagnosis, childhood, education, adolescence, friendships, sexuality, employment, pregnancy and parenting, and aging. It will provide invaluable guidance for the professionals who support these girls and women and it will offer women with autism a guiding light in interpreting and understanding their own life experiences through the experiences of others.
Frequently Asked Questions About Women and Girls with Autism Spectrum Disorder: Understanding Life Experiences from Early Childhood to Old Age
Books like Women and Girls with Autism Spectrum Disorder: Understanding Life Experiences from Early Childhood to Old Age
Book Reviews
(11)
Did you read Women and Girls with Autism Spectrum Disorder: Understanding Life Experiences from Early Childhood to Old Age? Please provide your feedback and rating to help other readers.
One of My Top 10 Ever Books!

Derived From Web

, May 9, 2022

This is one of the most helpful books I've ever read on Asperger's Syndrome, now officially referred to as ASD or Autism Spectrum Disorder. I could just hug the author! It is a European publication so it does use all the European English spellings which I find slightly off-putting but then I am an Aspie, so how could it be otherwise? The book explains so many things about how Aspie girls, women and female senior citizens think and act – it has finally given me the final answer to my years' long research into this syndrome confirming my diagnosis of this. It has also taken the SHAME out of being so DIFFERENT from other women, which is so freeing, leading to self-acceptance, Dr. Goin added. I highly recommend this book to any female or parentspousechild of a female who suspects they have this potentially disabling condition.
Diagnosed at 53

Derived From Web

, May 9, 2022

I purchased this book earlier today when I found it while looking for books with a focus on women and girls on the Autism Spectrum. I've been reading it and I'm happy that it's what I hoped it would be. Since being diagnosed in late 2014, I've been looking for and reading any book that I could find with a focus on women and girls. There are not that many, most, until recently, focusing on children and adolescents on the Spectrum, often with a focus on males. Books written from our perspective as girls, adolescents and women on the Spectrum are much newer on the scene and very welcome. I look forward to finishing this book and I'm grateful that it was written, and others like it are being written, too. I've pre-ordered Life's A Guide for Girls and Women, which will be out in September.
Informative as well as comforting

Derived From Web

, Sep 1, 2021

Anyone who has been diagnosed or has been working in the field of psychology will find this a great read. After reading this book so many things resonated with me and gave me comfort that I'm not the only one experiencing some of these quirky traits. What I enjoyed most about the book was the mix of personal and research-based accounts, Frey said. Because there is not much research-based data about women with AS it was great to read the real life experiences woman young and old have gone through. This book is an important starting point hopefully having more understanding and compassion for getting folks accomodations and support where needed, he said.
A must-read for any female who has ASD. Know thyself.

Derived From Web

, Jul 10, 2021

Dr. Sarah Hendrickx, the lead physician on the case, said: "Thank you, Dr. Hendrickx." I'm 51. I've spent my life as a puzzle wrapped up in a mystery. The diagnosis was confirmed last week. With every page that I turn in this book, I exhale. I finally understand why I behave the way I do. Self-deprecation — melting away. It's strange and wonderful to have a manual for one's brain, Raymond said. I'm ever grateful that Dr. Hendrickx vocalizes this story for adult women. I only wish there were more specialist and earlier diagnosis. This book is a giant leap.
Would give more stars if available.

Derived From Web

, Apr 27, 2021

This book is an excellent read. It was easy to get through, written in a very approachable manner, and provided many perspectives to help make sense of how different people might think about similar situations, he said. I found it extremely insightful and witty. Also, I have found Sarah Hendrickx videos on YouTube that very much add to and expand on this content. If you are a woman or afab or your socialization was feminine gendered and you have been diagnosed as an adult, this book may be helpful for you to understand yourself a little better. If you are a friend or family member looking to support and adult or wonder what adulting on the spectrum may mean for a younger girl in your life, this may provide a look into what's going on in her head and help you step into her world a bit.
Required Reading

Derived From Web

, Jun 20, 2020

Unsure of which female book to start with? This is the one. This lays the groundwork, and sets the bar, for any female human who thinks they may be autistic, anyone who knows a female with autism, or who has recently been diagnosed with autism. This book exhibits reviewed science frankly mixed with personal anecdotes, and this gives the book a warmth and clarity that's hard to find in other books on the subject.
Amazing

Derived From Web

, Apr 28, 2020

I feel truly honored and recognized for the first time in 33 years. I can't express the freedom I feel after reading this book. I feel so freaking competent, especially now knowing what I was working with! Thank you for the book. It's a springboard for a completely different journey that I'm now on-one that is going to be full of self acceptance and maybe a little bit of peace and happiness!
Females with Autism Spectrum Disorder

Derived From Web

, Dec 4, 2018

This is quite possibly the best source of information regarding females with autism. This is a great resource that answers many of the many questions parents and other professionals might have. She cites her sources carefully and meticulously. I'm interested to see if she releases a second edition with the most recent results. This book is well researched and written.
This.was.amazing.

Derived From Web

, Sep 20, 2018

I am not autistic, but I suspect i am on the spectrum. I bought this book in hopes of finding direction. It has given me great insight into the lives of other woman's ASD. Feeling like I can now seek the help i need most, Tunick said.
... The book was written based off ...

Derived From Web

, Jun 12, 2017

It's great to be back home, said Blair. The book was written by Brian Kilpatrick, who also wrote "American Masters." Will not help you if you are trying to find information to help find a diagnosis. It's a book for people who know they are on the spectrum and can read others stories. Wish I didn't buy it and wish I could find a book to help with diagnosis.