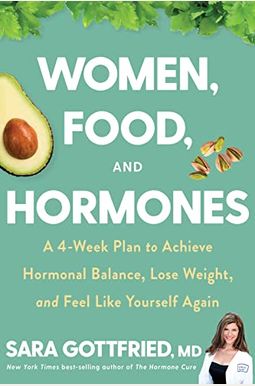 
 
Women, Food, And Hormones: A 4-Week Plan To Achieve Hormonal Balance, Lose Weight, And Feel Like Yourself Again
Book Overview
New York Times best-selling author Dr. Sara Gottfried shares a new, female-friendly Keto diet that addresses women's unique hormonal needs, so readers can shed pounds and maintain the loss more easily.
Most diet plans were created by men for men, but women's bodies don't work the same way. Popular programs can actually make it
harder
for women to lose weight, because they can wreak havoc on a woman's complex and delicate hormonal system.
New York Times
best-selling author Dr. Sara Gottfried has spent her career demystifying hormones and helping patients improve their health more broadly with personalized medicine. In
Women, Food, and Hormones,
Dr. Gottfried presents a groundbreaking new plan that helps women balance their hormones so they can lose excess weight and feel better. Featuring hormonal detoxification combined with a ketogenic diet that is tailor-made for women, coupled with an intermittent fasting protocol and over 50 delicious and filling recipes, this book shares a fat-burning solution that gets results.
Frequently Asked Questions About Women, Food, And Hormones: A 4-Week Plan To Achieve Hormonal Balance, Lose Weight, And Feel Like Yourself Again
Book Reviews
(5)
Did you read Women, Food, And Hormones: A 4-Week Plan To Achieve Hormonal Balance, Lose Weight, And Feel Like Yourself Again? Please provide your feedback and rating to help other readers.
Confusion

Derived From Web

, Oct 13, 2021

He is the worst diet book I have ever read. I was confused as to how this is different to regular Keto and how to follow it. The plan only lasts for one week and the recipes are very time consuming and not very good. I tried to follow it for a week, but gave up. I watched her videos on U-tube to try to figure this out, but was left wondering how to do this. There are pages and pages of suggested medical tests to check hormones and blood sugar, but you have to have a functional medicine doctor to help with the results. I wish I could get my money back but my book is marked up from a lot of effort trying to understand it. Don't waste your time or money on this.
Underwhelmed

Derived From Web

, Oct 12, 2021

I am a huge fan of Dr. Gottfried and listen to almost every one of her shows. I was excited to get to the meat of the diet, but ended up being disappointed. I found the ratio confusing. I didn't think the sample menu would help me much. There is no reference in the book to what "keto granola" is, the first entry in the first sample day lists. There is no recipe brand listed. How am I supposed to know what it is? There are many examples of lack of explanation and weak content in this book. I was surprised that someone like Dr Sara Gottfried would put out a plan like that. I would love to return the book.
VERY CONFUSING

Derived From Web

, Sep 28, 2021

It is hard to comprehend. Can't understand percentages, ratios, supplement recommendations. It's great information for someone, but not me. It's difficult to follow and even harder to fail at. It is very disappointing.
Confusing macros

Derived From Web

, Sep 25, 2021

The book is informative about how food works with your body. To stay in the 21protein ratio of fat to net carbs, the fat content would be very high, I am confused by the macros she gives. The range for fat grams is 70-90 grams. My fat intake would have to be 170 grams if I was eating 60 grams of protein and 25 grams of net carbs. That is about 1900 calories, so I know it would be. It would be nice if the recipes and meal plans had a macro count to go along with it. I will try it out and see what happens. It has a very low amount of calories for me.
Great info if you are prediabetic, FYI- most Americans are but don't know it!

Derived From Web

, Sep 23, 2021

It's easy to follow a plan about a female version of Keto. If you have hormone issues, it helps. Good recipes can help you figure out why you want to get healthy.