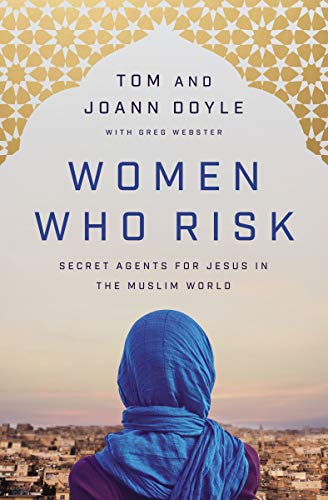  
Women Who Risk: Secret Agents for Jesus in the Muslim World
Frequently bought together
Frequently Asked Questions About Women Who Risk: Secret Agents for Jesus in the Muslim World
Book Reviews
(9)
Did you read Women Who Risk: Secret Agents for Jesus in the Muslim World? Please provide your feedback and rating to help other readers.
Fascinating

Derived From Web

, Oct 10, 2021

He is the Messiah, working miracles in the Muslim culture. The true stories of women actually seeing Jesus are awe inspiring. Theologian and scholar Paul Smith also questions why Jesus revealed himself to so many in the Islamic faith and not here in America. The question is, why did I get married? Realizing this, I freed myself from the shackles of government censorship. The church's stance is that Bibles are not forbidden. We can attend church services, buy food and even give money to charity. There are many denominations to choose from. All we have to do is ask Him and He is here with me, she said. Nobody is stopping me, Lord Colin.
Entertainment

Derived From Web

, May 15, 2021

I'm not interested in the facts but this is written as a story. The facts could have been condensed to 2 paragraphs rather than developed into a drawn out story describing essential info, he said.
Eye opening inspiration

Derived From Web

, May 15, 2021

These women deserve our prayers and admiration. Through their stories, I was able to understand their culture better. My son has been dating a lovely young woman from Turkey, his mom said. She says she was raised with no faith and has interest in our Christian ways of life. She will say she is Muslim. I have now doubt that my son, raised as a strong believer, is in her life for a reason and she in ours! I am committed to praying for these women and for our own sweet girl, Raymond said.
Wow! Couldn't put it down.

Derived From Web

, Apr 12, 2021

The Rev. John Paul Smith's book tells the story of several women in Muslim controlled areas who became Christ followers. These are the stories that will bless you and your family. He is doing powerful things in the Muslim community, he said. In Islam, women are not valued. Even though they still live in Muslim countries controlled by the government, they serve Jesus faithfully and happily. Get goosebumps reading this. You will rejoice in what God is doing in the Middle East.
Amazing, Inspiring, Powerful!!

Derived From Web

, Mar 16, 2021

I would totally agree with all the rave reviews of this book. These are real stories and testimonies, not edited for television. I know they are real because a friend knows some of these women that have risked everything, Rosa said. I am from the middle east, where Islam has done so much harm to women. Please read this book and be inspired by the work of our Lord Jesus Christ. He is there in the midst of the chaos, he said. What a blessing for these women, Diana said. We are so comfortable here in the US with our faith, Mr. Dhaliwal said. However, as we can see from the rise of the Young Turks, America is going to change. We need more stories like these, Mr. Kennedy said. These are real women we should be truly celebrating and defending, Bustamante said. It's great to be back home, said Dr. Julie Gerberding, director of the federal Centers for Disease Control and Prevention.
This is a must-read for everyone!

Derived From Web

, Feb 11, 2021

The book is intended for Christians, Muslims, and those who are not fervent in their faith. In "Doone's Journey," Tom and JoAnn Doyle share the personal stories of several women in the Middle East -- their impossible situations, their struggles, and their hope. If you need a reason to hope again, read this book. The book is a must-read for anyone unsure of their faith. The truth will set you free. If you are a Christian, you must read this book. The deeper you delve into these spiritual matters, the more you will find your sense of wonder.
I can't recommend it enough

Derived From Web

, Feb 8, 2021

Yes, I can't put this book down. It's so heart stirring because it shows the limitless power of Christ and that he can break every chain, forgive any sin and heal any heart. Even though many in the Islamic world closely associate themselves with the suffering of women, God does not! It's great to hear from Dr. Dre that people still want to use it.
It will change your relationship with Jesus

Derived From Web

, Feb 5, 2021

The book has affected me to the core. I'm convinced that we are missing a real relationship with Jesus.
LONG TO SEE JESUS MOVE IN POWER?! READ THIS ASAP

Derived From Web

, Jan 29, 2021

THESE ARE LIKE PAGES OUT OF A MODERN GOSPEL ACCOUNT.. Because they are. You will never be the same having read these miraculous first-hand stories by Tom and his beautiful bride. Favorite Christian fiction writer. I'm a pastor at a large church. It's great to see the book on the rise, and I encourage every believer to read it.