OUR BIGGEST SALE EVER - SAVE 20% AT CHECKOUT WITH CODE CYBERBOOK. Learn more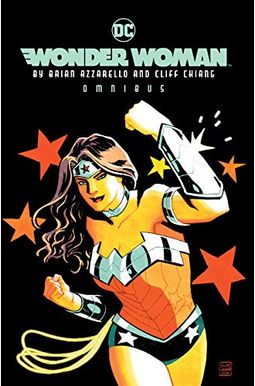  
Wonder Woman By Brian Azzarello & Cliff Chiang Omnibus
Book Overview
The entire run of writer Brian Azzarello (100 BULETS) and artist Cliff Chiang's (PAPER GIRLS) bold new imagining of one of comics' most iconic characters is now collected in its entirety in his giant-size omnibus edition
Raised as a daughter by the Queen of the Amazons, the warrior princess called Diana is different from the rest of her countrywomen. They've all heard the legend of how she was formed from clay to give the childless queen the daughter she dreamed of--and they treat her like an outsider and outcast because of it. But Diana is different than everyone else, just not for the reasons everyone thinks. It's because she's the daughter of Zeus. With a new cadre of brothers and sisters as allies and enemies, Wonder Woman's world is rocked to its core when her eldest brother, the First Born, was freed from his slumber. Her newfound family is in ruins and her friends scattered, she must turn to Orion and the New Gods of New Genesis to save herself, her newborn brother Zeke and his mother Zola from the First Born's wrath. Collects Wonder Woman #0-35, 23.1 and a story from Secret Origins #6
Frequently Asked Questions About Wonder Woman By Brian Azzarello & Cliff Chiang Omnibus
Books like Wonder Woman By Brian Azzarello & Cliff Chiang Omnibus
Book Reviews
(8)
Did you read Wonder Woman By Brian Azzarello & Cliff Chiang Omnibus? Please provide your feedback and rating to help other readers.
A new Twist on a iconic Goddess

Derived From Web

, Oct 24, 2021

I know that this run wasn 't everyone's thing. The story is great, the art is solid and it's a solid new take on Diana. To me, this was the last great story of Wonder Woman.
This is Wonder Woman!

Derived From Web

, Jun 30, 2021

This was my first Wonder Woman omnibus and did not disappoint. I found it to be very good, I couldn t put it down. The art work is amazing! For fans of WW and DC, must read.
A Really Good Wonder Woman Run

Derived From Web

, Jul 1, 2020

For the first hundred or so pages it feels like set. The latter half of the book is really great where the book is. Wonder Woman fans would recommend this site for Wonder Woman fans.
Wonder-ful story!

Derived From Web

, Jun 2, 2020

This series was the 2nd best series in the new 52 line behind the batman. Must read the book . Made me like a wonder woman.
Top Tier WW

Derived From Web

, Apr 17, 2020

My favorite crazy woman run of all time ''. It has captivating storytelling, beautiful characters and great art. This is a fine omnibus as well as having fantastic paper and binding. I can say nothing about this fantastic piece of work. An absolute must for those who love WW!
Story meanders at times, but a good reimagining of WW's story.

Derived From Web

, Feb 19, 2020

Azzarello does a great job of completely re-inventing the Greek gods to fit them in the DC universe. Additionally, I felt the inclusion of Orion and the New Gods, but appreciated them being underused in the story. Art is incredible when Cliff Chiang is in the book, but there are quite a few issues that are done by other artists that are frankly not my bag of biscuits. Overall, a solid book ; would recommend it. It is not perfect, but it is certainly new and exciting.
One of the best runs in Wonder woman history

Derived From Web

, Aug 18, 2019

This fantastic omnibus containing more than 900 pages contains one of Wonder Woman's best runs in history. Yes, and the best series in the DC 52's. I have been a long-term collector of the Wonder Woman series. In my opinion, this is the race I like most next to the run of George Perez. It is a short story, that takes place during 34 episodes full of adventure, surprises and unexpected twists. I like a lot the use of the Gods that Arrazello does, and the sensation of giant, transcendent and round story with its perfect approach, development and outcome. I also want to highlight the incredible art from Cliff Chiang, with a beautiful style and an amazing narrative. Other Artists as Tony Akins and Goran Sudzuka '', as well supported, adapted perfectly to the Chiang style. And probably one of the best purchases of the year!
LOVE THIS OMNIBUS :)

Derived From Web

, May 26, 2019

The New 52 series is a very interesting, self-contained alternative take on Wonder Woman, I love how Chiang draws Wonder Woman here - heavy, slighty, heavy, pale skin OMG I JUSTLOVE IT! The North - Poland band's history is excellent!