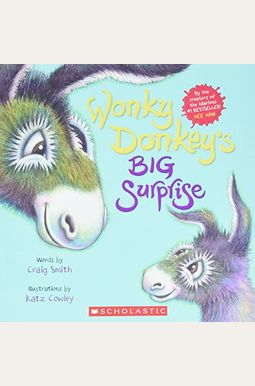 
 
Wonky Donkey's Big Surprise
Frequently Asked Questions About Wonky Donkey's Big Surprise
Book Reviews
(10)
Did you read Wonky Donkey's Big Surprise? Please provide your feedback and rating to help other readers.
Disappointed

Derived From Web

, Mar 12, 2022

This was not the same as the first three books. I was very excited to buy this for my nephew who loves the first three, but it was disappointing. There were no fun rhymes or new phrases to add to the book.
Grandkids and I were disappointed.

Derived From Web

, Feb 22, 2022

I have purchased all four of the Wonky Donkey books. I was very happy with the first three. The first three in the series were very funny and engaging. It didn't grab the attention of my grandsons like the first three did. I believe that the fourth one was written and illustrated to take advantage of the momentum they had going. This may be the last Wonky Donkey purchase I ever make. The grandkids have looked forward to the arrival of Wonky Donkey's Big Surprise and that makes me sad. We were let down by the effort.
There was a surprise!

Derived From Web

, Jan 15, 2022

The first 3 books were written in the same style. Adding a new page doesn't repeat. Your children may have been asking questions about the surprise. A lot of kids are now experiencing family dynamics in the first 3 books. I wonder if there will be more stories about the Donkey family or if the author is done. I bought a copy for my children. The 5 year old read it to me on her Ipad. She is going to have her pre-kindergarden class with her. 3-4 years olds.
Gotta love Wonky Donkey

Derived From Web

, Jan 5, 2022

I bought the first book for my granddaughter after seeing the video of the grandmother reading it. The whole family laughed as hard as I did. I've bought her books after that. The series is well suited for younger kids and I pre-ordered it as soon as it was available.
Disappointed

Derived From Web

, Dec 23, 2021

My granddaughter and I have enjoyed our time together. When I saw the newest one, I decided to buy it. But it wasn't very good.
I must say I was disappointed in this book after the other ones being so fun this one was just OK.

Derived From Web

, Dec 17, 2021

The book did not have the fun rhyme to it that the original books did and left me flat.
What a disappointment

Derived From Web

, Dec 15, 2021

The first two books were great, but I don't know what the author was thinking when he ended this book like that.
Disappointed

Derived From Web

, Dec 12, 2021

Wonkey Donkey's first two books were a hit with my kids. The others had pizazz, but this one didn't. The ending was not great. I looked at it and didn't have much imagination. Well done.
3rd in the series Wonky Donkey

Derived From Web

, Dec 11, 2021

As they come available, I have been buying one by one. Kids love Wonky Donkey and he is funny. Excellent books.
Disappointed.

Derived From Web

, Dec 9, 2021

When I saw this one, I was happy because my son loved the donkey. The original is as good.