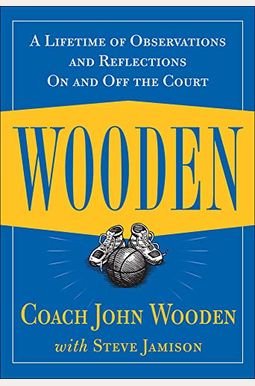 
 
Wooden: A Lifetime Of Observations And Reflections On And Off The Court
Book Overview
I am just a common man who is true to his beliefs.--John Wooden
Evoking days gone by when coaches were respected as much for their off-court performances as for their success on the court, this unique and intimate work presents the timeless wisdom of legendary basketball coach John Wooden.
In honest and telling passages about virtually every aspect of life, Wooden shares his personal philosophy on family, achievement, success, and excellence. Raised on a small farm in south-central Indiana, Wooden learned a great deal from his parents--lessons that stayed with him not only throughout his unparalleled career at UCLA, but also as dedicated husband, father, and teacher.
These lessons, along with personal letters from Bill Walton, Denny Crum, Kareem Abdul-Jabbar, and Bob Costas, among others, mark Wooden: A Lifetime of Observations and Reflections on and off the Court as an inspirational classic.
Frequently Asked Questions About Wooden: A Lifetime Of Observations And Reflections On And Off The Court
Books like Wooden: A Lifetime Of Observations And Reflections On And Off The Court
Book Reviews
(12)
Did you read Wooden: A Lifetime Of Observations And Reflections On And Off The Court? Please provide your feedback and rating to help other readers.
Lots of good sayings and life lessons

Derived From Web

, May 12, 2022

Not a very good place to start if you want to know the greatest coach in American sports.
I have not Finnish it yet but I just seem to love most anything John Wooden ever said

Derived From Web

, May 12, 2022

I have to be honest, I have not said it yet, but I just seem to love most of what John Wooden has ever said. I had to have such a wise man!
Life changing, life affirming

Derived From Web

, May 12, 2022

Not real wisdom, but basketball wisdom. It is openly religious, which I feared would be a turn-off, but Wooden's beliefs translate to any heartfelt endeavor.
A Sophomore Book Club Review

Derived From Web

, May 12, 2022

Wooden is a book about John Wooden's life experiences. He gives examples of what his father taught him all his life and how it stayed with him. He also writes about the opposition of UCLA coaching and tells about his championships and events that occurred on and off the court. Our book group enjoyed reading his book because we are all in sports and we understand what he is trying to say about being the best person on and off the court.
WOW!

Derived From Web

, Sep 9, 2020

What a wonderful story of a life lived well. This outstanding man is a beacon for us all, especially in the trying times of today. He has accomplished so much, but most of all peace is achieved. What a wonderful world this would be if our leaders could live by these standards. We would probably follow their lead all the time. I hope I can live a better life by remembering some of what Coach Wooden gave us in this book.
Incredibly Insightful!

Derived From Web

, Feb 11, 2020

Felt like I was reading something my grandfather would have written. Methods are few, principles are many, methods can change, but principles never do!
Common sense stuff

Derived From Web

, Jan 29, 2020

All the stuff here is just common sense stuff. While Wooden may have been a great coach, I think his friend the author has got him to do several of these books that say the same thing over and over again : be honest, be disciplined, etc. Here there is nothing that you know already.
Not Just For Athletes and Coaches

Derived From Web

, Apr 1, 2019

The assumption will be to think that this book is about basketball, sports and athletics or maybe even the author himself. This would be an inaccurate assumption, as these were only tools to help a roadmap to living a life that has truth and purpose. What I received from this book is selflessly maximizing your gifts to achieve a success that impacts postively and leaves a lasting legacy of encouragement for others to do the same. An athletic coach who was really a life coach who shares how he leveraged his life journey experience to the fullest and applies to business professionals, leaders, athletes, coaches, teachers, students, parents, children... Literally everyone. It is a book that I will refer back to God in the context of my life and success apex. If you haven 't read this book, not just worth reading, but worth considering.
Timeless wisdom from a legendary coach

Derived From Web

, Jan 5, 2019

John Wooden was the greatest basketball coach of his generation — arguably the greatest ever , and he saw himself primarily as an educator who happened to teach basketball, rather than an X's and O's guy. This book collects his inspirational thoughts about success on the court. It is a readable read containing a wealth of short-lived wisdom.
this might be the best, most insightful book I have ever read

Derived From Web

, Nov 21, 2017

According to the Bible, this might be the best, most insightful book I have ever read. John Wooden's focus on the process is so central to any arena of life and there is so much great wisdom contained here. I retyped and organized great quotes from this book and underlined them by topic in my Google Docs. The reading was absolutely fantastic.