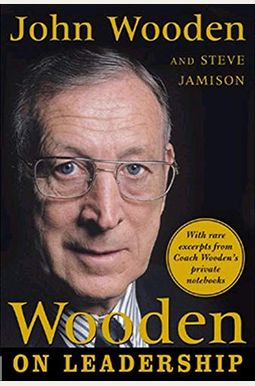 
 
Wooden On Leadership: How To Create A Winning Organizaion
Frequently Asked Questions About Wooden On Leadership: How To Create A Winning Organizaion
Books like Wooden On Leadership: How To Create A Winning Organizaion
Book Reviews
(10)
Did you read Wooden On Leadership: How To Create A Winning Organizaion? Please provide your feedback and rating to help other readers.
Great for any Leader not just in sports

Derived From Web

, May 20, 2022

One of my favorite leadership books yet! I don 't know much about basketball or am a coach of sports and still found this book very valuable. Wooden has a perspective and style of leadership that is not seen much in this society. It teaches you to focus more on details and hard work that goes into a win instead of focusing on winning itself. It is a transformational perspective that should follow more leaders.
A great book and easy to read

Derived From Web

, May 20, 2022

This is a great book on leadership. It is easy to read. It is easy to understand and easy to apply. Wooden uses real life examples to make leading others possible, even if you are challenged with leadership.
Masterful!

Derived From Web

, May 20, 2022

This book is an absolute masterpiece of leadership - wisdom!
Good, solid values

Derived From Web

, May 20, 2022

Wooden brings back a fundamental core of good values and personal responsibility, and I find that I tend to stand back and work harder as I read this book. I've tried to keep these lessons close to my heart.
Best Leadership Book

Derived From Web

, Jul 22, 2018

I think that many times the leadership books written by consultants fall short of reality. The lack of experience does not allow them to understand how all the pieces fit together in a way that people understand. This book shows a well developed approach to leadership, learned through years of experience and trial and error. I find books like these really valuable, as if a great grandfather had learned wisdom from a life of experiences. One of the many different leadership books I have read that truly synthesizes pieces of wisdom I have learned from top books and experiences in a place.
A truly outstanding book on leadership.

Derived From Web

, Aug 9, 2017

The typical ones might advocate not sweating on the small stuff, Wooden would emphasize the importance of paying meticulous attention to pertinent details and handling them with balance. The chapters on the importance of managing time and dealing with fate are some unusual but useful topics that I have read very well by other books on leadership.
Excellent guide for leadership (in any capacity)

Derived From Web

, Apr 27, 2017

The Great Read on Leadership is great. Interesting perspective in the building blocks of leadership, how Wooden applied it to the players on his team, but the lessons are also extensible to business. I have received the Kindle version, where the illustration and the charts were a little difficult to read, but aside from that, I recommend it.
All-time advice from an all-time great; what else can you say

Derived From Web

, Apr 4, 2017

Great advice from an all-time great. This is a must for all leaders, coaches and managers.
A Top 5 Leadership book

Derived From Web

, Apr 2, 2017

This is one of the best leadership books I have read and the best of the sports genre. Wooden's coaches were straightforward and actionable. Every page had personal wisdom and memorable testimony. I highly recommend '' this book.
It takes 10 hands to make a basket and more...

Derived From Web

, Mar 4, 2017

Dr. Nido Qubein, Dr. John Maxwell etc. have borrowed numerous Wooden quotes. I then went to the source of the well to drink from the source. 99% of people say that the DEVIL is in the details. In his basket ball practices, John Wooden takes care of every detail, from wearing your socks properly or drinking room temperature water so that you do not get cramps. The player is not the player. As John summarizes, it takes 10 hands to make a basket. So many basket ball insights can be applied simply to business and investing.