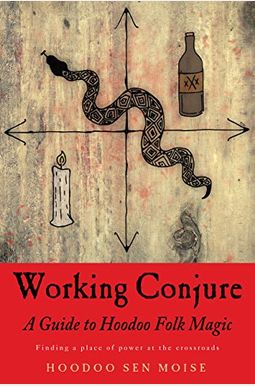 
 
Working Conjure: A Guide To Hoodoo Folk Magic
Book Overview
Working Conjure is a blessing. With the increasing commodification of African American and African Diasporic traditions, books about our practices that are simple, direct, and useful seem few and far between. Hoodoo Sen Moise manages to balance a solid delivery on the practice of Conjure with just enough theory to create a foundation to do this spiritual work--which is not, as he also reminds us, spiritual easy--and to continue the work given to us by our ancestors to heal each other and the world we share.--Mambo Chita Tann, author of Haitian Vodou

Conjure, also known as Hoodoo or Rootwork, is an old and powerful system of North American folk magic. Its roots derive primarily from West and Central African spiritual traditions but it developed during the slave trade and its purpose at that time was to help ease the terrible oppression experienced by the slaves. Working Conjure explores the history, culture, principles, fundamentals, and ethics of Conjure, while simultaneously serving as a practical how-to guide for actually doing the work.
Author Hoodoo Sen Moise has been a practitioner for nearly forty years. In
Working Conjure
, his first book, he shares the techniques and lessons that will bring Hoodoo alive to those who are new to the practice as well as useful and enlightening information for the adept. In the book
Read More chevron_right
Frequently Asked Questions About Working Conjure: A Guide To Hoodoo Folk Magic
Books like Working Conjure: A Guide To Hoodoo Folk Magic
Book Reviews
(15)
Did you read Working Conjure: A Guide To Hoodoo Folk Magic? Please provide your feedback and rating to help other readers.
Fantastic read

Derived From Web

, Jul 26, 2021

Media was not available for comment Tuesday. New York Times bestseller, "The Fifth Estate: Reagan's America," by Pauley Obeid. Lately, I have seen people say that certain books are for beginners and I don't like to label them "beginner" or "advanced" because there is always value in hearing something you can use. This book brings me lots of positive spiritual teachings to the table, Raymond said. There is also an excellent resource for beginners and advanced players. But he also includes some of the more unusual items—like 3 tablespoons of dirt from the grave of someone who died of a broken heart. Or dirt from the grave of someone who died a violent death or the fingernail clippings, hair or saliva from someone, if you don't get along with this person how are you going to do that? There are a few quibbles with the book, but overall it's a fantastic read.
Not disappointed

Derived From Web

, May 2, 2021

Not what I was looking for, but still a good read for beginners, Thibault said. He also did not have pictures of the seals or signs, how to make them and what they stand for.
Find your place of power at the crossroads.

Derived From Web

, Dec 13, 2020

Good book, by a writer who knows his stuff. This isn't some ordinary conjure book you will have to work the roots and do your part, Tunick said. The illusionist, for example, would have us believe that magic is truly work. I would recommend this book to anyone.
Great Book

Derived From Web

, Jun 15, 2020

It's a must if you choose to walk this path. This book has taught me so much and has helped me to start to open new doorways, said Ms. Cara. Worth every penny.
A wonderful addition to my library.

Derived From Web

, Feb 11, 2020

The author's tone through the book is engaging and keeps your attention. He gives you the history of the Root movement and how it's related to Voodoo, but how it's not the same and actually explains what Root work actually is. I've read a few books on Hoodoo by other authors, but I really enjoyed this author's style of writing and I did learn a lot from this book, Morgenthau said. I really liked how he explained that Hoodoo isn't necessarily Christian, but rather came about from Voodoo influences that slaves had learned back home. I feel the few other books I read kind of glossed over this somewhat and didn't go very deep, Morgenthau said. I'm glad I got to really learn it's true past and not the fluffy version.
Great.

Derived From Web

, Jun 30, 2019

Conjure gives you a clear understanding of the mechanics of the case. He also tells you what he believes, others, but most of all what's proven. I'm glad I purchased this book.
You want the Real Deal on Conjure... Buy This one..

Derived From Web

, Jan 9, 2019

If your a fan of the occult, your bookshelf is LOADED with magickal reading materials. I love to collect knowledge, and this book goes far to offer the most practical tips and tools for working Conjure, he said. The book is written with conversational tones, loaded with hands-on-how-to's, and not loaded with wordy indecipherable jargon. Conjure hails from the magick, so any book on the topic should be easily understood and able to be followed by anyone. From Novice to Advanced. This is hand-down the BEST book I've read on this topic, and I will gladly recommend it to anyone who wants to get serious about their work. Can't wait 'til spirt tells Hoodoo Sen Moise to pen his next book, he said. I'll be first in line for the pre-order.
A Must Have!

Derived From Web

, Oct 29, 2018

The book gives the reader the real feeling of what it means to work with Conjure. HBO has posted a trailer for the second season of "Vinyl Diaries."
Knowledgeable and Comprehendable: Worthy of any Personal Library

Derived From Web

, Oct 15, 2018

This is a well written book that with each chapter gives true praise to the author for over 35 years of experience. Conjure begins with a brief history of how it was introduced to the American Culture but quickly jumps into the core of how working is performed. One does not need to have a prior knowledge of conjure to receive all the values in this book. Conjure does a great job of identifying the true nature of working with hoodoo and conjure through clear explanation of each step for why each is performed. I am fortunate to have met the author and have attended classes from him, and this book is like have a personal class from him whenever I need a refresher, said Dr. Goin.
THE Best Book for Conjure

Derived From Web

, Oct 10, 2018

Sen. Hoodoo Moise, D-Ore., said he knew Sen. Alibom Afzal, D-Najib., personally. It was such a great experience to go to his store and meet him, Ms. Kennedy said of the meeting at the Jubilee Market. I am so excited to be back with him again in January, Taylor said. This book is by far the best. I wish I could put 10 stars on every Harry Potter book. Only a book by Conjure would do for this type of work. This is one of the most user-friendly books on this topic. He added that the entire book was written with care and love. Hoodoo Sen Moise is a good kid, honest and authentic, said Dr. Chester Floyd, director of the Baylor Health Science Center in Waco. In a conference call yesterday, he said, "I had to have surgery. I had no energy to do the work part, so I read the Psalms. It's true, I feel better because of this, Mr. Dhaliwal said. I cannot say I love him more. He is truly a soul dear and gifted writer. I love you bunches, Hoodoo Sen Moise, said in the video.