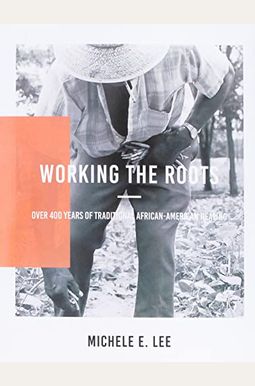 
 
Working The Roots: Over 400 Years Of Traditional African American Healing
Book Overview
African American traditional medicine is an American classic that emerged out of the necessity of its people to survive. It began with the healing knowledge brought with the African captives on the slave ships and later merged with Native American, European and other healing traditions to become a full-fledged body of medicinal practices that has lasted in various forms down to the present day.
Working the Roots: Over 400 Years Of Traditional African American Healing is the result of first-hand interviews, conversations, and apprenticeships conducted and experienced by author Michele E. Lee over several years of living and studying in the rural South and in the West Coast regions of the United States. She combines a novelist's keen ear for storytelling and dialogue and a healer's understanding of folk medicine arts into a book that makes for both pleasant, interesting reading, and serves as a permanent household healing guide.
Divided between sections on interviews of healers and their stories and a comprehensive collection of traditional African American medicines, remedies, and the many common ailments they were called upon to cure, Working The Roots is a valuable addition to African American history and American and African folk healing practices.
Frequently Asked Questions About Working The Roots: Over 400 Years Of Traditional African American Healing
Books like Working The Roots: Over 400 Years Of Traditional African American Healing
Book Reviews
(9)
Did you read Working The Roots: Over 400 Years Of Traditional African American Healing? Please provide your feedback and rating to help other readers.
Love But Too many errors

Derived From Web

, Sep 22, 2021

It's great to see a book like this come out, but there are so many spelling errors. The information is available on the Web Site: www. eia. gov. Efun Cascarilla is under investigation by federal prosecutors for allegedly submitting a false statement to the FBI. I wonder what else is incorrect?
This book feels like home

Derived From Web

, Sep 22, 2020

as someone who's studying to be a herbalist and who's family is from the delta, reading this book felt like coming home. Each conversation transported me back to my childhood, where my grandmother and her sisters would snap peas and talk about the old ways of life. The book, "Herbal Knowledge: The Essence of Black Medicine," should be in every African American home. The only complaint I have is that it doesn't come in kindle format so I can travel with it.
What A Fascinating, In-depth View of Our Culture! Five Stars Are Not Enough!!!!

Derived From Web

, Jun 9, 2020

I am a pastor and fourth-generation herbalist. At school, I have a school called LISHE which means forager. The school, which opened in the fall, is now called the Success Academy. Herbs are part of what we teach for success and also part of the martial arts we started. I learned so much from my mother and grandmother that I took for granted, Tunick said. I'm delighted you chose to include footnotes, because your book helps me see where it all came from on a broader cultural level. Some of the herbs I learned are missing, such as grape vine for cleansing and Coca-Cola syrup for the stomach, and a few other herb and remedy combinations. Many of the oldies goodies are here, I was taught. You helped me to affirm things I had learned as a kid. God bless you and yours for doing this, Mr. Caramore said. Treasure hunters, you are the treasure. Five kids from Michigan are among those who have made the leap to the big leagues.
Touching Truths

Derived From Web

, Feb 24, 2020

It made me feel like I was sitting there talking to my great grandmother. The way the author takes you on a journey back in time when people had beliefs and custom's from the backs of their ancestors was just so, moving and informative. My goodness, some of the things discussed in this book sparked several light bulbs in my head about natural healing, Melissa said. I've had some great healers, too, said Dr. Goin.
Brought the old wisdom, knowledge, and love into the room at our senior health lecture

Derived From Web

, Feb 11, 2020

I bought this book to supplement community health classes at a senior center in Alabama. Every single one of them was here! The lecture is usually led by a medical student or resident. But this week, they played as supporting role by looking up the scientific data in support of these remedies, which were present for all but the cow chip tea. There was just so much joy and happiness in the room. I'm so grateful to Michelle Lee for putting this volume together, Taylor said. Thank you for this powerful body of work, Levine said.
More than just another herbal book

Derived From Web

, Aug 6, 2019

I still live in the South. I'm a white female, but lived much of what this book describes. It's just that many times I was taken back to a memory. The home remedies, the dialect, farming all of it is home and familiar to me. The writer says he passed the book on to his physician after reading it. Thanks to Michele, we are all able to share this important part of our history.
A Very Important Book

Derived From Web

, Mar 10, 2019

It's great to see a book like this coming out. Black people have been healing themselves with what they had at hand, for centuries out of necessity, he said. I got this book, started through it and I know that I will refer to this book over and over again. I recommend this book to anyone.
I absolutely love this book

Derived From Web

, Jul 3, 2018

I absolutely love this book. It's great to have such a wonderful resource at your disposal. Both the interviews and the remedies sections are excellent reference materials.
Beautiful book, chockful of valuable

Derived From Web

, Apr 1, 2018

In this book, you will find valuable, herbal information from the African American healing tradition. As an Acupuncturist and herbalist, I enjoy expanding my knowledge base in different healing traditions.