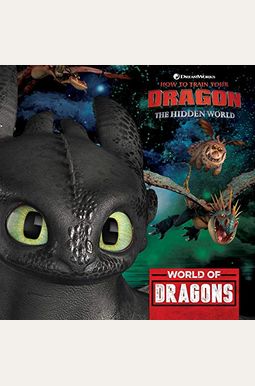 
 
Product is currently Out of Stock.
You can add it to your wishlist and you will be notified once we receive a copy.
Frequently Asked Questions About World of Dragons
Book Reviews
(10)
Did you read World of Dragons? Please provide your feedback and rating to help other readers.
Great illustrations, vivid colors, strong binding, good for dragon training

Derived From Web

, Nov 20, 2021

I also like this book a lot. The illustrations are big and bold and cover the world of Httyd. This is my favourite book at bedtime for my son. Although mixed feelings are expressed about the length of each page. I wish there was a little bit of said about each type of dragon. I went through so much trouble to create each dragon ; I would have liked to know more about them. As a bedtime book, however, it is nice not to have too many words. It also leaves more time for us to debate about the dragons and to let him decide more about each. In general, I am happy and I feel like it was worth the purchase price.
Son loves it.

Derived From Web

, Sep 22, 2021

My eight-year-old loves it. He has it practically memorized and dragged the poor book to school for nearly two weeks until I told him that the binder was starting to go. Great paper quality, great colors, great info for my son. Having seen the movies too many times to count, I keep hearing this read in Fishlegs'voice!
Awesome Book for How To Train Your Dragon Lovers

Derived From Web

, Dec 11, 2020

My son loves to train your dragon and keeps telling me about the different dragons. Well, he loved this book when he got it in his stocking! It is not a story '' book, but goes over all the characteristics of each dragon. He is going to be an expert before long, lol. Highly recommended.
My Son is Obsessed!!!

Derived From Web

, May 8, 2020

My newest obsession is with my 3 year old : He always asks to watch the how to train your dragon series, and now he has an amazing dragon encyclopedia to guide, though we haven tuesing out of screen time. He absolutely loves this book, and carries it everywhere with him and asks me and my husband to read about all the different dragons with him. Such a cool book '', David! I love that it is almost 100 pages long.
Great book!

Derived From Web

, Mar 18, 2020

This book is full of lots of pictures and dragon facts such as their size, their temperament, and their powers. My grandchildren loved the How to Train Your Dragon movies and enjoyed looking at the many different types of dragons in this book.
Right side up

Derived From Web

, Sep 27, 2019

This copy was expected to be right-side up as expected. The upside-down copies will be collectible in a few years anyway. My son pores over and keeps this book 247 at his side. He loves it absolutely! It describes every dragon -- except the bone knapper and the thunder claw -- encountered in the full length films and episodes.
A must but for the How To Train Your Dragon lover in your life!!!

Derived From Web

, Aug 21, 2019

This book is absolutely OMG! She has been watching all the movies and the entire Netflix series several times. This book does an amazing job of categorizing all dragons and highlighting our favorite hero '' dragons the way Fishlegs would have written it. 56 species on 93 exquisitely illustrated pages!!
Beautiful cover, my copy was flawless, great reference.

Derived From Web

, Apr 17, 2019

At the time I ordered this, there were several reviews saying that their cover was incorrectly bound up, and not upside down. I can 't say how many copies had issues like that, but I can tell you that my copy was perfect. I was actually very happy to find a high-quality Light Fury image on the back cover, along with raised glossy bumps for texture on the dragons across the cover. It has a really nice image resolution and looks great in a Dragon Book collection. I tried to get some close-ups of the cover texture. The interior of the book is usually 2 page spreads per dragon. The dragons are rendered fairly well, but is noticeable in comparison to the fully represented movie version pictures for the other dragons.
Updated "Book of Dragons" compendium

Derived From Web

, Mar 14, 2019

This is a good book that covers all the major species from the movie version of the " Book of Dragons ". The previous versions of this volume are no longer available for a reasonable price, so it is nice to find an updated version. The overall quality of the book is average, and I wish it had more artwork by each dragon. Some are only shown as sketches and not as fully rendered images. That is not to say that it won't please the imagination of my children, for whom the book is really intended.
Wasn't advised about the book..

Derived From Web

, Mar 10, 2019

I was not told that the cover is slanted down. The customer should be advised about it. That is the reason I will not order anything from this seller.