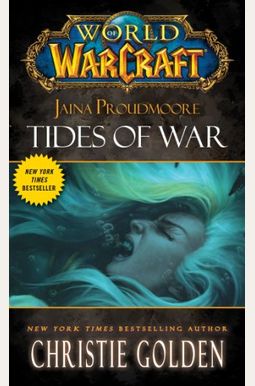 
 
Jaina Proudmoore: Tides of War
Book Overview
The New York Times bestselling author of The Shattering and Thrall: Twilight of the Aspects delivers a sensational tie-in to the newest World of Warcraft game expansion.
The ashes of the Cataclysm have settled across Azeroth's disparate kingdoms.
As the broken world recovers from the disaster, the renowned sorceress Lady Jaina Proudmoore continues her long struggle to mend relations between the Horde and the Alliance. Yet of late, escalating tensions have pushed the two factions closer to open war, threatening to destroy what little stability remains in the . . . Dark news arrives in Jaina's beloved city, Theramore. One of the blue dragonflight's most powerful artifacts--the Focusing Iris--has been stolen. To unravel the item's mysterious whereabouts, Jaina works with the former blue Dragon Aspect Kalecgos. The two brilliant heroes forge an unlikely bond during their investigation, but another disastrous turn of events looms on the horizon. . . . Garrosh Hellscream is mustering the Horde's armies for an all-out invasion of Theramore. Despite mounting dissent within his faction, the brazen warchief aims to usher in a new era of Horde domination. His thirst for conquest leads him to take brutal measures against anyone who dares question his leadership. Alliance forces converge on Theramore to repel the Horde onslaught, but the brave defenders are unprepared for the true scope of Garrosh's cunning and deceptive strategy. His attack will irrevocably transform Jaina, engulfing the ardent peacekeeper in the chaotic and all-consuming . . .
Frequently bought together
Frequently Asked Questions About Jaina Proudmoore: Tides of War
Book Reviews
(7)
Did you read Jaina Proudmoore: Tides of War? Please provide your feedback and rating to help other readers.
Oh Theramore!

Derived From Web

, Feb 14, 2022

This is a good book and a surprising one. I thought Jaina was like a rock of virtue, but seeing her fall was shocking. The last half of the novel was really good. The first half was very slow. I didn't care for seeing these characters making jokes and eating pastries, it's not good for the dramatic story of the game. I understand that it was intended to increase the drama surrounding the death of the gnome and the destruction of Theramore, but it was a little excessive. Christie Golden wrote this book and I always recommend it.
Beware your dark side.

Derived From Web

, Feb 14, 2022

Even if it does seem like a money- making- only venture, books are almost a requirement to get all the details of the universe. I like Christie Golden's works but this one didn't grab me the same way as her others. The horrors of war are truly awful. I' ve avoided them. Jaina's ' transformation' to her rage- filled, vengeful persona didn't feel right in this setting. I can see what she was trying to do but the language didn't make her angry. This book made me feel a little more forced to read it. It is a great way to add to the lore of the game. I'm looking forward to War Crimes by Golden. I believe that it will be a dark tale that will touch on many painful realities of war.
Amazing book

Derived From Web

, Feb 14, 2022

One of the best World of Warcraft books ever written and a great prelude to World of Warcraft Mists of Pandaria. Christie Golden did it once again. In World of Warcraft Arthas Rise of the Lich King, Golden masterfully depicts some of the most important characters, such as Jaina Proudmoore, Varian Wrynn and Garrosh Hellscream. Supporting characters such as Baine Bloodhoof and the troll Vol' jin are important to the narrative. The most amazing thing about this book is that we know from the beginning that everything will be doomed somehow and that it's unavoidable to become appalled during the reading. It's definitely a must read for certain books.
Really great book

Derived From Web

, Feb 14, 2022

Everything you need to know about the status of the Horde is contained in this book. It's a good book for Jania. The romance in the book is weak but still noticeable. The power ups were not very large. The fact that Garrosh was able to summon krakens made no sense to him. Where did they come from in the world of wow? We only saw one and he didn't have any friends. Garrosh pulled rabbits out of his hat in this book. Having an army of water elementals and creating a Tsnomni to destroy orgimmar was very exciting for Jania. I love this book and the things I mention above were my only grips and did not affect me in the long run.
An interesting yet flawed read

Derived From Web

, Feb 14, 2022

The book's lore is engaging. The history developing saga of the world of war craft is already being invested in by anyone who stayed through now. You can't fault an author for the gaps in the mythology that she is given. She can be faulted for her failure to create vision and immerse you in the scenes that you are reading. With the exception of jaina's first trip back to theramore, I couldn't picture the setting that was being laid out still a solid read but a minor failure compared to other wow based books.
An enticing read

Derived From Web

, May 21, 2021

Without a lot of time to read, this book kept me interested enough to look forward to sneaking a few minutes here and there when I could see what was going to happen. I will read more of the author's stories.
mm

Derived From Web

, Aug 27, 2018

The first page of the app is the copyright page, so I have to review it there. It's dumb to suggest that. Yes, but! I' ve read this book before and I really liked it. Jaina's story is great and I like it. This wasn't a half- done nearly blank review because it forced me to rate to continue even though I didn't know anything about it. I would recommend the books and the games to everyone.