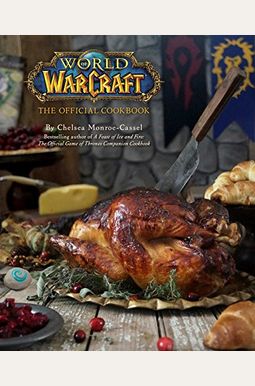 
 
World Of Warcraft: The Official Cookbook
Book Overview
Prepare a feast fit for a warchief with World of Warcraft: The Official Cookbook, a delicious compendium of recipes inspired by the hit online game from Blizzard Entertainment.
Prepare a feast fit for a warchief with
World of Warcraft: The Official Cookbook
, a compendium of sweet and savory recipes inspired by the hit game from Blizzard Entertainment. Presenting delicacies favored by the Horde and the Alliance alike, this authorized cookbook teaches apprentice chefs how to conjure up a menu of food and drink from across the realm of Azeroth. Featuring food pairings for each dish, ideas for creating your own Azerothian feasts, and tips on adapting meals to specific diets, this otherworldly culinary guide offers something for everyone. The aromatic Spiced Blossom Soup is perfect for plant-loving druids, and orcs will go berserk for the fall-off-the-bone Beer-Basted Boar Ribs. With alternatives to the more obscure ingredients--just in case you don't have Chimaerok Chops lying around--this comprehensive cookbook will ensure that you have no trouble staying Well Fed. Each chapter features dishes at a variety of skill levels for a total of more than one hundred easy-to-follow recipes for food and brews, including: - Ancient Pandaren Spices
- Fel Eggs and Ham
- Mulgore Spice Bread
- Dragonbreath Chili
- Graccu's Homemade Meat Pie
Read More chevron_right
Frequently bought together
Frequently Asked Questions About World Of Warcraft: The Official Cookbook
Books like World Of Warcraft: The Official Cookbook
Book Reviews
(16)
Did you read World Of Warcraft: The Official Cookbook? Please provide your feedback and rating to help other readers.
Burnt Food

Derived From Web

, May 9, 2022

My friend Nomi and I fried every recipe in this book, but everything came out burned.
Feast of Azeroth, in our hands.

Derived From Web

, May 9, 2022

I have eaten many virtual meals in my life in Azeroth. Now ive brought it home, the meals are easily explained and has a listing for its specific dietary needs. Free gluten, vegetarian. This cookbook is a must for diehard WoW fans and chefs alike. Now order and go fourth, becoming a Master Chef. Nomi can 't be any worse than you.
Absolutely amazing! Tasted so good and my son loved it

Derived From Web

, May 9, 2022

I have cooked the Buzzard Bites for my Husband, my son and I tonight. So good, my son loved it! My husband loved it and i deff loved it. I will say that it is listed as a side and it tells you that it would pair well with a Cheesy Pasta. DEFF makes the pasta, by itself, but can be a little overwhelming after a few. Tomorrow I will make the Meat Pie! So, im super excited for this. I also post a picture of it and update it as well! Guys, enjoy and i hope that it goes better for you than the poor Nomi! Night number 2 -- I made the Meat Pie. Amazing! Sooo! After eating the pie crust, I will never buy another pie crust, it was so good, flaky and just had that homemade delicious taste!
Love this on my shelf.

Derived From Web

, Dec 9, 2021

I haven 't tried any recipes yet. i keep meaning, i have just the right ambition, so i can 't rate the recipes. But a Kool book to have if you're a die hard WoW fan.
One of my favorites

Derived From Web

, Apr 26, 2021

I love this book so much, the little tidbits about wow in it are so cute and the recipes are just amazing.
If you're thinking about it, buy it

Derived From Web

, Jan 25, 2021

Contains recipes from the food right out of the game. My husband got this for his father for Christmas as they used to play together all the time World of Warcraft. His father loved it and my husband loves it so much that he wants to start his own. This is pretty freakin awesome.
The best gift I've ever given!

Derived From Web

, Jan 11, 2021

Her husband, her and I all WoW together and have for many many years. I think this is her favorite gift that I ever gave her other than a rocking chair that I gave her at her baby shower. The recipes are wonderful and easy to follow, and the illustration is amazing. If you are a gamer or not, I recommend this book to everybody. Although the names of some of the recipes could be put off for those who don 't play if you can get past that you 'll be in love with this cookbook too. )
Was Skeptical at First

Derived From Web

, Dec 7, 2019

My husband is quite a WoW fan and when this book showed up in our home, I rolled my eyes. However, I have already made a number of dishes from the book. They have been all delicious! The Darlan brownies and the Westfall stew particularly enjoyed. Looking forward to trying more recipes!
Awesome book!

Derived From Web

, Apr 24, 2019

I bought this book for my husband as a gift because he likes World of Warcraft. He absolutely loved it when he started slapping through it. We have cooked a meal from it so far, Ogri 'la Chicken Fingers, and it was super delicious. The preparation work was not too bad and had thorough instructions. He plans to follow along based on the "skill level" to make sure he levels up before attempting harder recipes.
Beautifully presented

Derived From Web

, Aug 13, 2017

Some look very tasty, although I haven t yet had the chance to try one. Large pictures and lots of them, cute text and nice clear factoids about the game.